The ICC Under–19 Cricket World Cup 2006 was played in Sri Lanka from 2 to 15 February 2006. Karachi fast bowler Anwar Ali grabbed three wickets in his opening over as Pakistan retained the Under 19 (Youth) World Cup with a sensational victory over India in the final, at the R Premadasa Stadium in Colombo on February 19, 2006. The talented paceman finished with 5-35 off nine over's in the day and night match.
Pakistan defended their small total of 109 by bundling India out for a meager 71. That was a Pakistan day, who won the previous world youth World Cup in Bangladesh two years ago in 2004. Pakistan became the first team to defend the title. None of the top-order Indian batsmen could tackle Anwar Ali Swing Bowling. He swung the ball with a lively pace to trap the in-form opener
Cheteshwar Pujara leg-before and then removed the stumps of Rohit Sharma and Mayank Tehlan in his first over.
Anwar Ali was brilliantly supported by left-arm seamer Jamshed Ahmed, who bagged two wickets in his first two over's to reduce India to 9-6 in just 3.2 over's. India could never recover from the horror start despite a fighting 39-run stand for the eighth wicket between Piyush Chawla (25 not out) and Pinal Shah (16), the only two batsmen to reach double-figures in a dismal performance. Fast bowler Akhtar Ayub claimed the last three Indian wickets to spark celebrations in the Pakistani camp.
India, unbeaten and untested in the tournament before this match, were let down by the batsmen after their spinners Piyush Chawla and Ravindra Jadeja had done a commendable job to restrict Pakistan. Leg-spinner Chawla finished with 4-8 off 8.1 over's, including two wickets in his opening over, and left-arm spinner Ravindra Jadeja took three wickets for 16 runs.
Pakistan kept losing wickets at regular intervals against the Indian spin duo. Middle-order batsman Rameez Raja was the top scorer with 25 off 67 balls. The other batsman Nasir Jamshed (18), Ali Khan (10), skipper Sarfraz Ahmed (15), and Anwar Ali (17) were the other batsmen to reach double-figures. PCB announces Rs 200,000 each for victorious Pakistan under-19 cricket squad upon returned home from Sri Lanka on February 21 to a resounding welcome in Karachi. The former Pakistan greats and captains Hanif Mohammad, Mushtaq Mohammad, and Zaheer Abbas were among those who showed warm welcome to them.
Earlier Pakistan brushes Australia aside in the semifinal when Abbottabad's Riaz Kail hit a half-century under pressure to set up Pakistanis 163-run victory over Australia in the semifinal of the Under-19 (Youth) World Cup cricket tournament at the R Premadasa Stadium in Colombo. The lower-order batsman scored a solid 84 as defending champions Pakistan recovered from 80-5 to reach a challenging 287-9 off their allotted 50 over's after electing to bat in the day-night match.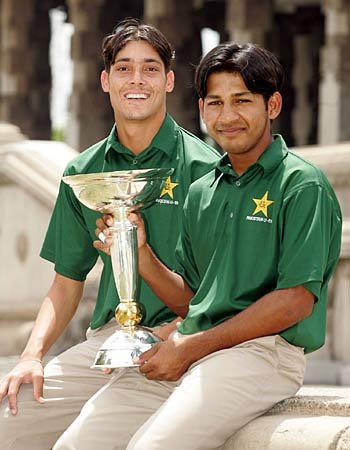 Australia failed to cope with Pakistan's pace-spin combination and they were bowled out for 124 in 32.3 over's. Australian Left-handed opening batsman, the Islamabad-born, Usman Khawaja was the top scorer for Australia with a 69-ball 59, which contained eight fours. Off-spinner Usman Malik and left-arm spinner Imad Wasim each finished with three wickets, while left-arm seamer Jamshed Ahmed bagged two wickets.
Pakistan will meet India in the Final, who had beaten England by 234 runs in the first semifinal, after bowling out their opponents for a pathetic score of 58. Man of the Match Riaz earlier led Pakistan's fightback with his maiden half-century of the tournament as he put on 160 for the sixth wicket with the left-handed Ali Asad (69) after his team had lost five wickets for 80 runs.
Australian fast bowlers Moises Henriques, the team skipper, and Adam Richard did the early damage when they grabbed two wickets apiece in their lively opening spells. But Riaz Kail had managed just 38 runs in the last four matches, rescued his team with a big stand with Ali Asad at the day-night final at the same venue in February.
He struck 10 fours in his 99-ball knock. Ali Asad hit one six and four boundaries in his 86-ball innings Henriques finished with three wickets, while fellow-seamers Richard and Simon Keen took two scalps apiece performance to bring their side back from the in a thrilling final against India in Colombo.
They appeared out of the match after their arch-rival bowled them out for just 109 but Man of the Anwar Ali (5-35), Jamshed Ahmed 2-24, and Akhtar Ayub (3-9) turned things around in spectacular fashion. Anwar Ali and Jamshed reduced India to 9-6 in 32 breathless over's before the meal break. Although India's lower order dug in after the interval they could not rescue the situation.
India was bowled out for 71 in only 18.5 overs, their lowest total in World Cup history, beating the 77 they made against Bangladesh in 2002. Pakistan's victory meant they joined Australia (1988 and 2002) as the only sides to win the tournament twice after their previous success in Bangladesh two years ago. Anwar Ali produced the best figures in an Under-19 World Cup final, surpassing India's Piyush Chawla, who captured 4-8 in the Pakistan innings.
Anwar Ali and Jamshed Ahmed bowled like men possessed and effectively won the game with their opening bursts. Left-arm medium-fast bowler Jamshed Ahmed gave his side a dream start when he bowled Gaurav Dhiman off the inside edge from the first ball of India's run-chase. After that Anwar Ali took over the spell in a remarkable second over of the innings.
He trapped man of the tournament Cheteshwar Pujara leg before wicket second ball for no score, and then bowled Rohit Sharma (4) and Mayank Tehlan (0) all in his first over, at the end of which the score was a remarkable 8-4. Jamshed continued the carnage in his next over, bowling India captain Ravikant Shukla (4) with a fantastic away swinger to the left-hander that clipped the top of the off-stump.
Then, amazingly, in the next over, still only the fourth of the innings, Debabrata Das (0) was caught and bowled by Anwar Ali Khan off bat and pad and to leave India in chaos and Pakistan in dreamland. It was the signal for the interval and after a session like that, everyone needed a break! Anwar Ali Khan had an astonishing 4-5 from just 1.2 over's while Jamshed Ahmed had 2-4 from two over's.
Despite their predicament, India still needed only 101 to win at that point and had 46.4 over's left to get those runs so the question was whether Pakistan's bowlers could maintain their momentum after the break. Ravindra Jadeja (6) departed to Anwar to give him a fifth success to leave India at 23-7 put then Chawla and Pinal Shah dug in to add 39 and give their side renewed hope.
At that point, Pakistan captain Sarfraz Ahmed threw the ball to his third seamer Akhtar Ayub and he wrapped up the innings and the match in quick time. Akhtar had Shah (16) caught by Sarfraz Ahmad behind the stumps then removed Vijaykumar Mahesh (3) with an inswinger and Mohnish Parmar (0) with a delivery that clipped the top of off-stump, taking the last two wickets in three balls.
Chawla, who did not deserve to be on the losing side, was left 25 not out. Then this was the cue for wild Pakistan celebrations and Indian dejection, emotions that scarcely dumber just a couple of hours earlier. Pakistan's batsmen had been humbled by spin Chawla, Ravindra Jadeja (3-18), Rohit Sharma (1-17), and Parmar (1-9) caused havoc Let Pakistan made a flying start. However, leg spinner Piyush Chawla immediately dropping into a superb rhythm. After the first three overs of the innings went for 24 runs, the next 17 cost just 36 runs and five wickets.
Piyush Chawla dismissed the two batting heroes of the semi-final win against Australia, Ali Asad (2) Riaz Kail (0) in the space of three balls, and left-hand batsman Imad Wasim, stumped by Shah for one and then dismissed the last man Akhtar Ayub bowled. Pakistan was 49-5 and their lowest ever total in Under-19 Cricket World Cup history. Pakistan previous scored was 70 against England in 1988, looked under serious threat.
Rameez Raja (25) ensured that the score was passed but he, like every other Pakistan batsman, was unable to break the shackles against the Indian slow bowlers. Pakistan coach 'amazed' at the team's achievement Mansoor Rana, the Pakistan coach, admitted he did not believe his side would be able to defend 109 in the Under-19 World Cup final against India, at the R Premadasa Stadium in Colombo. After watching the batsmen fail again in the tournament he said there were some dejected laces in the changing rooms at the interval.
They were very down," he said in the post-match press conference, but I told them that in my experience I have seen this happen before. I said we had a chance to defend the score, but I didn't really believe it I only said it to raise their spirits. On to say that to skittle the Indian batting for 71 was an amazing achievement. "Their top five are very good, you can see that from the number of runs they have scored in the tournament.
Their middle order hasn't got that many runs, though, so we thought that if we could get two or three early wickets we would have a chance "One guy was averaging over 100 but the law of averages said they were due to fail and that's what I told the lads. I said that if we could grab a few early then swing the ball under the lights we could defend the total." The floodlights were hardly needed, such as the destruction provided by the quick bowlers.
The coach saved special praise for his pace attack of Jamshed Ahmed, Anwar Ali, and Akhtar Ayub, who has performed consistently throughout the tournament. They have been exceptional, said by enthusiastic Rana. "The whole tournament is down to those three really. We have failed with the bat and great credit has to go to the attack. To defend 109 against a team that has regularly made 250 plus runs was incredible.
Mansoor Rana believes a number of his players can go a long way in the game and said Sarfraz Ahmed could be a future Pakistan captain. In four or five years' time, a lot of these guys should be pushing towards the top of the first-class level if not international cricket. Sarfraz Ahmed has a bright future because captaining the side here has shown that he has what it takes to lead at a higher level and he is already the captain of a first-class team."
Venkatesh Prasad, India's coach was full of praise for the way Pakistan came back and won the match. They played very well, to go out there and defend 109. Credit must be got to their attack and really the match was decided in those three or four over's when he lost six wickets" He suggested that it was India's desire to knock the runs off quickly that cost them the match. "We wanted to finish the game before the interval.
A side like ours should be able to get those runs in 20 or 25 overs but we didn't show enough application. I think there was a bit of a feeling among the batsmen that if one person didn't get the runs another would. "But I'm really proud and happy with the players and what they have done in this tournament. The boys have been keen to learn and have done a lot of hard work. Sadly one bad day in eight months, we played good cricket leading into the World Cup, cost us. But I can have no complaints. Overall it was a great experience in the Under-19 Cricket World Cup 2006.
Product You May Interested