Former South African Medium Fast Bowler Richard Snell was born on 12 September 1968 in Durban. He played 42 ODI's and 5 Test matches for South Africa in the mid-1990s. He made a formidable opening pair with his childhood friend Steven Jack for early cricket he played for Transvaal. Richard Snell was picked against the Mike Getting rebel teams in the 1990s, which helped him to be picked straight back into international cricket in India and World Cup 1992.
Richard Peter Snell took the first Test Wicket against West Indies at Bridgetown after South Africa's readmission to international cricket. That would be a proud moment for his cricketing career. He picked the wicket of Phil Simmons when Peter Kirsten took an easy catch.
It was just a matter of one bad session, eventually, West Indies won the match by a margin of 52 runs. Otherwise, it would have been a great victory. In this match, Richard Snell was close to having the wicket of young

Brian Lara

, who was dropped at zero in the first slip. This was another memorable thing he had in his memory.   
But it is an honor for him to represent South Africa's first test match after a gap of 20 years hiatus ban. In that era, South Africa re-emerge with the strong performance of Allan Donald, Jonty Rhodes, and Hansie Cronje. But Richard Snell was rarely credited, but play a vital role in breathing fresh life into South African cricket. Pairing with Allan Donald in the early '90s was a matter of envy for other playing nations.  
Before the 1992 World Cup, he was a member of the South Africa side that toured India in 1991 for three ODI's. This was South Africa's first tour to any country in 20 years. The first ODI was played at the packed stadium of Eden Gardens, Kolkata on Nov 10, 1991. In front of 80,000 spectators, he scored a useful 16 runs innings at the lower numbers as Parveen Amre took a nice catch off Kapil Dev's bowling, therefore, he didn't pick any wicket in a spell of 6 overs, where he conceded 35 runs in a low-scoring thriller. So, being a part of the first ODI for the country, was a proud moment for him.  
In 1993-94, he took his career-best 5 for 40 in an ODI against Australia at Melbourne Cricket Ground in the Benson & Hedges World Series. In 1993, he came back with a strong performance of 4 for 12 against Sri Lanka during the Hero Cup, which was a satisfactory display of fast bowling.
At the lower numbers, his right-handed batting was an added benefit to his team. In 1996, against England, he produced a career-best 63 runs at Chevrolet Park, Bloemfontein. He played cricket for South Africa, Somerset, and Gauteng.
Once, he told that the wicket of Sachin Tendulkar in the early 1990s was one of the great memories to have in their pocket. A young man with bundles of talent, facing like Allan Donald and

Brian McMillan

, was truly a hint of a great player in making.
Test Career:
He played 5 Test matches for South Africa. In 8 innings, he scored 95 runs at an average of 13.57 with the best of 48, including 14 fours and one catch. In the bowling department, he took 19 wickets with the best of 4 for 74 at an average of 28.31
ODI Career:
In 42 ODI's, Richard scored 322 runs at an average of 16.10 with the best of 63, including 2 fifties, 20 fours, 4 sixes, and 7 catches. He grabbed 44 wickets at an average of 35.77 with the best of 5 for 40.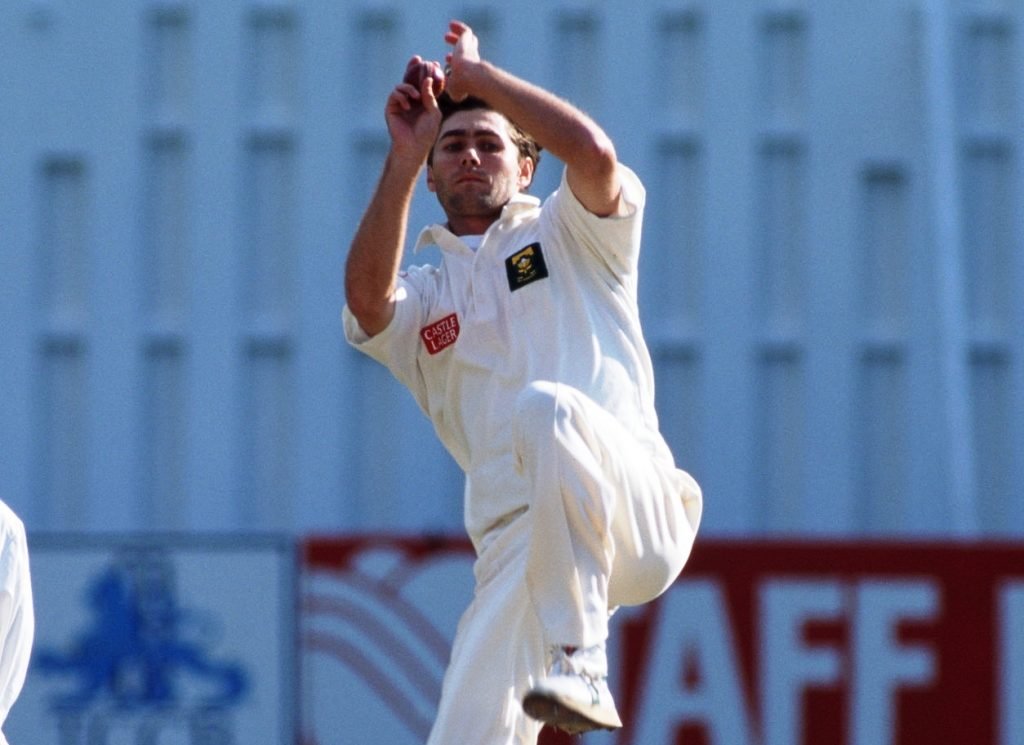 First-Class Career:
In 86 first-class matches, he scored 2,077 runs at an average of 21.63 with the best score of 105, including one hundred, 8 fifties, and 24 catches. In bowling, he took 260 wickets @ 28.10 with the best of 6 for 33, including 10 times five wickets in an inning and one time 10 wickets in a match.
List-A Career
In 154 matches, he scored 1,997 runs @ 22.43 with the best of 146, including 2 hundred, 7 fifties, and 30 catches. He managed to take 158 wickets @ 30.11 with the best of 5 for 40. That was the only time, he took 5 wickets in an inning.
Post Retirement
In 1998, he decided to hang his boots and worked as a professionally trained physiotherapist. Aside, from this, he joined his family cleaning Service and supply chain business, Reno Industrial South Africa. Richard Snell could not play too much cricket for his country, but his little career is full of joy and meaning. He would be remembered as a group of those players, who played the first ODI for his country.