Doug Ring was born on 14 October 1918 at Hobart, Tasmania, Australia. Doug Ring played his Sheffield Shield cricket for Victoria. He played 13 Tests for Australia between 1947-48 and 1953. He made two tours of England. First one in 1948 and second tour in 1953. But unluckily he has taken the chance only in one Test on both trips.
He made his Test debut for Australia in the fifth Test against India at Melbourne Cricket Ground in 1948 along with invincible teammate Sam Loxton. He was replaced by Colin McCool, who had badly failed by taking only 4 wickets in three Test matches. Ring made 11 in his first inning while batting at No 10. While taking 3 for 103 and took three more wickets in second-innings for 67 with match figures of 6 for 120.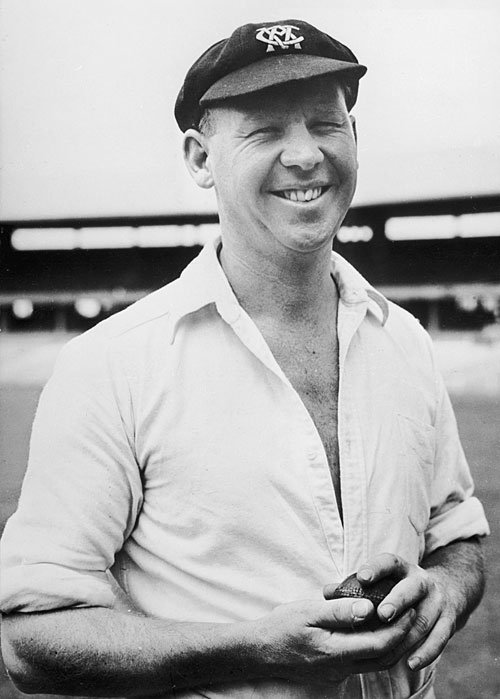 Douglas Thomas Ring, a 6 feet tall man with his large hands helping him for plenty of spins on the ball. He didn't believe on much flight the ball especially in English conditions.
Doug Ring was valuable right-hand batsman and leg break bowler. He played 13 Test for Australia scoring 426 runs at an average of 22.42 and took 35 wickets at 37.28 a price.
Though, Ring was not prominent on the tour of 1948. As a spin bowler, he made little impact in the big matches. Keith Miller and Ray Lindwall were dominating the Australian bowling attack.
Doug Ring first 60 first-class wickets at an average of 21.81 were the highest bowling average of the regular bowlers. He also has taken little chances in batting only 14 times in his 19 first-class matches on this tour and scored only one fifty.
Ring, as a proven Test player and the senior spin bowler for his second tour of England in 1953. But this time under the captaincy of Hassett, he could not get big success and not much happier then his 1948 experience.
His eventual wicket tally, 68 first-class wickets at an average of 19.89. He has placed him third among the regular bowlers. Ring played in the second Test match at Lord's. Where he took two wickets on a pitch allegedly susceptible to spin and scored 18 and 7 as the match ended in a tight draw.
Overall, he took 35 Test wickets during his career, with the best figure of 6 for 72 against South Africa at Brisbane in 1952-53. On the same ground the previous year he took 6 for 80 against West Indies. In the first class, cricket Ring took 451 wickets at 28.48 with a career best of 7 for 88 for Australia B vs New Zealand XI at Dunedin in 1949-50.
Doug Ring was more then the capable batsman. He liked to use his height to good advantage in attacking the bowling in swashbuckling style. He scored one first-class hundred 145 for Victoria against Queensland at Melbourne in 1946-47. His 426 Test runs included four half-centuries as well. Two of those came against West Indies in 1951-52. But it was his 32 not out in the fourth Test of that tour, at MCG which is probably his best-remembered contribution to Test history.
Australia was set 260 to win, and at one stage they were 222 for 9. But Doug Ring was joined with club mate Bill Johnston. Somehow Ring and Johnston eked out the runs required for a nail-biting one-wicket victory to clinch the series. Doug Ring is survived by his wife, Lesley, three children, six grandchildren, and six great-grandchildren.
Doug Ring was a valuable team member, and he represented his country, state, and Club with pride and distinction. He will long be remembered for the role he played on Australia's tour of England under the late Sir Donald Bradman.
Doug Ring also enjoyed a successful first-class career, which was lasted for 14 years from 1938-39 to 1952-53. His overall record in First Class Cricket is 3,418 runs and captured 451 wickets. After Cricket, Douglas Thomas Ring became a cricket radio commentator and later host of Australia's World of Sport and held positions in industry administration in Victoria.
Doug Ring, the former Australian leg spinner died in Melbourne on June 23, 2003, at the age of 84. His passing means that the ranks of surviving members of Australia's Legendary Invincible team which toured England in 1948 under the captaincy of Don Bradman have dwindled to seven.
Doug Ring Cricket Stats