The sight of Vivian Richards standing bare-chested in the visiting team's balcony at the Ferozeshah Kotla stadium is still vivid in one's memory. It was November 1983 in Delhi and people were clothed in woolens. But Viv Richards was there and spitting fire.
The West Indian had been ruled out, leg-before to Kapil Dev and he returned fuming at the decision. In the dressing room, Richards is said to have smashed the crockery just the way he would snatch the bowlers on the field. Such was his anger that everyone sense the conditions of the dressing room.
The 'Master Blaster' as he was often referred to had been extremely fortunate at the very same venue Ferozeshah Kotla when he came with Clive Lloyd's team in 1974-73. Everyone at the ground was convinced that Richards batting on 12 was caught behind by Farokh Engineer off S. Venkstaraghavan. but the umpire thought otherwise.
Vivian Richards survived and probably his career took wing that eventful day. He then carted the attack, minus B.S Chandrasekhar, all over a couple of his hits landing in the adjacent Ambedkar football stadium. The magical knock of 192 gave a boost to Vivian Richards's quest to become the greatest batsman in the world. And be had no equals. Vivian Richards behaved in laying bare the inadequacies of the opposing attack. He took the fight to the bowler's and. more often than not came out the winner.
All arguments are laid to rest if you look at what he has achieved in his illustrious career. No bowler, with the exception of Chandrasekhar, can claim to have dominated this explosive batsman.
Later when the West ladies left India in 1988 losing the Test match at Madras. Viv Richards had said that he had a long memory. The West Indians would wait for the Indians who were scheduled to tour the Caribbean the following year. Richards was a discouraging sight for bowlers around the world As the 'A- in his – I.V.A. – suggested he indeed was the conquering hero like Alexander. He could destroy any attack on any kind of wicket.
Vivian Richards had his own set of goals which meant that he had to destroy the bowler come what may. The greatness of his batting lay in the fact that he scored a lot of runs on pitches that were most doubtful in nature. The opposition often set a restrictive field and he accepted the challenge, would beat it with utter disdain.
For bowlers, Richards had only contempt. But that was only on the field. Off it he was a very jovial character lie enjoyed a tremendous friendship with

Ian Botham

. There were times when he would smash Botham around on the field and later after the day was over, the two would have a laugh. They had mutual respect for each other. Ian Botham was the best man when Viv Richards married his childhood sweetheart Miriam.
Ian Botham is said to have been so fond of Richards that he rated him better than Sir Donald Bradman. Now, that could be arguable. There were many who said Richards was no patch on Barry Richards. As long as Viv was at the crease, he would offer the bowlers some chance. but not Barry.
But Vivian Richards was unique. Nobody could hat like him and he had few parallels in fielding. He was simply outstanding whether standing close in or in the deep. The three run-outs he affected in the

1975 World Cup

final against Australia tilted the game West Indies' way. He was also a cunning off-spin bowler in limited-overs cricket. Viv Richards truly was a dream cricketer.
That he was a genius was a well-known fact. His cricket was instinctive and he had gone on record saying: "I occupy the crease to score runs." For that matter, every batsman loves to score but none can in the manner of Richards.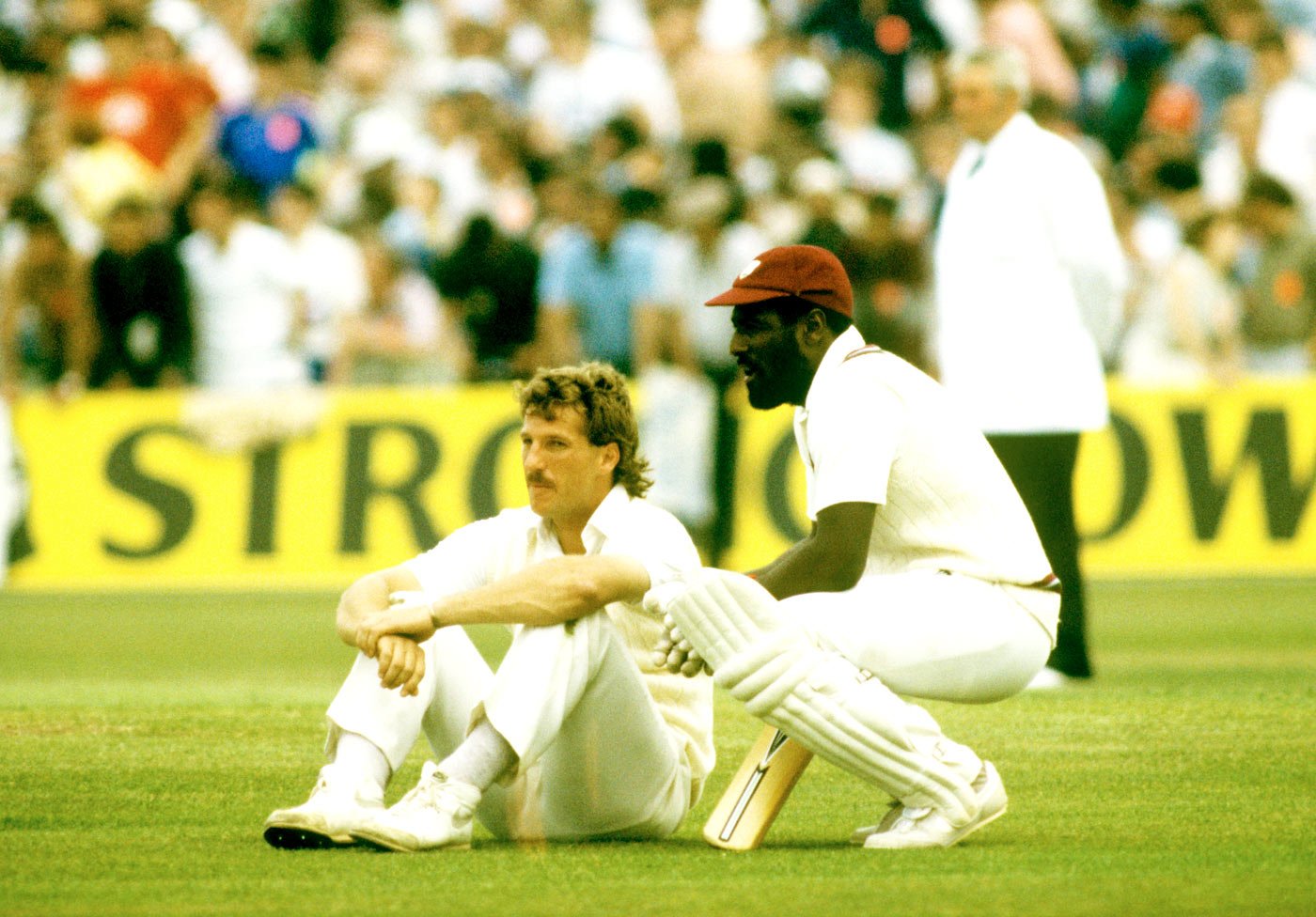 Some of the shots he played could be played only by him. No coaching book can teach you how to play those shots. A six-over cover, a flat batted straight-drive, and the stunning flick, only he could play all these. He could dispatch even balls pitched outside the off-stump to the mid-wicket fence with the slightest of effort. Fast bowlers bowled to Richards with a deep mid-wicket.
In 1984 Richards played what is regarded as the most explosive innings ever and also one of the greatest. He mauled the English attack at Old Trafford belting five 6s and 21 fours during his epic knock of 189 not out. It was an assault, indeed, one only a dream. Bob Willis and Botham were treated like school cricketers. What a fortunate man Michael Holding was as he stood at the non-striking end admiring Vivian Richards's batsmanship during the 100-plus unbeaten stand for the last wicket.
There was something in Vivian Richards that prompted him to give his best against the English bowlers. When Tony Omit commented that he would make West Indies "grovel' during the 1976 stoics. Richards produced a torrent of runs. His sequence was 232, 63, 4, 135, 66 38, and 291. Luckily for Tony Greig and England, Vivian Richards missed the second Test at Lord's due to injury. His tally was 829 runs in four Texts.
In '1974, Vivian Richards joined Somerset and two years later he was hammering the English bowlers as no batsman had ever done, with the exception of Don Bradman, of course. Richards had a very strong physique and was very quick in whatever he did. His walk to the wicket in itself reflected the man's confidence or arrogance as some people interpreted it.
He was arrogant no doubt, but then most talented people are. He was immensely talented but as he once said, he did train hard and was very determined and disciplined when it came to cricket.
Vivian Richards was a very successful captain winning 23 of the 40 matches he led West Indies in from 1985 to 1990. He had maintained the standards set by Lloyd. If only he had curbed his temper, he would base been a far more popular cricketer.
An interviewer asked if you're clearly a very loyal man who made a lot of friends in those days that you've kept for life. Like Sir Ian Botham. You two are as close now as you've ever been. How did that friendship start?
When I first came to this country I was this new kid from the Caribbean. England was a rude awakening for me. I played in a trial match for Somerset and Ian Botham walked in. I think he was on the Lord's ground staff at the time.
I batted and got out the first ball but when we came to bowl I ended up with five wickets while Ian, the big swing bowling hope, didn't take any. He came up to me in the dressing room afterward, introduced himself, and said to me `from now on, mate, you do the bowling and I'll do the batting'. I remember it to this day.
The warmth of the man. He made me feel so at home. I hardly knew anybody but he made me think 'wow, some of these blokes are okay'. He showed me what a pint of bitter was all about and we just went on from there! (Viv pauses, looking emotional). I've always said that now we are getting older, if he goes before me I will drop everything to be at his family's side to support them and do all I could for them and I know he would do the same for me.
Source – Vijay Lokapally Sportstar Oct 1993