Wasim Raja was born in Multan on 3 July 1952. His various roles in the sport include schoolteacher, match referee, coach, and player were all British Pakistani. Between 1973 and 1985, he appeared in 54 ODIs and 57 Tests for the Pakistani national cricket team.
Besides being a splendid left-handed stroke maker who thrived in adversity, Wasim Raja was also an excellent cover fielder who opened Pakistan's bowling on occasion. He was also a useful leg-breaks googly bowler with great athleticism. As an ICC match referee, he was responsible for the Ashes series while representing Pakistan in more than 100 international matches.
As a middle-order left-handed batsman, Wasim Raja was known for his dashing left-handed stroke play, which he executed with a keen eye and wrist control. Although he had his fair share of confrontations with the Pakistani board, he will always be remembered for the manner in which he played the game.
He grew up in a privileged environment, which made him unhappy with the hierarchy within the team, he once refused to hang out the socks of a senior player, but more importantly, he always felt frustrated that he was often selected based on match-by-match selections while senior players were everywhere.
He might have captained Pakistan instead of Javed Miandad, who was more ambitious, or Zaheer Abbas, who was more cautious. At the age of 18, he was a prodigy in batsmanship and led the under-19 team. It was quite common for Wasim to practice without pads before his first Test match with Imran Khan, who admitted that Wasim had "an entirely different level of maturity than most cricketers his age".
At the age of 15, Wasim Raja played his first-class debut for Lahore at Government College, while still a student. He then attended Punjab University, where he excelled both in cricket and academics, earning a first in his Masters's degree in politics, and was called up to play against New Zealand in 1972-73. When he came to England in 1974, he topped the averages on the tour. On a drying wicket, Wasim Raja countered Derek Underwood with a selective attack at Lord's, which Wisden described as "masterful".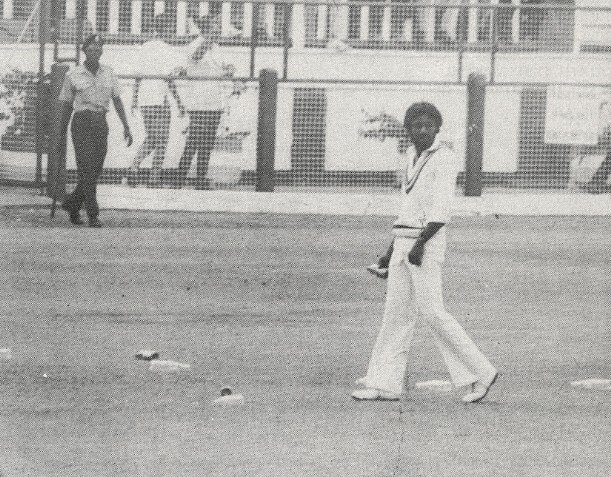 As a Test cricketer, he had one of his best seasons during the 1976–77 tour of the West Indies, where he scored 517 runs at 57.4 and took seven wickets at 18.7, behind Majid Khan. As well as hitting 14 sixes in the Test series, he also set an international record that has only been equaled four times. To push West Indies within one wicket of their first Kensington Oval loss since 1935, he scored the highest runs in both innings of the first Test in Barbados.
The West Indies were set a target of 306 in their second innings after Pakistan suffered 158-9 on the second day, a lead of only 144 just about halfway through the fourth day. However, a last-wicket stand of 133 with Wasim Bari took Pakistan to 158-9 on the second day. West Indies fell 55 runs short on day five, with a score of 251-9.
A century at home against West Indies that winter was his maiden Test hundred. There was a full-scale invasion on the field to congratulate him, instead of the usual handful of well-wishers that would descend on a three-figure score.
His 11 Test matches were mainly against the mighty bowling of the West Indies, including Andy Roberts, Malcolm Marshall, Joel Garner, and Colin Croft. He made 919 runs at an average of 57.43, an average only Greg Chappell could match. During the 1978-79 tour, he also hit two 90s and ended the series with 450 runs at 56.25 while the other front-line batsmen collapsed under the pressure.
With his under-utilized leg spin, he had his best bowling figures against them in that match, 4 for 50, as he scored 125 not out in the first Test against them at Jullundur. Between 2002 and 2004, Wasim Hassan Raja was a coach for the Pakistan Under-19 team as well as a match referee for the International Cricket Council for 15 Tests and 34 One-Day Internationals.
As a result of his marriage to an Englishwoman, Anne, he settled down in London. As a Minor Counties cricketer for Durham for a number of years, he met the woman who became his future wife, Anne, also an effective cricketer. In order to become a teacher, he studied at the University. During his time at Durham, his playing days were nearly ended by a serious car accident, but he eventually returned, helping the team win the UAU Championship in 1990.
During his 15 years at Caterham School, he taught geography and physical education. As a leg break, googly bowler his key victims in Tests were Clive Lloyd, Roy Fredericks, Glenn Turner, and

Viv Richards

. Wasim Raja also bowled a flat wrist spin with his right hand that led to 51 Test wickets at an average of 35.18. Moreover, in first-class cricket, he scored 11,434 runs in 250 first-class matches, including 17 centuries, and 558 wickets.
Family Background
His elder brother, as well as his younger brothers, all played first-class cricket. Zaeem Raja played for National Bank while Ramiz Raja captained Pakistan at the Test level. His father was also a first-class cricketer, captained Sargodha, and was a high-ranking civil servant.
Death
During a game at High Wycombe, Wasim Raja suffered a heart attack and died. His wife Anne and two sons Ali Raja and Ahmed Raja survive him. At the age of 54 years and 51 days, he passed away at his home in Marlow on August 23, 2006.