The Test Match series which begins this week between South Africa and Australia may give Keith Miller the chance to show whether he is a star or a meteor. This New South Wales cricketer and athlete, now at the age of thirty have a genius that both he and others have found difficult to direct and control. He is like a mettlesome racehorse, yet to strike the exact right rider and occasion.
As a batsman, Keith Miller is equally capable of supreme brilliance and criminal negligence. In one innings he looks like something between Jessop and Trumper; in the next, he seems to have an urgent appointment in the pavilion. As a bowler, at his fastest and most purposeful, he could make the batsman pray for the comparative safety of Ray Lindwall.
Keith Miller bowling in the first 'Test against England at Nottingham in 1948, bumpers apart, was, in the opinion of bowler's umpire Chester, the best of its kind for years. The bumpers were just temperament: very naughty; very regrettable. But they weren't the sort of bumpers that any fattish bowler can whack down, short and obvious.
They whipped up from near a length; bombs rather than balls. As a slip-fielder he was prehensile and acrobatic, It was in the summer of 1945 that Miller burst upon us, and three times in that season he scored a hundred against teams representing England. So we had much to expect when he came with Bradman's Test team three years later.
But, almost from the first, he seemed miscast and out of joint, His daring deteriorated to profligacy. Excitability took the place of fervor. There were personal reasons for this, which are no affair of ours, officially, the blame must rest on Miller, and he paid for his extravagant independence by being omitted from the Australian team originally chosen to tour South Africa. Then came the injury to that fine left-hand bowler, W. A. Johnston, and Miller were sent for.
The naughty boy had stood long enough in the corner. Be that as it may, this is Keith Miller's chance; to re-establish him, not so much arithmetically as temperamentally, in a game which, perhaps more than any other, needs service above showmanship. Rumor has mentioned him as a possible captain of Australia when England goes there next autumn. Such a choice would be a compliment and encouragement to the chivalry of the game and a pleasure to those who prefer to think of so great a cricketer at his best.
There is a wild outburst by Keith Miller while bowling at Nottingham on June 13. When Australian left-arm bowler was loudly hooted during his last two overs at Trent Bridge yesterday after he had struck England opener, Len Hutton, on the left shoulder with one of two short-pitched bumpers. As stumps were drawn a large section of crowds ran on the field and stage a demonstration against Miller.
As when Keith Miller walked up the pavilion steps, many of the members in the pavilion area joined in the hooting. Eventually, police hurried to the head of the demonstrators.
With two days left for play in the First Test England has lost two wickets in its second innings for 121 runs and is still 223 runs short of Australia's first innings score of 509 runs.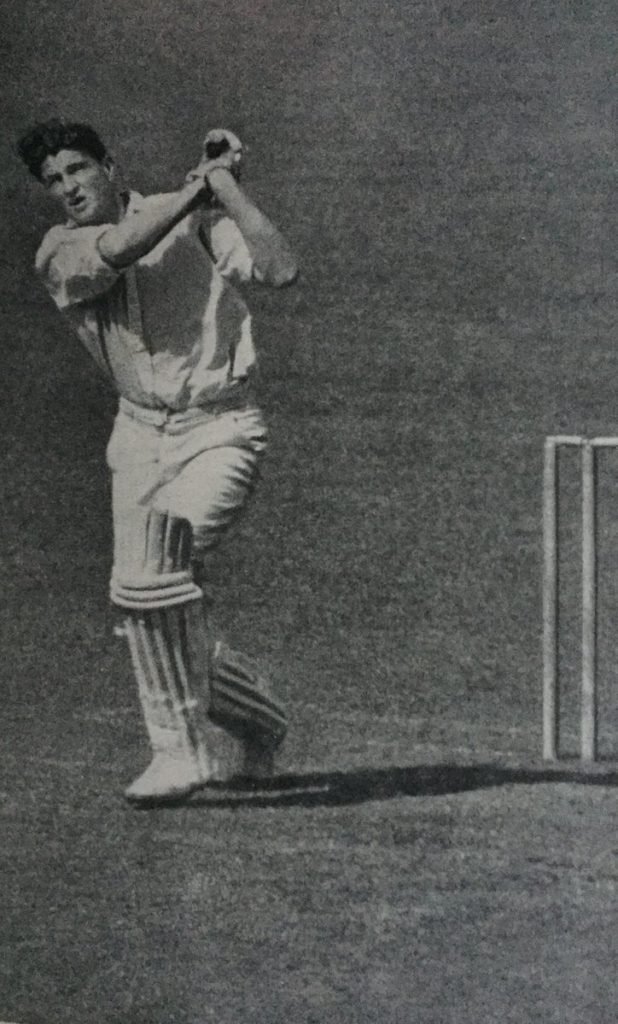 Source – R.C. R. G in 1949