Abdul Hafeez Kardar was Pakistan's first captain in Test matches and, in fact, led the country in all its first 23 such matches from 1952-53 to 1957-58 before the captaincy passed on to his deputy Fazal Mahmood. He was born in Lahore on January 17, 1925, and died in Islamabad on April 21, 1996, at the age of 71 years. Until 1947, he was known simply as 'Abdul Hafeez' but added the family name of Kardar when he enrolled at Oxford University in England.
Abdul Hafeez Kardar started his first-class career as a cricketer in undivided India. He was a useful left-hand batsman and slow left-arm orthodox bowler. Who in his debut match for Northern India against Southern Punjab in a 1943-44 Ranji Trophy Championship match at Patiala? In this match, he opened the batting with scores of 94 and 14 and had bowling figures of 2-47 in the only innings he was asked to do so.
Abdul Hafeez Kardar was then just 19 years old. In a first-class career that was spread over some 22 years -from 1943-44 to 1965-66 when he was past 41 years – Kardar appeared for Northern India (1943-44 to 1944-45) and Muslims (1944-45) in India, for Oxford University (1947-1949) and Warwickshire as an amateur (1948- 1950) in England and for the Combined Services (1953-54 to 1954-55) and Rawalpindi-Peshawar (1960-61) in Pakistan.
He also played for the Gentlemen (in England) in 1949 and for the Commonwealth XI in 1950, in addition to appearing in a non-first-class fixture for North Wales in 1947. Kardar played Test cricket for both India and Pakistan. In 1946, more than a year before Independence, he toured England with the India team and played in all three Tests, scoring 80 runs (average 16.00) with a highest of 43 in addition to taking one catch.
Then, he stayed on in England to study and play County Championship cricket. He was more successful as a bowler than a batsman in his four summers in England, bagging a total of 238 wickets, including 92 in just 21 first-class matches at 19.31 runs each in 1949. In 1950, he scored 883 runs (average of 22.07) in 31 matches in addition to taking 61 wickets (average of 31.11).
He returned to Pakistan in late 1950 and captained the country to victory over the touring MCC team in an unofficial 'Test' at Karachi in 1951-52, an achievement that helped Pakistan gain full Test status. Kardar then captained Pakistan in 23 successive Tests, of which six were won and six lost, with 11 drawn.
His Test record for Pakistan was: 23 Tests, 847 runs (average 24.91), highest 93, 5 50s, 15 catches, 21 wickets (average 45.42), best 3-35. In 174 first-class matches, he totaled 6,832 runs (average 29.83) with a highest of 173 among his eight hundred and 32 half-centuries, held 110 catches, and captured 344 wickets (average 24.55) with a best of 7-25 among his 19 5wl and four 10WM feats.
Abdul Hafeez Kardar made three tours abroad with the Pakistan team, all as – to India 1952-53, England captain 1954, and West Indies 1957-58. From 1972 to 1977, he was a very influential President of the then Board of Control for Cricket in Pakistan (BCCP), now known as the PCB.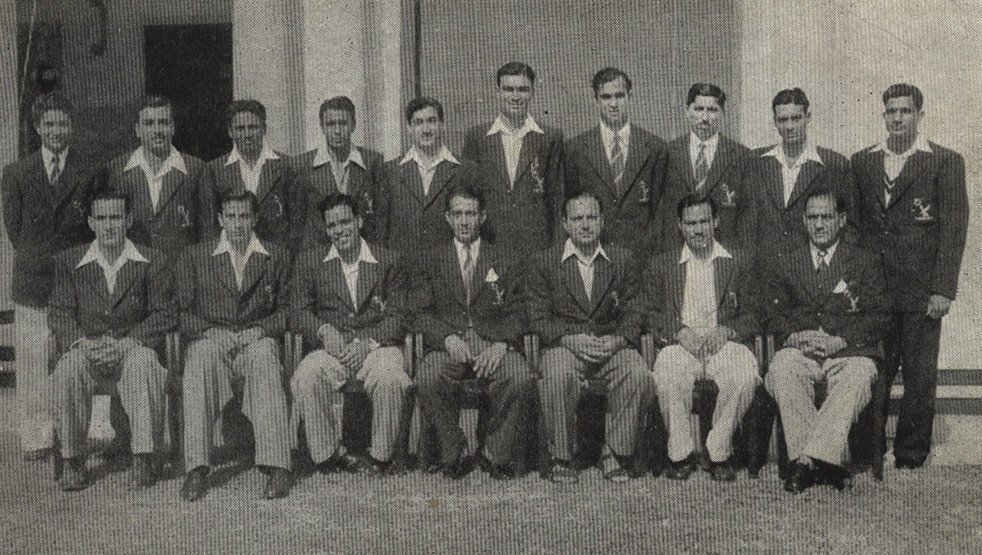 He also joined politics and was a minister in the Punjab government and remained Punjab Minister for Food under the Zulfiqar Ali Bhutto government. He was a great supporter of Muhammad Ali Jinnah (The Founder of Pakistan), and an adherent to the idea of Muslim glory in India. Kardar also worked with several charitable and social development causes. 
In his later years, just before he died, he served as Pakistan's ambassador to Switzerland. Kardar's brother-in-law Zulfiqar Ahmed, the off-spinner, played nine Test matches for Pakistan while his cousin Farooq Kardar and son Shahid Kardar also played first-class cricket.
While in England, Abdul Hafeez Kardar married Helen Rosemary, who was the daughter of Cyril Hastilow, who was then chairman of Warwickshire County. Abdul Hafeez Kardar is one of three players who played in both India and Pakistan. The other two are Gul Muhammad and Amir Elahi. In 1958, he was given the Pride of Performance award by the President of Pakistan.