Brian Charles Lara was born on 2 May 1969 in Cantaro, Santa Cruz, Trinidad. Sachin Tendulkar's international career may have been half as long again as Lara's. But Lara arguably played more truly brilliant innings that took the breath away with their technical mastery and audacity.
Brian Lara (The Prince of Port of Spain) was capable on his day of shredding even the finest bowlers in a way that few if any of his peers could match. He won games off his own bat, something that convinced some of his superiority to Tendulkar.
What is beyond argument is that for many years these two incredible cricketers – Lara at 5ft 8in taller by three inches – stood head and shoulders above their batting rivals. Lara will be best remembered twice claiming the world Test record score. The mind-blowing 400 not out against England in Antigua in 2004 still stands as the world record.
Then another his marathon 501 not out in 474 minutes off only 427 balls for Warwickshire in a county championship match against Durham, which remains the highest individual innings in any first-class match. This brutal inning consists of 62 smashing fours and 10 towering sixes.
Earlier in the season, he was unstoppable by scoring six centuries in seven innings playing for Warwickshire. In 1995, in an away series, he scored three consecutive centuries against England that earned him a man of the series.
Astonishing though these displays were in their scope and stamina, as was his original Test record score of 375 in 1994, also against England in Antigua, he had even better days than those. What marked him out was how he dealt with the best bowlers of his day.
He was brilliant against Muttiah Muralitharan in Sri Lanka, and that is not easy. Nor was this someone thinking in terms of taking ones and twos, and of rotating the strike, and boring the bowler to death.
He was picking each delivery, and whacking it, and making Murali the Magnificent look Murali the Mortal. He was every bit as good against Shane Warne. Only eight Test double-centuries were scored against Warne and Lara scored three of them. One of these came in Jamaica during a remarkable series in 1999 which was drawn 2–2 and went through every conceivable twist and turn.
In the previous game, West Indies had been dismissed for 51, leaving Lara's future as captain on the line. In 1998-99 West Indies suffered their first-ever whitewashed 5-0 at the hands of South Africa under the captaincy of Lara. A match-winning 213 was his response. He then played even better in the next game in Barbados, carrying his side to an improbable victory with an unbeaten 153 after his team lost their eighth wicket with 63 still needed.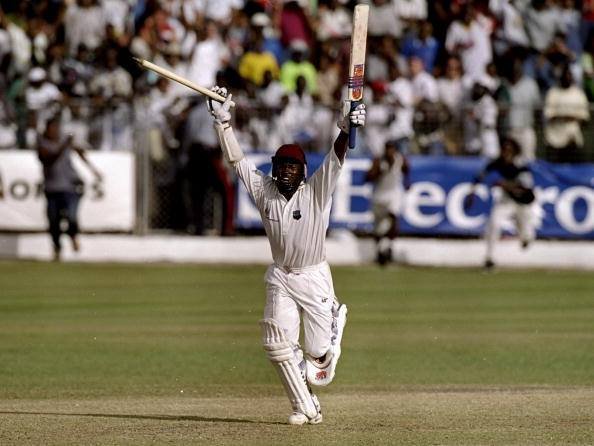 According to Wisden's Top 100 Test Innings, Lara's 153 not out is second best innings after Sir Donald Bradman's 270 against England at MCG in 1936-37. Curtly Ambrose and Courtney Walsh, in turn, held firm but of necessity Lara did most of the scoring. Shane Warne suffered the rare indignity of being dropped for the next match. Brian Lara must have been one of the best of all time against spinners. Perhaps he was fortunate to be brought up in Trinidad (as the tenth of 11 children) where pitches turned more than elsewhere in the Caribbean.
Even so, the way he dominated Murali and Warne was very special. He was also, it seems trite to say, very good against pace, at least until his later years when a tendency to jump across his crease became exaggerated and he was perhaps grateful for the protection the helmet afforded him. His first international hundreds came against world-class fast bowlers such as Wasim Akram and Waqar Younis for Pakistan and Allan Donald for South Africa while playing as a one-day opener in 1993 when they were at something like their peaks.
It is surprising to think that Lara did not score his first century for West Indies until he was 24 years old but despite the obvious excitement over his ability in his native Trinidad. Where in his second match for the island he scored 92 against a Barbados attack containing Malcom Marshall and Joel Garner, and with his own immense self-belief, he kept waiting for his chances.
He had played only two Tests by the time he turned 23 but in his first full series scored 277 at the SCG in Jan 1993, an innings that not only turned the series but many heads too. Therefore, Brian Lara names his daughter Sydney after scoring the first Test century. Brian Lara described it as his favorite innings and named his first child Sydney in its memory. I was commentating on Australia's Channel Nine during that match and can testify to Lara's brilliance.
The difference between Lara and so many of the other batsmen in this list was the strength of the team he was playing for. For the most part, it was not great (and sometimes downright terrible). West Indies relied on him so much. Lara finished on the losing side in almost half of all the Tests he played – 63 out of 131 to be precise. But the blame could not often be laid at his door.
He scored 5,316 runs in those 63 defeats at an average of 42.19 with 14 hundred. Lara sometimes enabled West Indies to compete with the stronger sides, but often the challenge proved too much even for him. In his greatest series against Murali in Sri Lanka in 2001, Lara scored a staggering 688 runs in three games, yet all three games were still lost.
When he played for Warwickshire in 1994, he helped turn a modestly talented team into treble-winners. The 400 not out, which came in the fourth and final Test of a series, was shaped by three earlier defeats. In the context of the game, it was perhaps overdoing it. But given what had happened in the series.
It was his way of restoring pride in West Indian cricket and salving the wounds inflicted by Michael Vaughan's pace attack, against which he personally had to grit his teeth and battle hard. The broadcaster for that innings had been for the 375 ten years earlier. On the first occasion, there was something romantic and emotional about watching Garry Sobers.
One of the great heroes and Lara's too, walk out to congratulate him. Garry Sobers said he could not have been happier that Lara had been the one to break his record: 'To me, he is the only batsman around today who plays the game the way it should be played.
He doesn't use his pads, he uses his bat.' The record was broken by Mathew Hayden's 380 against Zimbabwe in 2003. In an interview with him at the start of the 2004 series and asked if there was a chance of him reclaiming the record and he'd said, 'Oh well, maybe, you never know. I'm not really thinking about it.
Perhaps most extraordinary was how relaxed he was when he resumed on 313 at the start of the third day. The commentators of Sky TV's build-up, we were on the outfield and we'd asked him if we could borrow his bat, was holding it and saying, 'This is the bat with which Brian Lara is today going to attempt to get back his world record. And then there he was, walking past on his way to the wicket. 'Here you are, you might need this. He said thanks and off he went to get his 400.
Most players would have wanted that bat with them in the dressing room, familiarizing themselves with how it felt again. Not Lara. He had far too much style for that. Did he get a little bit carried away with himself at times? Possibly. There perhaps was one difference with Tendulkar.
In 1989 he was selected for the West Indies B Team and toured to Zimbabwe, where he scored a brilliant 145 in one match. Therefore, Lara was given an opportunity to play against Pakistan in 1990. In the first Test Match at Lahore, he scored 44 in the first inning and 5 in the second inning.
On the same tour, Lara debuted in one day international at Karachi where he scored 11 being LBW by Waqar Younis. When he suddenly became very famous, he found it hard to handle the change in lifestyle and it took him time to adjust. Nor did the West Indies captaincy always sit easily with him. His technique was far from orthodox. He had a high backlift, which made him vulnerable to fast Yorkers.
If he was not in the right position, conversely it meant his hands were high for the cross-bat shots at which he excelled, and it helped generate tremendous bat speed and therefore tremendous power. Denying him width was the best way to keep him quiet, as Glenn McGrath showed, but few had McGrath's discipline.
Brian Lara was the second man in the history of the game, who scored two first-class quadruple centuries after Bill Ponsford. Moreover, he has nine double centuries in Test cricket, third on the list after Bradman's 12 and Kumar Sangakkara's 11. As a captain, Lara scored five double centuries, the highest by any captain in the world.
By and large his quick eyes, hands, and feet allowed him to get into good positions and make outrageously late adjustments to his shots. There were repeated rumors, towards the end, that his eyes were going, but if true they did not stop him from playing until his 38th year, scoring a double century in his penultimate Test, or retiring with more Test runs to his name than any other cricketer to that point.
West Indies went down to their third consecutive defeat at Adelaide in the five-Test rubber against Australia in 2000-01. But master batsman Brian Lara's return to top form was the most heartening aspect of the game for the Caribbean side. Lara hit a first-innings 182 in 351 minutes while facing off 235 balls and hitting six and 29 fours.
He continued his dominance with the bat in the second innings too though he could manage only 39 this time around. But these runs too were scored in characteristic fashion: off just 38 deliveries in 48 minutes with six and four boundaries.
The left-handed Lara said, after reaching an unbeaten 136 on the first day of the match, that he felt he had repaid a debt to West Indian cricket. "I think I owed the team badly after the first two Test matches," Lara said. "We've been under a lot of pressure and we've been working pretty hard as a team to try and pull things back.
It's been a rough ride for me. The runs have been coming but not in the right matches so I'm happy to have got some runs in the Test today." The West Indies rely heavily on Lara but the former national captain had been badly out of form this series with scores of 0, 4, 0, and 17, and this was mirrored by the team's dismal performance.
Despite struggling with a chronic hamstring strain that has plagued him for more than five months, Lara showed his determination to regain his touch with a double-century the previous weekend against Australia A. "My hamstring has been bothering me for five to six months but I've only missed one One-day International because of it, Lara said.
The main thing is you are there to play cricket for your country and whatever the circumstances are you've got to stick it out. We know we played badly in the first two Test matches. As a team, we batted badly and as a batsman, I've got to work on my game to make a contribution.
Of course, Tendulkar overtook him in the end. Brian Lara announced their retirement on 19 April 2007 from all forms of cricket and played his last ODI against England on 21 April 2007. He eventually, runout in his last match, scoring 18 after he had a mix-up with Marlon Samuels, as England won the match.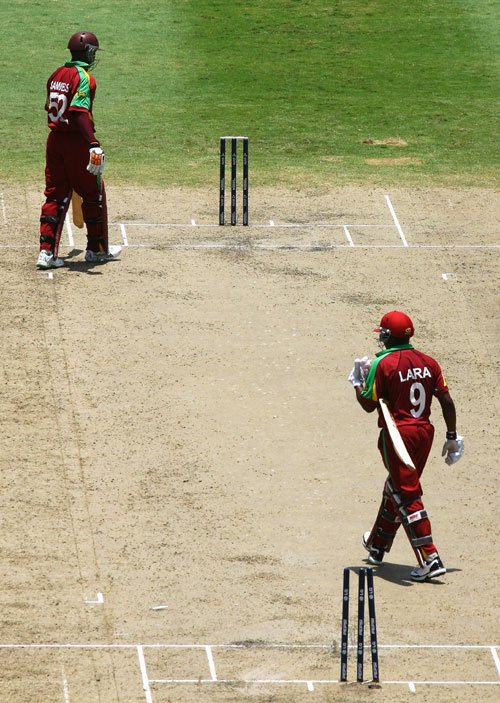 He is widely acknowledged greatest batsman of all time, topped the ICC test ranking many times along with several world records. He also shares the most runs in an over in Test Cricket smashing 28 runs to left-arm spinner Robert Peterson, later shared by George Baily of Australia. Brian Lara was awarded Wisden Leading Cricketer of the Year in 1994 and 1995.
He also received the world's most prestigious award BBC Overseas Sports Personality of the Year along the others Garfield Sobers and Shane Warne. In 2012, Brian Lara has included the ICC Cricket Hall of Fame.
Brian Lara played 131 Test Matches and scored 11,953 runs at an average of 52.88 with the best of 400 Not out including 34 hundred, 48 half-centuries, and 164 catches. In 299 ODI's, he scored 10,405 at 40.48 with the best of 169, including 19 hundred, 63 fifties, and 120 catches. He never played any T20I match.
Also, in 261 first-class matches, Lara scored 22,156 runs at 51.88 with the best of 501 Not Out, including 65 hundred, 88 fifties, and 320 catches. In 429 List-A matches, he scored 14,602 runs at 39.67 with 27 hundred, 86 fifties, and 177 catches.
Moreover, in 3 T20s he scored 99 runs with the best of 65. These stats clearly show the greatness of Brian Charles Lara. Those who had watched him, never forget his flamboyant shots. He had written immortal cricket history with his bat. Read Brian Lara on Wikipedia.