Michael Jonathon Slater was born on 21 February 1970 in New South Wales. The right-hander from the New South Wales country town of Wagga Wagga cracked 14 Test centuries before being replaced on the eve of the fifth Ashes Test in 2001 by Justin Langer. A swashbuckling player, Slater scored 5,312 Test runs at 42.84 with the highest score of 219, and 14,912 first-class runs at 40.85 with 36 hundred.
Michael Slater just 1.75 meters tall, he was prepared to take the attack to any bowler. He was first picked on the Ashes tour 1993. Where he grabs the opportunity with both hands and made an impressive Test debut. Slater announced himself as a top-class player in the second Test at Lord's, exuberantly kissing the Australian coat-of-arms on his helmet upon reaching his first Test hundred.
It was his approach and obvious pride representing his country which inspired countless Australian kids and left fans with our most lasting memories of him as an international player. Michael Slater was one of four Australians to play in every Test of the team's world-record 16 successive wins. Former Australia captain Mark Taylor put on an average of 51.14 with Michael Slater in 78 opening stands. Australia's most prolific opening duo, they made 3,887 runs in 44 matches, second only to West Indian pair Gordon Greenidge and Desmond Haynes.
Unfortunately, he dismissed nine times in the nineties in Tests. His aggressive shot-making may have counted against him. Three or four years into my career there were a lot of superlatives in terms of the description of the way I played and I probably tried to live up to that a little bit, and my technique loosened for a little while.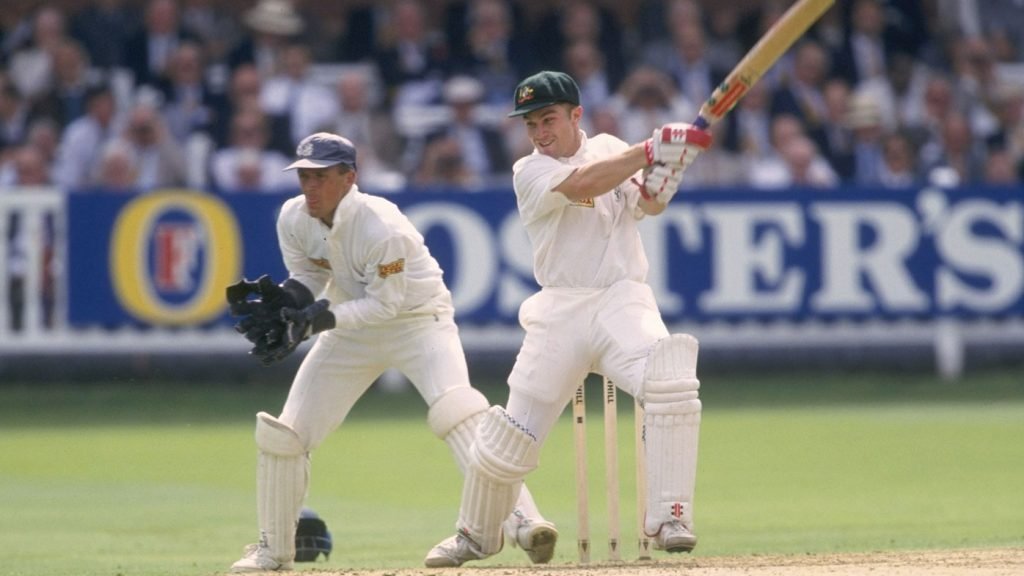 He was very combative and wholehearted cricketer, Michael Slater has played many vital innings for New South Wales and as an Australia opener with his adventurous brand of stroke play. A product of Wagga Wagga, his was a meteoric rise. Following a stint at the Australian Cricket Academy, he made rapid strides, turning a place in the New South Wales Second XI at the start of the 1992-93 seasons into a berth in Australia's 1993 Ashes squad by the end of that summer.
After notching a brilliant half-century in the opening match of that series-alongside fellow New South Welshman. Captain Mark Taylor following an encounter at Lord's, he soon became a regular in his nation's Test team and complementing it with a dazzling century in the Aside from the period between October 1996 and March 1998. The right-handed Michael Slater occupied a position at the top of the Australian Test batting line-up for close to a decade.
He amid a golden run of success for the team as a whole, individual highlights have included his 219 against Sri Lanka in Perth in 1995-96. Moreover, his magnificent home series against New Zealand in 1993-94, which netted him 305 runs at 76.25. Also, he contributed splendidly against England by scoring 623 runs at an average of 62.30 in 1994-95.
His match-winning 123 against England at Sydney in the 1998–99 Ashes series comprised 66.84 percent of his team's entire total. At that time, this remained the greatest proportion since Charles Bannerman made 165 not out in the very first test innings of all, which was 67.34 percent of his team's total.
His signature trait is of kissing his helmet whenever he reached the three figures. It was an eye-catching moment for spectators, to seen him 14 times. Moreover, sadly he made scores in the nineties on a record-breaking nine occasions. He also played in each of the 16 matches between late 1999 and early 2001 which delivered the then Australian team the greatest run of consecutive victories in the history of Test cricket.
Ironically, Slater's belligerent approach didn't translate to related results in one-day cricket. He produced a stunning 73 on his One-day International debut but did not reach such heights again and did not play in an international limited-overs match after 1997. Therefore, after a prolonged form slump, he was dropped from the Australian Test side in August 2001 for the fifth Ashes Test.
The following Australian summer under intense media scrutiny of both his professional and personal life Slater then struggled to maintain his place even in the New South Wales side. He continued to plug away, but as his career as a commentator took off, so his form with the bat, and appetite for the game, declined. Michael Slater suffered a debilitating illness during the 2003-04 summers and announced his retirement in June 2004.
Former Australia opening batsman Michael Slater announced his retirement from first-class cricket in 2004, three years after the last of his 74 Test caps. The 34-year-old dashing opener said an arthritic condition he has suffered over the past seven months was the main reason for his decision. It just dawned on me it was unfair on me in terms of getting full recovery and on my teammates, and also locking up a contract, just in the hope of playing
All of a sudden it fell into line and the decision was an easy one, he had been facing a pay cut but added his retirement "was purely to do with my health". Slater was the highest run-scorer for New South Wales in the 2002-03 domestic season four-day competition. Where he scored 770 runs at an average of 42.78 but managed just three games the following season.
Read More