Shane Warne was born on 13 September 1969 at Ferntree Gully, Victoria. He was an Australian cricketer, commentator, and captained Australia in ODI. Australian leg spinner Shane Warne changed the culture of the game.
Shane Warne's test debut came against India in the 3rd Test at Sydney 1992. Unfortunately, he could not perform well in this game. He finished the spell of 45 overs and took the wicket of Ravi Shastri, conceding 150 runs. After this performance, no one believed this guy will be the all-time best spinner in the history of the game.  After an era dominated by fast bowlers, he arrived on the scene at just the right time to exploit the minds of batsmen armed with helmets, heavy bats, and back-foot techniques designed to counter a battery of pacemen.
Abdul Qadir had been the only spinner who regularly won matches for his country and he was only effective at home in Pakistan. Shane Warne proved dangerous across the world. He revived the art of spin bowling to a global audience just as satellite TV was bringing the game into their living rooms. Shane the charismatic, spectacular performer, plenty of spin bowlers who have subsequently played Test cricket since said they were inspired by watching him.
He made spin bowling as sexy as it could be. There was so much to the overall Warne package that it is easy to forget just how phenomenal his gifts were. In his early years, he had the ability to bowl huge leg-breaks but also managed to get them to swerve through the air. However, this was what really did for Mike Gatting at Old Trafford in 1993 with the 'Ball of the Century'.
The swerve drew Mike Gatting over to the leg side before the ball had pitched. Once it hit the turf, it spun sharply away towards his exposed off stump. He also possessed a lethal flipper. His googly was not reckoned to be that good by the highest standards, but it hardly needed to be. As the years took their toll, and surgery was required on his shoulder and fingers, the power of these physical weapons diminished but he more than made up for it with his cunning and intelligence.
Shane Warne had an amazing talent for working out a pitch, and an opponent, within a few deliveries. He developed body language and a kidology that were all his own. So, he had an 'aura' and it did for many an unsuspecting foe and quite a few suspecting ones too. Warne proved to be so much more than just a little fat kid from Melbourne who liked junk food and failed in his first ambition to be an Aussie Rules player.
The pressure built on the batsmen as the Warne legend gained momentum from the Mike Gatting Ball, the hat-trick in Melbourne, the Shivnarine Chanderpaul Ball at Sydney in 1996, Basit Ali bowled between the legs, and the Andrew Strauss Ball at Edgbaston in 2005. Australia's amazing win over England at Adelaide in 2006 owed much to him. It was Warne who mesmerized everyone, including the umpire who gave out Strauss to a dodgy decision to start the collapse on the final morning.
He had the confidence to try things others dare not, and to persuade others to believe, like him, that the impossible could be. Warne also set batsmen up in a way that you think was extraordinary. In a documentary on Sky Sports, he revealed how he had bamboozled Alec Stewart in the first Test of England's first tour to Australia during the Warne era. He served Stewart a ball that was short and wide, giving him the chance to cut – giving him, in effect, a four, not something realized that any bowler was prepared to do!
Then he gave him something similar but subtly different. Stewart again shapes to cut, only to realize too late that he's been done it's the Warne flipper and it bowls him. You'd not seen that from a bowler before and it was not something understood. You'd been brought up in county cricket and with England to think that bowlers were not in the business of giving you things. Little wonder a few dared take risks against him.
This made him very different from your average leg-spinner. Growing up playing the game in England, like many others did not see that much leg spin. That came on tours, especially of Australia where even in the pace-centric 1980s there would usually be one in each stateside. Most of them were capable of bowling magic balls with the extra turn that comes from good wrist spin, but you knew that they would relieve the pressure with the occasional 'four-ball when they got it wrong.
In that era Pakistan's Abdul Qadir was easily the best bowler: he had a good variety and good disguise, and batsman loved the challenge. The difference with Warne, whom you missed by a whisker (maybe thankfully), was that he gave away next to nothing – unless he wanted to do it as part of a larger plan! If need be, he was a great defensive weapon. No more could a leg-spinner be brushed off as an expensive luxury.
Even Sachin Tendulkar said he could never relax when facing Warne. It is revealing that the only regular batsmen who averaged 50 in Tests against Warne were Tendulkar (60.45), Brian Lara (55.57), and Kevin Pietersen (53.50). Therefore, none of whom could be remotely described as ordinary performers; nor could VVS Laxman, who dealt with him brilliantly. It took something special to succeed against Shane Warne.
Although Muttiah Muralitharan's Test record is superior, many leading batsmen who faced both were in no doubt that Warne was the superior operator, essentially for the reason that Tendulkar gave – that he never let them (or, it might be added, the umpires, whom he worked relentlessly) relax. The second best his statistics may be, but they are still astonishing: 708 wickets in 145 Tests at an average of 25.41. Warne took 195 wickets in 36 Tests against England alone: no bowler has ever taken more against one country.
Of course, he did have one big advantage for much of his career, which was playing in a side as strong as Australia. Every spin bowler needed runs to play with, and Australia routinely piled up the big scores that gave him the canvas to work with and made his job much easier. If Australia batted first, which they almost always did to allow Warne to bowl last, their opponents were often chasing daunting totals in the fourth innings that they were never likely to get (only once in 36 times did Australia lose with Warne in their side when defending more than 315 in the fourth innings; only three other times were they denied victory).
That said, there are great pressures on a spinner to finish the job in the fourth innings, and it was a pressure Warne dealt with brilliantly. Nor could it be said that he had runs to play with at Adelaide in 2006 and he still came up trumps. Which other spinners might have won the game that day? Warne's talents did not end with his bowling. He was a superb slip catcher and a useful lower-order batsman capable of making a serious nuisance of himself, as he repeatedly showed during the epic 2005 Ashes series when he scored 249 runs as well as taking 40 wickets.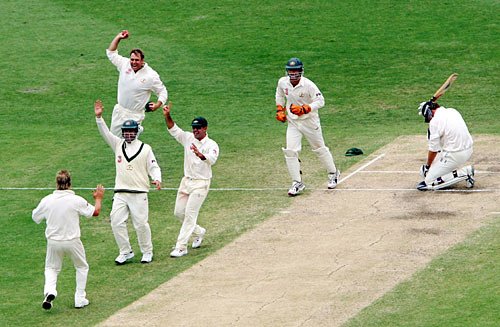 Shane Warne had an instinctive understanding of the game and a superb tactical awareness and would have made an excellent and fascinating captain of Australia had the authorities trusted him beyond a few one-day internationals. That they did not must be a lasting regret for him but perhaps he had only himself to blame for his one-year drug ban in 2003.
Hence the off-field escapades that put him on the front pages as well as the back and cost him the support of large swathes of the Australian public. His private life was often turbulent and never dull but the more trouble he seemed to be in, the better he appeared to play on the field.
In 1994, Shane Warne was among the Wisden Cricketers of the Year in the 1994 Wisden Cricketers' Almanack. He was the Wisden Leading Cricketer in the World in 1997 (Notional Winner).
Product You May Interested