West Indies Denis Atkinson was born on 9 August 1926 at Rockley, Christ Church, Barbados. Who played 22 Test matches as an all-rounder between 1948 till 1958. He scored 922 runs at 31.79 with the best of 219 including 1 hundred and five fifties. As an all-rounder, he also took 47 wickets with the best of 7 for 53 including five wickets in one inning three times.
Denis Atkinson, the former West Indies captain who was the senior partner in the largest seventh-wicket partnership in Test history still stands in Test Cricket, has died at the age of 75. Atkinson hit his only Test century, a mighty 219, as he and Clairmonte Depeiaza (122) rescued West Indies from 147 for six (in reply to 668) with a partnership of 347 in the fourth Test against Australia at Bridgetown in 1954-55.
It was only Atkinson's second Test as captain after he took over from the injured Jeff Stollmeyer. He was not the most popular choice, having not fully established himself in the team. In all Atkinson averaged 31.79 from his 22 Tests, three more than he averaged in first-class cricket. He was also a useful purveyor of off-cutters and off-breaks who took 47 wickets at 35.04.
Atkinson led West Indies to three consecutive wins over New Zealand a year later, but after that, he presided over defeat in the fourth Test – New Zealand's first Test victory, after 26 years and 45 matches. He played his final Test against Pakistan in Barbados in 1957-58, when he returned figures of 62-35-61-1.
His last wicket was Hanif Mohammad, caught behind for 337 after a match-saving 970-minute vigil, the longest innings in Test history. A very sound batsman and a bowler of medium-pacer off-cutters, Denis Atkinson Pacing a total of 668 West Indies collapsed and were 147 for six when Atkinson and Clairmonte Depeiaza came together.
In more than a day the pair added 347 for the seventh wicket, a first-class record for four decades and still the best in Test cricket on May 18, 1955. Atkinson contributed 219, his career-highest, and also took seven wickets in the match. On his sole tour of England in 1957, he began memorably, taking 10 for 62 in the first match at Worcester. But later he was overworked and a strained shoulder affected his performance.
Christopher Martin-Jenkins was a Test regular in the mid-1950s. He was captain for three Tests against Australia in 1954-55. In the absence of Jeff Stollmeyer and later he led West Indies to a series victory in New Zealand. His finest hour, though, came in the fourth Test of that Australian series. 'I remember it like if it was yesterday these were the words of the 72-year-old Denis St Eval Atkinson (in an interview given in 1998).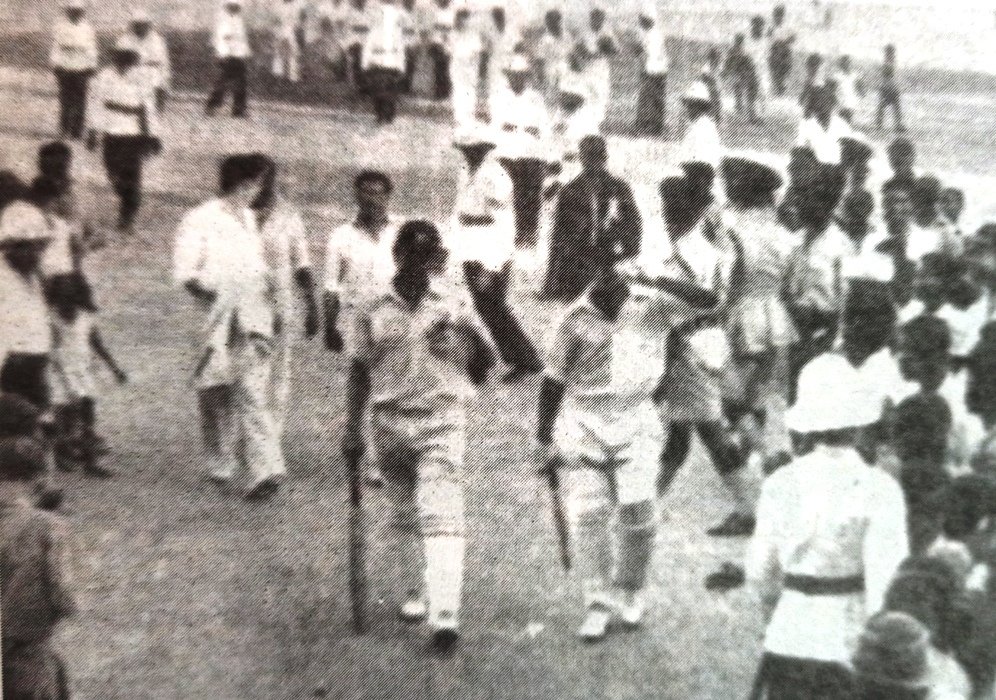 As he recalled memories of Jeffrey Stollmeyer at the top and the first Test of the 1948-49 series at other great batsmen in the middle," he the Feroz Shah Kotla in New Delhi, said.
Everything was good. I was elated, after all, I was a youngster so I just took things as they came," the former medium-pacer all-rounder said with pride. "We did not get much money but it was plenty of fun. It was that feeling of knowing you fulfilled a dream."
Atkinson, a Barbadian, was selected for the tour as a "Trinidadian'. He had left Barbados to work with Demarara Mutual Life and after representing Trinidad gained his pick. "The trip provided me with an eye-opener and I was happy to be selected," the former Wanderers player said. "I was honored to be in a great team, with the likes of (Gerry) Gomez, (John) Goddard, (John) Trim, and the three Ws (Frank Worrell, Everton Weekes, and Clyde Walcott) and this made you feel really good about your achievement."
Atkinson, whose younger brother Eric also played Test cricket, recalled his first innings of 45 batting at No. 10. He added 106 for the ninth wicket with Guyanese Robert Christiani who made 107, to be one of four century-makers in the West Indies innings of a mammoth 631. In those days you were lucky to get a knock with the likes of Allan Rae, Jeffrey Stollmeyer at the top, and the other great batsmen in the middle," he said.
Luckily for me, I got a hit and made a few. He recalled walking out to the middle for the first time feeling confident but a bit nervous. When the West Indies fielded he bowled his accurate medium-pacer well but could not take a wicket off 18 overs in both innings. I came on after the Trinidadian pair of Prior Jones and Gomez," he added. We also had John Trim on that trip and these three were all-powerful cricketers.
In the first innings, Atkinson had none for 27 off 27 over an India made 454, and none for 11 off five in the second, in a score of 220 for six. The match was drawn, as were the match at Calcutta and the two at Bombay. Atkinson missed the Madras game due to illness, and the West Indies won by an innings and 198 runs. Hence big thanks to good bowling by Trim, Gomez, and Jones, to take the series 1-0.
In this rubber, Everton Weekes had scores of 128, 194, 162, and 101, before being controversially run out for 90. Atkinson recalled being impressed by the batting of Indian batsmen Polly Umrigar, Vijay Hazare, and Vinoo Mankad, but had less admiration for some of the umpires.
The series was not the most fruitful for Atkinson, taking just five wickets and scoring just 79 runs he left India with some lasting memories. "Things were rough, really rough in those days. I think we were there close to when (Mahatma Gandhi was killed but it was still a good experience," he said.
The Maharaja of Patiala arranged a plane ride over the Himalayas and we visited the Taj Mahal." He also recalled fond memories of his room-mate, wicket-keeper Clifford MeWatt, who died earlier this year (1998), as well as of a few other players "who lost some weight during the five-month trip.
Atkinson later went on to captain the West Indies and had his greatest moment at Kensington Oval in 1955. When he faced a daunting task to beat the massive score of 668, he made 219 in a world-record seventh-wicket stand of 347 with wicket-keeper Clairmonte Depeiaza, who made 122.
Atkinson also took seven for 164 in the drawn match. "Anytime you make 200 against Ray Lindwall, Keith Miller, and Richie Benaud you would have to rate it highly," he said. "We were 147 when Depeiaza came in and we did really well. He was fantastic, and I was happy to be at the other end. That is how cricket is supposed to be played – fighting when the chips are down."
He also encourages young Garry Sobers to bowl him at the net while playing for Wanderers Cricket Club in Barbados. Denis Atkinson also holds the record for the highest number of wicketless overs in Test Cricket, 72-29-137-0 against England at Edgbaston in 1957.