Zimbabwe now holds a good reputation at the International level. The players are getting world-class recognition with the progress of the game. Grant Flower was the most accomplished batsman of Zimbabwe who has written his name in the history of international cricket. The right-handed opening batsman and the occasional slow left-arm leg spinner earned two distinctive honors.
He was the only Zimbabwe batsman to score a century in each innings of a Test Match and to carry his bat through a completed Test inning. He is his country's tried and tested opening batsman, an anchorman capable of stabilizing the innings and batting for hours on end.
Although he feels it as an important job to prepare the way for such stroke makers as his brother Andy, skipper Alistair Campbell and coach cum-player Dave Houghton. The importance of his role should never be underestimated. He is also rated as one of the best fielders in the world.
Generally fields in the gully, but he is superb in any position. Especially in one day matches his fielding is an example for aspiring cricketers. Grant William Flower, the son (he is followed by a daughter) of Bill Flower was born on 20th April 1970, at Salisbury (now Harare).
His nickname is 'Gobby' from when he was the player of his team in his school days. His father Bill Flower was also a fine cricketer and is now one of the leading coaches who was coaching at the school level. Naturally, the family's strong sporting background influenced Grant Flower to adopt cricket at a very young age.
He was only five years old when his family moved to Johannesburg after three years returned back to their home where they have lived ever since. Grant and elder brother Andy established themselves as the best players in their age groups, but Grant was extraordinary. He was then as much a seam bowler as a batsman, and his accuracy, in particular, earned him wickets on numerous occasions.
He changed to spin while at high school, feeling that he did not have the built for a seam bowler. In his school days, he became a superb batsman and scored many centuries while representing his school in various competitions. After completing school education, Grant went to England, to play League cricket, and has done so every year since, apart from a year in Holland.
Since 1990- 91 he has been employed by the Zimbabwean cricket union during the Zimbabwean summer, becoming a year-round professional cricketer when not playing, he did a lot of coaching at schools. The same year Mark Nicholas' England 'A' team visited Zimbabwe and Grant Flower was selected to play in the representative matches.
In the second match, the third of the series, he made his first-class debut. He opened the innings and scored a determined fifty in the second innings, his century partnership with the brother Andy helped to ensure Zimbabwe saved the match after disastrous first innings.
The 1990 ICC trophy tournament to qualify for the 1992 World Cup in Australia and New Zealand was an important event for Zimbabwe. It was too, a turning point for young Grant Flower, who was a late selection for the side, most probably because in the opinion of the selectors.
Grant was a slow scorer and misfit for Limited Over's cricket. However, due to his perfect batting, the selectors changed their views in his favor. However, he was left out in the first match but was asked to open the innings in the second match with Grant Paterson. Grant Flower came out up to the expectations with scoring an unbeaten 53 in a ten victory over Singapore.
In the next match against Canada, he scored a fine 70, which proved quite invaluable as the other leading batsmen disappointed. In the next matches against Papua- New Guinea and the U.S.A, Grant remained unbeaten. He did not do well in semi-final and final but had done enough to prove his worth. His performance in the LCC Trophy won him a permanent place in his national team.
Grant's dream could not materialize as unfortunately, he had to miss the 1991-92 World Cup. Just before the competition, he broke a bone in his arm while batting for a Zimbabwean development team in the newly re-admitted South Africa, which put him out the rest of the tour.
However, he was fit and ready the following season, when Zimbabwe was promoted to the Test status and the strong Indians arrived in Zimbabwe for the inaugural Test match. In the inaugural Test match against India, Grant Flower opened the innings with Kevin Arnott, with Arnott taking strike.
It was a flat pitch, but there were a few bad balls and the batsmen were forced to work hard for their runs Grant settled in and shared an opening partnership of 100 before Arnott got out. He himself grew in confidence as he passed fifty and was heading for a century on Test debut.
However, bad luck was after him, just before the close of play while on 82, he was given out caught behind to a ball which in his opinion touched his pad rather than his bat. It was the first of surprising controversial dismissals in Tests. On the next day, Dave Houghton earned the distinction of being the first Zimbabwe batsman to score a Test century on debut.
Later in the season in India, Grant came closer to a Test century, being dismissed on 96. He had not yet scored a first-class century, but put that right during a brief tour to England in 1993, when his 130 helped to cause controversy, as Zimbabwe chose to save a match they could not win at Scarborough rather than play what was considered festival cricket and risk throwing it away.
The tour of Pakistan in 1993-94 was disappointing for Grant Flower; in three Test matches, he could score only 79 runs. He was always uncomfortable against the hostility of Waqar and Wasim Akram throughout the series.
Though his confidence was knocked down, he was more prepared when Pakistan paid a return visit in the next season. The first Test started at Harare on a pitch that seemed to be suitable for the pace bowling and Pakistan took the early advantage by sending three Zimbabwean batsmen for a total of merely 42 runs. But Grant with Andy together stood firm against the fearsome Pakistani bowling.
Grant was solid and kept one end up, accumulating runs when safe to do so, while Andy took the initiative. The pair put on 269 runs for the record fourth-wicket partnership. After the departure of Andy on 156, Grant had another solid partner Guy Whittall and continued to raise the innings total.
The pair put on 233 runs and when the innings was declared at 544 for four wickets, Grant Flower was unbeaten on 201 and Whittall was 113 not out. The efforts of Zimbabwean batsmen brought the end result of the first-ever in their Test victory.
Grant has always batted particularly well with his brother Andy, especially when they used to open the innings together in me day matches. Their running between the wickets is brilliant, as they have got to know each other so well over the years and have such trust in each other and having Andy at the other and often seems to bring out the best in Grant's batting were it not for Andy's wicket keeping and his dislike of opening the batting.
They would be the ideal solution to Zimbabwe opening partnership problem. Grant's confidence, maturity, and scoring ability were once again seen in the 96-season. Moreover, much to his surprise, his stubborn 73 on a difficult pitch and heavy outfield in Harare won him Man of the Match award.
Though it was not an impressive inning, it was of extremely precious value as he held together with the Zimbabwe batting under a very difficult condition. He was a failure in the first two one day Internationals but contributed a fine 62 in the third and final game.
In 1996-97 during the triangular series in South Africa, he really gave evidence of how much he had progressed in his stroke play. He gracefully faced a South African attack spearheaded by Allan Donald and Shaun Pollock, and Indian charge containing Javagal Srinath.
Grant played splendidly throughout the series. A superb 90 against South Africa at Pretoria and 62 at Johannesburg enabled his team to put up a strong fight. His 61 not out at Bulawayo against India on the latter's way home took Zimbabwe through to a decisive victory.
During the year 1997 Grant Flower had coaching assignments at Epsom College in England, although playing there frequently, including a first-class for M.C.C against the visiting Pakistan 'A', and scored 78. He also scored a century for M.C.C against a John Paul Getty XI. In 1997-98 New Zealand visited Zimbabwe to play two Test matches and three one day internationals.
Grant Flower was in excellent form, and he enjoyed the best series of his short International career with greater confidence and fluency than ever. In the first innings of the first Test at Harare in 65 conditions assisting the bowler, he dug in and ground out runs in his old style, taking 166 balls to reach fifty and scored his third Test century off 269 balls for 104 runs.
With Zimbabwe gaining a first-innings lead of 91 runs Grant dominated the Kiwis bowling right from the start of the second innings and posted another century, 151 runs of just 155 balls to become the first Zimbabwean to score two separate hundreds in both innings of a Test match. When Grant Flower was eventually out, the Zimbabwe innings lost momentum and continued eventually for too long for his team to win the match.
He showed similar skills in the second Test at Bulawayo with a fine 83. In the second innings, when Zimbabwe was looking for quick runs, he gave a sparkling exhibition of stroke play to score 49 runs off just 46 balls before uncharacteristically gambling on a very risky single to take him to his fifty, and being run out. In the one day series, he was not as good as in the Test matches.
After scoring 66 in the first match, he failed in the next two, but enjoyed good form in the three nation's tournament, against Kenya and Bangladesh. He scored four fifties in six matches, and in three of them, he shared a century partnership with elder brother Andy Flower.
In November 1997, Zimbabwe toured Sri Lanka where they played two Tests and three one day internationals. Zimbabwe lost all matches, and Grant Flower was not in good form, scoring only 131 runs. His noteworthy performance was seen in the second Test where he scored 41 and 48; however, he batted well in one-dayer.
In the second ODI, he posted 51 and in the last one, he scored 112 as his first hundred in the ODI. The tour of New Zealand was also a failure for Zimbabwe. It lost the Test series by 2-0 and won a solitary one day International out of five matches to give New Zealand a 4-1 victory.
In Test matches, Grant's performance was poor, but he did manage to score a fifty in the fifth and final one day International at Auckland and he learned a lot from his failure and once again become well prepared against Pakistan who visited Zimbabwe after the completion of the Test series in South Africa.
At Bulawayo, in the first innings of the first Test match against a formidable Pakistani attack, Grant Flower, despite the failure of top-order batsmen, alone steered Zimbabwe to a good total of 321. He remained 156 not out and carried his bat through a completed Test inning, becoming the first-ever Zimbabwean in the history of Test cricket to do so.
In the next three innings, his performance was disappointing, but in the two one day Internationals he batted well and in the second one day he scored 81. Though Zimbabwe failed to win a single match in the three nations one-day International competition in India last month, Grant Flower faced the Indian and Australian bowlers with great confidence. He scored freely in all the matches.
At Cuttack against India, he scored 102 and in the last match against Australia at Faridabad he put up a fine effort to reach a mammoth target, but his unfortunate run out on 89 enabled the Australians to wrap up the Zimbabwe innings closer to opponent's score.
Grant Flower has concentrated on his batting more than his bowling, bearing in mind that Zimbabwe's prime need is for a reliable opening batsman and an anchorman. Although he does enjoy bowling seriously in the nets and bowls fairly regularly in first-class cricket and even in Tests. He considers the main value of his left arms is in one-day cricket, to take the pressure off the front-line bowlers and keep it tight.
In 2004, Grant Flower retire from international cricket due to a dispute between the ZC board. He signed the contract kolpak contract with Essex along with his brother Andy Flower. In 2011, he made a brief return to international cricket for Zimbabwe, but that a failure case for him. After retirement, he opts to select a coaching career. He has been the Pakistan team coach right now.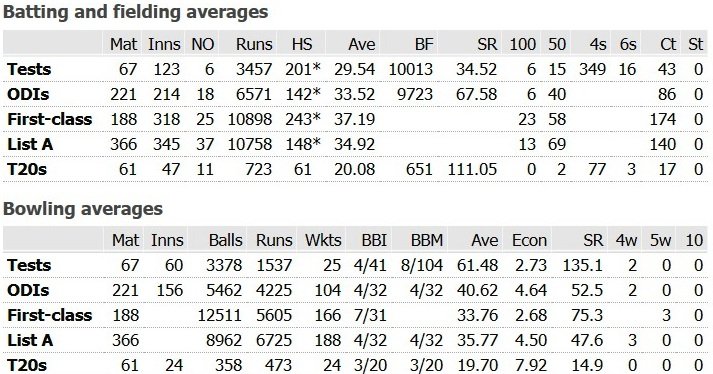 Read More – Trevor Madondo – The Youngest Test Cricketer Died