Fazal Mahmood was one of the most popular and recognizable faces of Pakistan's first team. He was driven by the will to earn laurels for his country. Fazal Mahmood gave new meaning to the term of having the opposition on the matting wicket. He was by becoming one of the most unplayable fast bowlers on that surface.
A real performer and crowd puller par excellence, he was one of the first cricketers to achieve star status due to his good looks as well as bowling feats. Fazal Mahmood was the first Pakistani bowler to take 100 Test wickets. Overall he played 34 Test matches and took 139 wickets at an average of 24.70! Without any doubt, he was the best bowler in the first decade of Pakistan Cricket. 
The 6ft 2inch bowler died on 30 May 2005 at the age of 78. This interview was published in the Monthly Magazine of The Cricketer in 1997. I hope you will enjoy the Golden Memories of the Late Fazal Mahmood.
How would you like to begin to tell us about yourself?
I belong to a family that was full of the desire for freedom and to do something for the country. Although my father took part in the jihad against the British and he still loved cricket. I have inherited this! My father encouraged my interest in the game. He would make me practice by targeting drinking glasses, much to the annoyance of my mother.
However, my father believed that due to my height and build, I would definitely excel at the game. He used to make me practice the leg cutters, saying that playing a leg cutter was the most difficult thing for a batsman. Our house was adjacent to Islamia College, Lahore.  And my father, Professor Ghulam Hussain, was the Vice Principal there.
So I had to pay attention to my studies as well. In those days, cricket was neither too common nor was there any money in it. However, it was considered to be a gentleman's game, free of the 'bud tameezi' of Today.  The players are able to threaten the Board but in our times the Board was an institution that the players were in awe of.
What about the initial years?
My father was the biggest influence in my life. He has made me the focus of all his hopes and aspirations and was responsible for my successes. His word was my command. He was the President of the Islamia College Cricket team, and so obsessed with the idea of beating the traditional rivals that he would on a night preceding the Finals. And he would mutter in his sleep, and toss restlessly.
He used to tell me in an authoritative manner "Mahmood" when you grow up, you have to become a fast bowler and give a thrashing to the Government College team". I was just five years old then. I, of course, tried to fulfill that command and spent my early days playing on the Islamia college ground.
Those days which is a golden memory for me. The lack of cricketing activity in the various schools I attended compelled me to join the Punjab Cricket Club, and this is where my cricket truly began, and I became a successful player.
I passed my Metric in 1940 and Fsc in 1942 and then went on to play many memorable matches. The saddest day of my life was when I received the news of my father's death while in the camp in Bahawalpur prior to leaving for England.
What about the victory in the Lucknow Test on India's maiden tour what were your feelings on that?
I was confident of that victory because I had already claimed that we would win. Every player was so excited about being a new Test nation going to their native lands and beating them in an authoritative way. Moreover, my performance was the key factor to beat India at Lucknow. So, I was glad to be part of that team.
What about your favorite innings or bowling spells key victims?
In the Lucknow match, Nazar Mohammad played an incomparable inning, which I really liked. Another favorite is Majid's century before lunch against New Zealand. As far as favorite wickets are concerned, each scalp that I got for Pakistan was equally important.
Therefore, I bowled so many great players, but Denis Compton, Frank Worrell, and Keith Miller had always been my favorite players, so I was proud of getting their wickets, but actually, I am proud of all the wickets I got for my country, and in our times, it wasn't easy to play for Pakistan.
What is the difference between cricket being played now and when it was played by you?
There is a world of a difference. There are So many changes these days, like match referees, third umpires, and limitations on the number of bouncers. They have changed the game completely. I really feel bad that the advantage is more going to the batsmen instead of the bowler. The effectiveness of fast bowlers is being curtailed.
If the bouncer limit on the pacemen is removed, the game would become more competitive. Moreover, nowadays, batsmen play with more protective gear. Also, the influx of money has also influenced the game and changed player attitudes, which has hurt the true spirit of the game. Anyway, these changes are a sign of the ties and have to be coped with. However, I would like to say keep the spirit of the game intact, and bring back the element of decency which has been thrown to the winds.
Was the timing of your farewell to the game justified?
I have always believed that if you are performing below par in any department, and have to struggle for success, you should disassociate from it and give a chance to someone else.
Therefore, I realized that I hadn't too much cricket left in me, so I decided to leave. I could have tried to continue for a couple of years, but that wouldn't have been good.
After retiring from active cricket, you didn't try to enter the game's establishment, or pass on your experience?
Whenever I received a call, I made my services available. I have held training and coaching camps completely unmindful of the heat and difficult conditions, and have tried to give the benefit of my experience to the younger players.
Actually, who in Pakistan can really claim to have polished any gems? Players have always been surfacing here on their own, shone on the international front, and served the game. The reason why I didn't come forward in the organization of the game was because of my differences with the persons at the helm of affairs.
Cricket had been in the hands of people who had nothing to do with the game. It was impossible for me to go along with those people. People say I am old-fashioned. I admit that but you will also have to admit that I have never harmed the game.
I have always been in favor of giving the game the hands of people who have the ability to develop it. Those players who have given the best years of their life to the game all ex-cricketers come in that category.
But it is said that they themselves are reluctant in coming forward.
They do try but are deliberately kept back. I would like the cricket Board to function according to an Islamic constitution because the common element between Islam and cricket is discipline. Cricket needs discipline, though now no one seems to understand its meaning.
Unless and until the game is given into the hands of the people I have mentioned earlier. This will keep on happening. Discipline is foremost, and even superstars should be dispensed with it if they do not adhere to it. Today, the values of the game have been discarded in favor of riches. The traditions have been forgotten. Today's players lay more emphasis on making themselves heard than on listening.
Players of the yesteryears believe that Kardar's times were the best.
I am not willing to answer any such question because he was my colleague and friend. However, as far as the game is concerned, we always had our differences. People credit him for bringing professionalism to Pakistan's cricket. But actually, it was Kerry Packer who should get that credit as he gave the players a voice by bringing in money for the game.
Weren't you able to have your say in your times?
Those were the days when there was discipline in the team the players all respected each other. They didn't run after money even when we were playing in an ordinary match as thousands of spectators used to throng to see us. When comes to seeing the present-day players there is no comparison between the two times.
But there is an unparalleled interest of the spectators in one-day cricket
I consider Test cricket to be real cricket, where the number of spectators is decreasing day by day. One Day cricket is a present-day innovation, and a great change in the game, whose importance cannot be denied. But look at how it has affected the quality of the game.
In this type of cricket, there are innumerable players who are considered successful, but when you make them play Test cricket, they appear mediocre. It is because of one-day cricket that we get to see long innings so rarely now. A player capable of the double century has to do his all and return to the pavilion in a day. The element of staying at the wicket is disappearing, and the bowlers also try to concentrate on saving the runs rather than getting wickets.
Are you satisfied with the Progress of the Pakistan team?
I believe no team performs badly. It is the team's job to play for victory. But keep in mind that defeat is part of the game. What have to be seen is how sound the cricket structure is, and how good the planning is, how positive is the strategy. We have had many successes in the past 50 years.
But have we been able to maintain them? The reason for our inconsistency is that "sifarish" has been ever-present. A wrong mode of selection has been followed. On the whole, the results have changed the rest is all the same. I am a principled man. I cannot tolerate any wrongdoing!
Are you satisfied with the way you have spent your life?
I have been satisfied with the day. God has been very kind to me and has given me fame and honor. It is a matter of pride for me that in the 50-year history of Pakistan cricket, I can claim a prominent spot! Watch Fazal Mehmood Documentary at Youtube.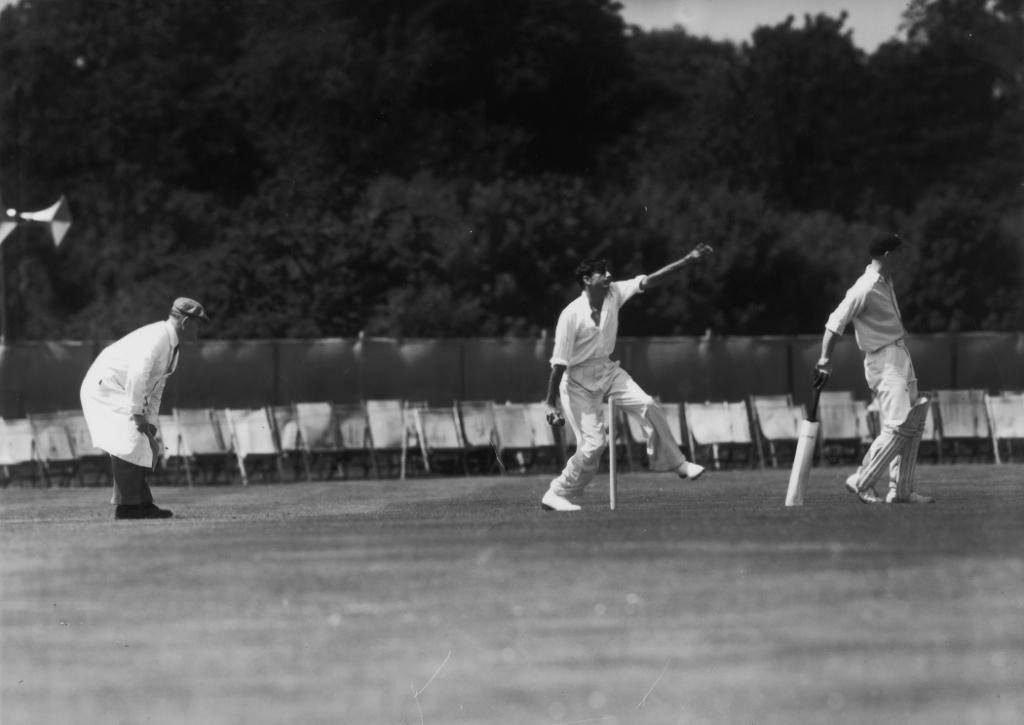 See Fazal Mahmood's Stats on Cricinfo