Everybody knows that Ranji Trophy is the major national cricket tournament in India. It started in 1934-35 and was named as a tribute to the great batsman. The most famous Ranjit Sinhji Vibhaji Jam Sahib of Nawanagar represented Cambridge University, Sussex, and England. He was the first-ever non-white cricketer to enter English cricket.
Ranjitsinhji created various records to his credit, but the most notable service he rendered to the game is that he revolutionized the batting technique by developing the art of leg glance in an age of front-foot driving. Therefore, Ranjit Singh was popularly known due to this. He was born in Sarodar, India, on 10th September 1872. Later he was to become known as Jam Sahib of the Indian State Nawanagar.
In 1889, he was sent to Cambridge, where he learned cricket and soon he became popular as an amateur batsman and delighted crowds around the country. While in Cambridge, he practiced at the nest and received invaluable tuition from first-class professional bowlers, including Dan Hayward, Sharp, Richardson, Lock wood, and Watte.
It was here that he was first seen by F.S. Jackson, the captain of Cambridge. Mr. Jackson noticed him taking on relays of bowlers almost throughout the day and asked him why he must tire himself out. Ranjit Sinhji's reply was instructive; I must practice endurance," he said, I find it difficult to go on after thirty minutes".
Mr. Jackson was unimpressed, and his opinion remained unaltered when, a few days later, he saw Ranjit Sinhji knocking the bowling about in Mr. Jackson recalls a walk across Parker Piece ground. Therefore, one day when he stopped to watch a match because of the enormous crowd. Asking the reason, he found that Ranjit Sinhji was batting.
In the few minutes that he remained, Mr. Jackson, the Cambridge captain saw what he describes as "dangerous cricket, with many unorthodox strokes. The young Ranjitsinhji nearly went down on his knees to pull a ball to leg and two other feats caught the public imagination. Playing for the Cassandra Club against the Old Person, he made 206 not out, and on another occasion, he actually ran 12 runs off one hit.
How he invented the leg glance is another astonishing fact. While practicing the fast bowlers at the nest, his right leg moved well away from the wicket. And he exposed his stumps time after time. Dan Hayward was unable to persuade him to keep his foot on the ground and play a defensive stroke. Ranjit Sinhji disliked above all things playing for defense only, and thus cricket history was made.
Hence, he was born with the greatest scoring stroke ever known. Ranjitsinhji with his right foot perforce immovable still required to be on the defensive. To the amazement of the bowlers, he twisted his body, flicked his wrists, and smashed the ball around to his leg. They sent him good-length balls and he treated them in the same manner.
The bowlers declared that it was risky, unconventional, and in fact not cricket. His replay was to score fours off them called the stroke the leg glance and would freely admit that it evolved through the necessity of defending himself. Before the end of 1893, Ranjitsinhji was established with other good-like names in the annals of the greatest English game with W.G Grace and CB Fry, and Archie MacLaren.
At the same time, he was well-known to English cricket crowds. His name now became "Ranji," with a familiarity that meant affection. It was a kind of password in cricket, a synonym for dashing, sparkling, and daring batting. The name clung to him long after honors fell thick upon him. Hence to the day of his death he was better known by these two syllables that had first echoed around the stands of an English Cricket Ground, than by his titles that belonged to proud Rajput history.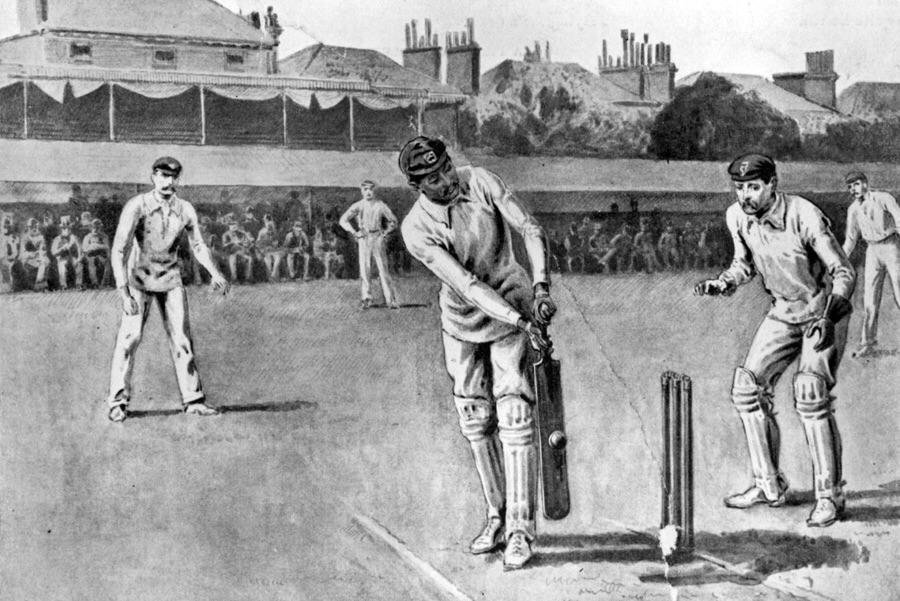 In 1894 he played for MCC consistently, and there occurred his first meeting with the great Dr. W.G. Grace. In a match for MCC against Cambridge University Ranji, Dr. Grace, and his son made 344 runs between them out of the stupendous total of 595 for seven. The giants of cricket seemed to be at the top of their form.
For his excellent batting performance, the English press unanimously put Ranji on par with Grace. In 1895 he was included in the Sussex county squad. This team was already having Fry, Murdoch, Brann, and Newham among the regulars.
Though he was a dashing and delightful batsman, he suffered from asthma and could not stand the cold. Once he was on the point of collapse when a sudden snowstorm overtook a match at Trent Bridge. The Sussex team had to wrap him in blankets and hurriedly light a fire in the pavilion, plying him with brandy until he recovered. This incident occurred just after he had delighted the Nottingham crowd by making a sparking century.
He made 59 and 74 against Yorkshire, 83 and 41 against Middlesex, and 51 and 53 not out against Kent. In a total of thirty-eight innings, with three not outs, he made 1766 runs, with an average of 50 16 It was inevitable that he would play for England against the touring Australians in 1986.
Ranjitsinhji was not chosen for the first Test at Lord's for being an Indian, but due to public pressure, he was included in the second Test at Old Trafford. Ranji R displayed in his first Tea match with scores of 62 and 154 not out echoed down the years, and are still recorded among the most brilliant feats of English cricket.
He became the first-ever batsman to score a century before lunch. On the third morning, he took his overnight score of 41 not out to 154 not out, adding 133 runs in 130 minutes. He was also the first player to score a century and a fifty in the same Test match on debut. In his second Test match at The Oval, he scored only 8 and 11.
In 1897-98 he toured Australia, in the first Test match at Sydney he played superb innings of 175. England won by nine wickets, but in the following four Test matches, Australia thrashed England, in the second, third, and fourth Test matches, Ranji scored at least a fifty in the fifth and final Test matches he could score innings in each and in the only 2 and 12. In the 1899 home series against the arch-rivals Australia, he was on the decline.
Ranjitsinhji was unlucky to be stranded at 93 in the second innings of the first Test match at Trent Bridge and failed to hit big scores. In three Test matches, he scored 54 in the final Test match at The Oval. His poor health was the main obstacle in his cricketing career. The series against Australia at home brought the end of his Test career. He played in the three Test matches but failed to play a reasonable inning.
Overall, he scored 24,962 in 307 matches at an average of 56.37 with 72 hundred and 109 fifties, with the best of 285* and 133 wickets including a best of 6 for 53 and 4 times five wickets in an inning. The magical right-handed batsman appeared in 15 Test matches for England in which he scored 989 runs, at an average of 44.95 with two hundred and six fifties. Ranji held 15 catches and took one wicket for 39 runs.
After saying goodbye to his cricketing career, he returned to India, where he was welcomed as a celebrity. Ranji died on April 2, 1933, in Jam Nagar India. In recognition of his services to cricket, the Ranji Trophy Cricket tournament was initiated, which is still in progress since 1934-35. He died on 2 April 1933 at Jamnagar Palace, Nawanagar at the age of 60.
Read More