Brian Statham was a modest man from a modest background who was a truly great fast bowler. Brian Statham, one of England's great fast bowlers was 69 at the time of his death and had been suffering from Leukemia. With Yorkshire's Fred Trueman he formed one of Test cricket's most impressive new-ball pairings. Statham's relentless accuracy was the perfect foil for the more flamboyant Trueman.
Freddy Trueman Said:
After hearing of Statham's passing, I knew him for 50 years, and we never had a wrong word. There was a minute's silence at Old Trafford before the National Sunday League game between Lancashire and Worcestershire after it was announced that Statham has passed away peacefully at his home.
This is indeed sad news, as he was ill in February but kept his promise to keep the news quiet. I telephoned two weeks ago before his death, and he was not very well, and I was intending to ring back today. Trueman said in a low voice. I want to sit back on my own for a little while and reminisce about the great days. The great days included a total of 449 Test wickets between them. A figure few of today's Test bowlers could match even though they play far more games.
Brian Statham nicknamed "Gentleman George" because of his modest demeanors and chivalrous approach used his bouncer sparingly, content to take wickets without any macho posturing. His passing offers a stark contrast to the disgraced figure of Hansie Cronje, whose reputation is being ripped apart in South Africa. Brian had the same opinion as me. Neither of us was surprised about what is happening anymore.
He was a top-class man and I have some great memories and stories which I will keep with me forever. Statham was a beautiful bowler and an absolutely superb player. He was my friend and roommate for so many years. We traveled together, shared bedrooms together, and talked about everything. In 50 years we never had a wrong word and for me and everyone connected with the game at that time, this is terrible news.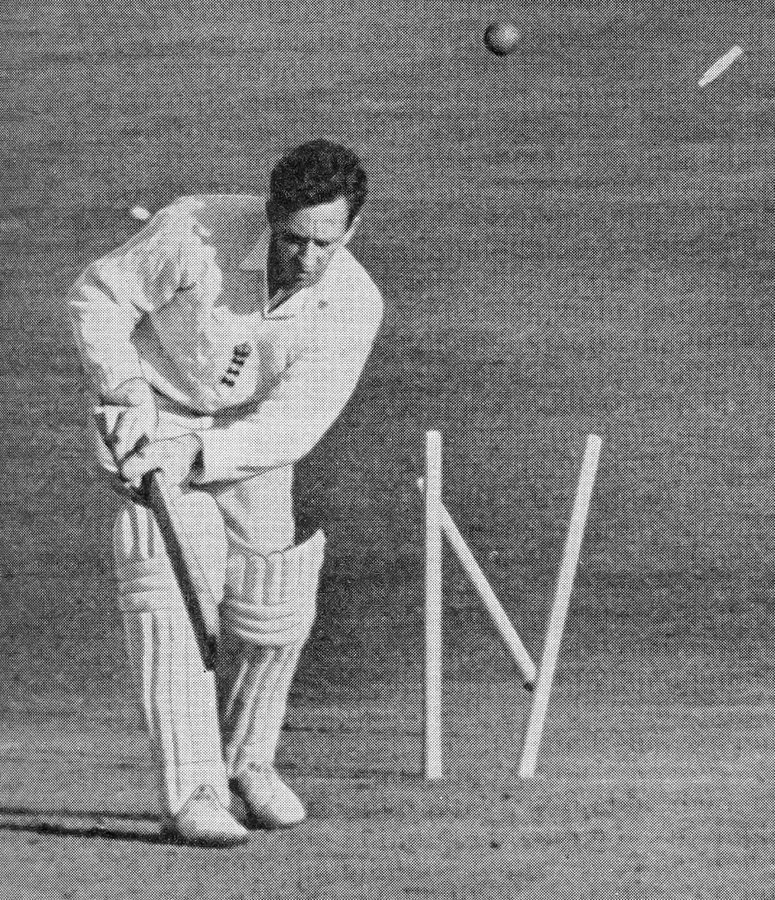 Statham's two benefits in 1961 and 1969 netted a total of 15,000 pounds, but he did not make a fortune from the game and in 1989 Trueman discovered that Statham was in financial trouble and organized two testimonial dinners for him. The less volatile of the famous Trueman-Statham pairing of the 1950s England team, Brian Statham was a magnificent fast-medium bowler of unfailing accuracy and genuine pace. Known by his teammates as "the Whippet" he bowled from a moderate run, with a rhythmic run-up and a smooth balanced delivery.
He aimed to bowl a steady off-stump line moving the ball in both directions using the seam and to a lesser extent through the air. He varied his pace well and had an effective Yorker. His off-cutter, bowled from wide of the crease, was particularly difficult to handle. Statham rarely bowled short, and his equable temperament allowed him to deal with disappointment without resorting to aggression.
He took great pains over his fitness and was rarely troubled by injury, despite often being asked to bowl against the wind or up-slope. Statham was a quite superb fielder in the outfield with a safe pair of hands, and a hard throw, and was fast over the ground. His occasionally contributed runs as a tailender he batted left-handed, with a first-class best of 62. Brian Statham debuted for England in 1950-51 after a successful first-class season with Lancashire and was a regular fixture in the England side for more than a decade.
He was forming partnerships with Frank Tyson, and later Fred Trueman forming in both cases an ideal foil to the more explosive partner at the other end. Statham played for Lancashire for 18 years captaining them between 1965 and 1967. His record for Lancashire was superb, usually too good for batsmen on the county circuit. In 1957 his 112 wickets cost him only 11 runs apiece. And he bettered this record in 1960 with 97 wickets in just mere 10 runs apiece.
Colin Cowdrey once wrote:
"But the strong man that he was, there was a delightful charm and caring sensitivity about his approach to life and to the surrounding people. He was one of the nicest cricketers I have been privileged to know an opinion shared by all who met him". 
Please excuse this intrusion into the death of a much loved public performer but if I offer a private reflection on Brian Statham, who died on June 11, 2000, just a week before his 0th birthday. It is because he played in the first cricket match I saw, and is one of the reasons I learned to love the game. His passing is a reminder of how much has gone of life.
A young boy growing up in Lancashire absorbed the greatness of George Statham as he understood the huge public affection for Tom Finney or in a different field, Kathleen Ferrier. It was a given Like them, he came from a modest background and went on to conquer the world. Like them, he never imagined that fame separated him from his fellows.
Statham was approaching the end of his career when I first saw him bowl, against Derbyshire in 1967. He was 38, a great age by today's standards when he took 6 for 34 to bowl out Yorkshire for 61 a year later. So I can at least boast that I saw him run through the champions.
That was his last fling. He retired at the end of the season and Fred Trueman who played against him in that match did not delay his own retirement long. Trueman and Statham went together like Lennon and McCartney, and it was no surprise to hear the great Yorkshire bowler leading the tributes after Statham's death.
How far removed the lion-hearted Statham was from the world of players trotting off to see psychologists get their minds right. The abiding image of this lean, wiry man with the double-jointed action was a fast bowler who ran in, rain or shine, and took his pleasure in the saloon bar with a fag or two and several pints of bitter, or mild. He wasn't choosy.
Times change quickly, and reputation fades. The generation growing up today may not be familiar with men like Statham. Indeed, on England's tour of South Africa in 1999, one admittedly young member of the party failed to recognize Colin Cowdrey in a group portrait. Laugh if you like, but it's true.
Players can be unperceptive to the achievements of the past. David Green, who grew up under Statham at Old Trafford and who writes about cricket for this paper The Daily Telegraph was once talking to a young English bowler who took a dim view of the previous generation and wondered, in particular, whether Statham was fast.
How fast do you think he was then? Green asked. About as sharp as Neil Foster, was the reply. I will tell you how fast he was, Said Green. "Roy Marshall reckoned that if he could push George through mid-off for a couple in his fifth over he was doing pretty well. And Roy Marshall could play a bit. Ne'then, lad, shall we look at your figure?
That chastened young shaver, incidentally, never played for England. Statham did 70 times, and took 252 wickets, often with Trueman at the other end. Whereas Trueman was fast and, on occasions, wild, Statham was the model of accuracy, operating on the premise of "you miss, I hit". As Neville Cardus wrote; "Did Statham ever send down a wide?"
There were times when he came off the field with blood in his boots but, privately and publicly, there were no grumbles. He belonged to a generation that had seen real hardship firsthand such experience tends to put things like cricket into a clearer perspective.
How high does he stand in the pantheon? Pretty near the top. Besides Andreson, Stuart Broad, Trueman Ian Botham, Bob Willis, and Derek Underwood have taken more Test wickets for England. Of the 18 bowlers who have exceeded Statham's aggregate of 2,260 first-class wickets, none took them more cheaply than he did at 16.37.
For Lancashire, he stands shoulder-to-shoulder with Cyril Washbrook as the club's most distinguished player. He took 1,816 wickets for the county at the barely believable average of 15.12. When one considers the longevity of his career, and the peaks he scaled along the way nobody can question his claim to greatness, though this mode man would never press his own case.
Then England players, who gathered at Birmingham in 2000, read his obituary and passed on, as they had Test four days later. But they would have done well to reflect on a good man and a great career. Statham brought to the game the most precious of human qualities, glory, lightly worn. He added a verse to the eternal chorus and must be remembered.
Brian Statham Fact file
1930: Born in Gorton, Manchester on June 17
1950: Makes first-class debut for Lancashire.
1950: Makes Test debut on 20th Birthday against New Zealand in Christchurch.
1955: Claims Best Figure 7 for 39 against South Africa at Lord's.
1955: One of Wisden's Five Cricketers of the Year.
1956: Takes first Hat-Trick of career against Sussex at Old Trafford
1957: Claims a career-best 8 for 34 against Warwickshire at Coventry.
1965: Begins three-year spell as Lancashire Captain.
1965: Last Test Played for England against South Africa at the Oval.
1966: Statham awarded CBE
1968: Retires from all forms of Cricket
1997: Becomes President of Lancashire
Brian Statham played 70 Test matches for England claiming 252 wickets at 24.82. He also captured 2,260 wickets in first-class cricket in just 16.36 on average. Statham took 100 wickets in a season 13 times, including 10 consecutive seasons from 1957 to 1966, becoming the leading wicket-taker with 1,816 victims.