Javed Miandad recalls Sachin debut series against Pakistan in 1989. This wonderful little boy impressed Javed Miandad on his debut series in 1989-90. It is a hard task to get Javed Miandad to speak on the ability of another batsman. Such are the high standards by which he judges the art of batting. The legendary batsman, who had remained Pakistan's highest run-getter after 124 Test matches and is an icon in Pakistan cricket. Later Younis Khan breaks the Javed Miandad record.
Well, Javed Miandad had the opportunity to watch a teenage Sachin Tendulkar make his Test debut against Pakistan in 1989 at Karachi. After much persuasion, he was willing to relive those moments when the youngster from Bombay (now Mumbai) made his mark in international cricket.
It is difficult to recall a glimpse of the Karachi Test of Sachin debut series against Pakistan in 1989. I remember we had heard a lot about this run machine for whom Sunil Gavaskar had a lot of praise. I remember Sunny mentioning how this young fellow was scoring heavily in school and domestic cricket and would someday make his mark for India also.
So when Sachin Tendulkar came with the Indian team, I was curious to see him bat. Because I knew Sunny does not praise anyone so easily. Javed Miandad recalls that Sachin was a quiet, shy youngster who immediately made an impact in the series when he played aggressive cricket and hit leg-spinner, Abdul Qadir & Mushtaq Ahmad, for a few sixes.
It was at Karachi that our fast bowlers (Wasim Akram and Waqar Younis) had given him (Sachin) a tough time and our fielders also introduced him to international cricket. But what impressed me was the way he was his aggressive batting and the way he played so correctly through mid-on and mid-off. Miandad, who is presently the coach of the Pakistan team after their disastrous World Cup 2003 campaign, dismissed reports that he had sledded the youngster when he came out to bat for the first time in international cricket.
That is just a story. I never had any direct conversation with him for some time in that series, But I could make out he was a natural talent and born for this game, I also remember Imran Khan admiring his potential at such a young age in one of the games. Javed Miandad has a laugh while remembering how Sachin ended up hitting the enigmatic Abdul Qadir for a few sixes.
Leg Spinner Abdul Qadir was a great character and competitive bowler. He had this habit of laughing to himself whenever he outfoxed the batsman with quality delivery. He beat Sachin with a good ball, laughed, and said something. It was after this that Sachin Tendulkar hit him for the sixes. But it was amusing for all of us and we kept on pulling his leg after that.
Naturally, he was not amused. But Miandad did have a word of advice for the little master. He is now in his prime and will play on for a couple of years, He should realize that a batsman is always remembered for the innings he plays in crisis and helps his team win, I feel he is only maturing and getting better like vintage wine.
Read More – ebook – Playing it My Way by Sachin Tendulkar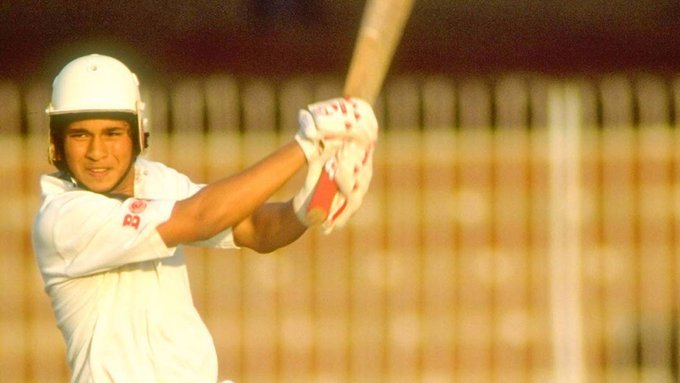 Reference – An Article published in Mid-Day in April 2003