The Ball That Did It by Dilip Vengsarkar is sourced from November 1980. A couple of years ago India toured Australia, a tour that I enjoyed very much because of the wickets that suited my style of play. Moreover, off the field, we were looked after very well by the Australians.  But when I think of that tour I am reminded of one instance that deprived India of winning the series. Unfortunately, I was the one who was involved.
Having lost the first two Tests we fought back, to win the next two and landed in Adelaide Oval for the decider. But obviously, with that fight back the morale of the team was certainly high while the Australians seemed to have problems with their batting which looked brittle against Bishan Singh Bedi, Bhagwat Chandrasekhar, and EA Prasanna. The spin trio forced them to drop five players for the last Test match. Graeme Wood, Darling, Graham Yallop, Bruce Yardley, and Callon replaced John Dyson, Sargent, Kim Hughes, Tony Mann, and Gannon.
The Adelaide wicket looked like a typical Australian wicket, It had a reasonable' bounce. Australia won the toss and their middle-order batsmen took advantage of an enterprising start given by their new opening pair, Wood and Darling. On the second afternoon, they had amassed 505 runs.  Though it was a very good score on a good wicket to bat on unfortunately for us two of our top batsmen in form, Sunil Gavaskar and Mohinder Amarnath were back in the pavilion with only 23 runs on the board.
But it was too early to throw in the towel. Gundapa Viswanath is a natural stroke player so we decided that he should play his natural game and at the other and I should put my head down to stay at the wicket.  This plan of ours clicked. We put on 136 runs for the fourth wicket, but eventually, Australia succeeded in securing a good lead of 235 runs.
With the wicket showing no signs of breaking up, there were two possibilities, either a win for Australia or a draw. In the second innings, the Australian scored 256 leaving an impossible target of 491 runs in the second innings. A few months earlier India had accepted the challenge of the West Indies and had succeeded in reaching the mammoth target of 404 runs.
But at Port of Spain, Sunil Gavaskar and Viswanath got brilliant hundreds that led the foundation. However, Sunil Gavaskar along with dashing Chetan Chauhan was sent back with only 40 runs on the board. Thus, Vishy and Mohinder Amarnath played some delightful shots to entertain the crowds and demoralized the Australian attack. Their bowling attack looked like nothing but up and down stuff happened when Vishy got out to a new ball when the score was 210.
Mohinder Amarnath was playing a professional cricketer, and it was then I thought that if both of us could add about 125 odd runs, then Australian would be on defense. Unluckily at 256, Amarnath went for a sweep that took the top edge. Now Anshuman Gaekwad as usual was playing defensively that is his natural game.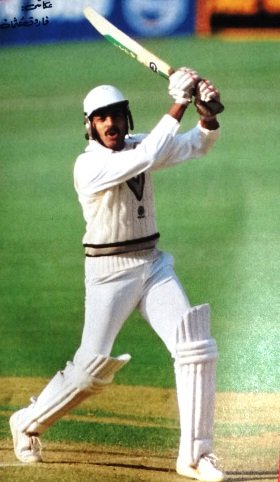 I started timing my shots well. Time and again I hit Bruce Yardley over the head of mid-wickets and mid-on. That gives me a lot of confidence. We organized in such a way that most of the time I took the strike. Eventually, we crossed the 300 runs mark and were approaching the target of 400 runs or so.
I think, there was hardly an hour to go before drawing the stumps on the fourth day. I found Anshuman being tempted to play a stroke. I immediately went over to him and said, Anshuman don't go for strokes as we must not lose any more wickets with only an hour to go. In the same over Anshuman went for a straight drive when Bruce Yardley tossed one up to him and was caught and bowled.
I was a bit upset, probably my instructions must have disturbed his concentration. But then how could that happen to Anshuman who was an experienced cricketer. This in turn disturbed my own concentration. Soon after I tried to hit Bruce Yardley over mid-on's head only to find the ball landing in Toohey's hands. It was a rank-bad shot. There was just no necessity for me to play that shot. The next day we lost the Test by just 47 runs.
On the same tour, in the first Test at Brisbane Gabba, a most unfortunate incident took place it changed the complexion of the game though we almost made it. Winning the toss' Australia made first use of the wicket that had nothing special to encourage our bowlers. However, Bishen with his superb effort bundled out the inexperienced Australians for a paltry total of 166 runs. We decided that by taking a good first-innings lead we could put a lot of pressure on the Australians. However, such plans are hard to click as far as we are concerned. 
I opened with Sunil, who was sent back by Clarke, and soon after Mohinder Amarnath joined Sunil Gavaskar in the dressing room. At the end of the day's play, we were 25 for 2. The next day Viswanath and' i negotiated the pace of Jeff Thomson and Clarke without any difficulty though Thomson gave me torrid time in one particular' over.
By lunch, we had taken the score to 90. Bob Simpson brought on leg-spinner Tony Mann for the last over before lunch. Since I was to take a strike, Vishy just, came over and said it is last over man, so be relaxed. No risk, Okay." The: first ball I turned around the corner and got-a 'single. The next Vishy just flicked it and was caught at midwicket, so it was 90 for 3 at lunch.
After lunch when the score was 110 I got one from Jeff Thomson that rose sharply from short of a length: I just got that fraction of a second to move away from the line of that delivery. Unfortunately, I suddenly jerk my cap and fell down right on the bails. What a way to go in this manner.
After some time Simpson claimed the second new ball that destroyed our hopes of gaining the first innings lead and we were all out for 153. Then there was another – instance, against the West Indies in the second Test at Port of Spain. On that tour of 1976-77, we put the West Indies under tremendous pressure by taking a handsome lead of 260 runs.
In its second knock, the home team had lost 8 wickets when the 20 mandatory overs began. If my memory serves well, in the third mandatory I took a straightforward catch of Andy Roberts in the leg trap and was shocked to see that appeal was rejected. I can imagine it was a bat-pad catch but it was not. It came straight from the blade. Later on, Andy Roberts and his partner succeeded in playing out the rest of the overs.