Shahid Afridi was labeled as the 'cricketing phenomenon of the 1996-97 season', saying the same about Azhar Mahmood keeping his performances of 1997-98 in mind would certainly not be far from the truth.
From a seemingly ordinary player, who just wasn't being able to translate his skills as a brilliant lower middle-order batsman and accurate fast-medium bowler into superlative efforts in late 1996 and some part of the next year? He was one of the brightest stars in the Pakistan team and, considering that the Seventh World Cup competition in England in 1999.
Azhar Mahmood was born on 28 Feb 1975. He played 21 Tests and 143 ODI's for Pakistan. Azhar was one of those Pakistani cricketers who scored century and half-century without being dismissed on Test debut against powerful South African attack at Rawalpindi in 1997. After that, he scored two more centuries against South Africa.
His father was having serious objections to his interest in cricket, but later on, Azhar proved to be one of the best all-rounders in the country made him feels proud. Azhar Mahmood has also played tape ball cricket a popular format across the country.
He played county cricket for Surrey and Kent, and then he married a British girl in 2003. He became a UK citizen in 2011, allowed him to play for Kent as an England qualified player. Due to this, he played as a British cricketer in IPL to Kings XI Punjab. After that, he represented KKR in 2015.
Azhar Mahmood made his ODI debut against India in 1996 in Toronto with a little success. He surprised many with his powerful batting skills and as swing bowlers. At one time, he was in contention of Pakistan skipper in front of some senior players. But unfortunately, the future plan could not succeed.
He was an English type of medium pace bowler and belligerent batsman. Azhar Mahmood was strong on legs stumps and comfortable on short bowling and great ability to pushes the ball in defense. In 2002, for Surrey, he showed a great character by capturing 8 wickets for 61 runs against Lancashire, the best ever performance by him.
Azhar was lastly played for Pakistan in 2007 world cup, where early exits from the tournament meant his career is over. So, the 30 years old cricketer decides to go to England to playing county cricket. So being constant exclusion further de-motivated him. His mediocre performance and weight increase make him in further trouble. In 2016, he was appointed Pakistan bowling coach of Pakistan cricket.
He was mentally a tough candidate. One of his innings of 132 for Pakistan on a treacherous pitch against the powerful bowling attack of South Africa at Durban in 1997-98 considered as Wisden 8th best Test inning of all-time list.
In this Test match, South Africa's pace attack had more depth than at any other time in their history: Allan Donald, Shaun Pollock, Fanie de Villiers, and supported by Lance Klusener. The 22-year-old young all-rounder made 96 in boundaries enable Pakistan to win a low scoring match by mere 29 runs.
He is sure to lead the youthful challenge in England '99 when the chopping and changing of the squad are complete and Azhar's name comes up as one of the automatic choices. From a cricketer with several ordinary, performances to his name, Azhar has come forward in leaps and bounds over the few months.
Azhar Mahmood, of course, is an all-rounder who has turned into more of a batsman, especially in the longer-duration game, but his bowling has continued to be as useful as he can manage it to be. That he is one of the best fieldsmen in the team, a brilliant close-catcher, comes only as a very welcome, added bonus.
As the season progressed, and the Pakistan team's performance suddenly registered a slump it was unable to come out of, Azhar's form in the limited-over internationals also went downwards. He wasn't able to be as useful to his team as he should have been and actually finished the South African tour on a disappointing note.
It had started off very brightly for him. Unfortunately, he wasn't able to hold on to all his laurels in the end. His One-day International record doesn't look encouraging at first sight. A mere 320 runs in 38 matches at an ordinary average of 13.91 and a total of 27 wickets at a very expensive rate of 50.96. His only fifty came against South Africa in Lahore early in the 1997-98 seasons when he made an unbeaten 59 but since then he has only once reached a score of 30.
Only twice has he taken three wickets in a match, and his runs conceded per over figure of 4.85 is certainly on the higher side. But Azhar Mehmood has been a regular member of the Pakistan Test and limited-over sides ever since making that unbeaten start in either innings on his Test debut in Rawalpindi or looks like as if he'll be there for a long time to come.
Like several other members of the Pakistan team, Azhar comes for a rather humble background. He doubled as a gas welder in his father's workshop in Pakistan's capital city of Islamabad before his other pursuit – the game of cricket – finally lured him away from it But Azhar Mahmood Sagar, giving him his full name, was making a name for himself as a teenager when in 1994-95.
Azhar Mahmood was chosen as a member of the Pakistan Juniors team to New Zealand. Needless to say, he was one of the tour's major successes and, in subsequent years. Azhar was to accompany all sorts of national teams on trips abroad. One of them saw him playing for "Pakistan A" in Sharjah in the 1995-96 Interface Trophy competition. As the year 1996 neared its close, he was representing the senior squad in the inaugural Sahara Cup tournament against India in Toronto, Canada.
The trip to Canada was just a start. Since then he has been to Kenya as well as India, both in 1996-97, again to Canada in 1997-98 and subsequently to Sharjah, Bangladesh, South Africa and Zimbabwe. In the summer of 1997, he had a very lucrative tour of England with Pakistan. As taking 40 wickets (ave 20.72) in eight first-class matches and finishing a creditable 12th in the overall English averages of the season. With the bat, he contributed 379 runs (ave 31.58) with a highest of 92 among his three fifties.
Strangely thus, although he had made his first-class debut as far back as 1993-94, the unbeaten 128 that he scored on his Test debut against South Africa in 1997-98 was his maiden century in first-class cricket. And what makes him stand apart from the rest is that. Although other players have started their careers with a century and a fifty on their first appearances, Azhar Mehmood is the one whose scores of 128 and 50 were both not out innings!
On the tour of South African, Azhar Mahmood emerged as Pakistan's most productive batsman. In the first Test in Johannesburg, which later ended as a draw. Pakistan was struggling at 112 for 6 in face of a South African first innings score of 364 Azhar came in at No 7 and proceeded to hit 136 runs in a most positive display of batting. He was helping to add 107 runs for the sixth wicket with wicketkeeper Moin Khan (46) and eventually taking Pakistan to within 35 runs of the host team's tally.
In the second Test in Durban, which Pakistan won by 29 runs to go one-up in the three-match rubber. Azhar Mehmood again came in at No 7 when Pakistan was confronted with a precarious situation. At 89-5, they might have thought they would be lucky if they reached the 150 run mark. Azhar Mahmood handled the problem single-handedly, hit another brilliant 132. He took the Pakistan total to 259 and that was enough to put his team on the road to victory.
And just to prove that he is human after all, Azhar was dismissed for a duck on his first appearance in a Test match on Zimbabwe as Pakistan started a two-match rubber in Bulawayo! He was born in neighboring Rawalpindi on February 28, 1975, Azhar moved with his family to Islamabad when he was just a little lad and, still, at the rather tender age, he has the world to conquer. Judging by his record, he is bound to.
In a matter of 11 Test matches, all played during the 1997-98 season, he has scored 628 runs at a very healthy average of 52.33 with the help of three hundred. His bowling record here is also quite encouraging-24 wickets at 32.25 apiece, and his best bowling of 4-53 came at Rawalpindi against the West Indies. When Pakistan had registered massive innings and 29 runs triumph in what turned out to be a three-nil white-wash of the once-mighty world champions.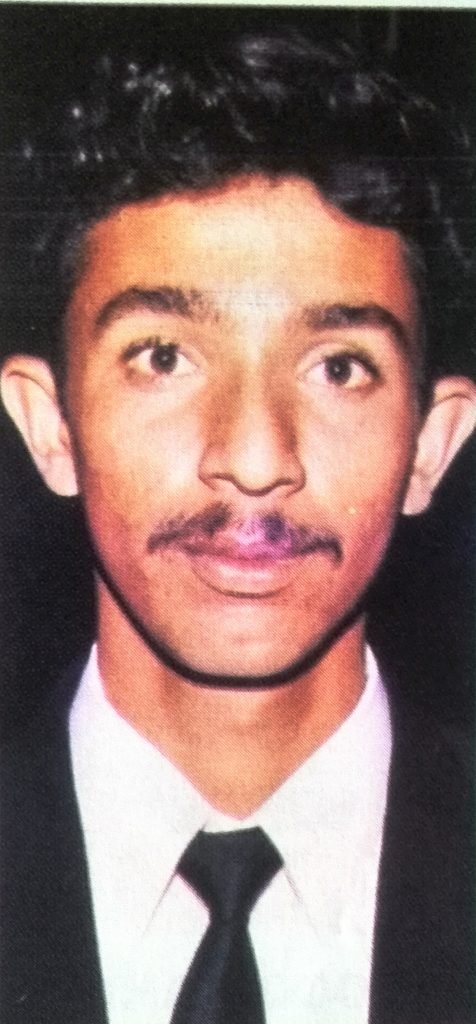 Source: 1,