Cyril Clairmonte Depeiaza (A man called 'Dee'). IN THE search for my collection of Test cricketers' autographs, I set myself the task of locating the whereabouts of one Cyril Clairmonte Depeiaza (sic), formerly of Barbados and West Indies. I tried all the obvious channels, asking his former Barbados colleagues, and every time I wrote to West Indies I would enquire where I could find him. Depeiaza played first-class cricket for Barbados from 1951 till 1957. He was part of West Indies sides who toured Australia in 1954-55 and New Zealand in 1955-56.
The outcome of my questioning was to find Depeiaza living within half-a-dozen good 'six-shots' from where I watch my cricket at Old Trafford! I arranged to visit one Sunday and was made most welcome by 'Dee', as he is known to his friends, although his family calls him 'Jeff'. I found this rather confusing and requested an explanation.
Cyril Clairmonte Depeiaza was famous with the nickname (The Leaning Tower of Depeiaza) due to the way he leaned forward in his defensive shots. It originated from his college days when he used to play inter-colonial cricket in West Indies. Clairmonte Depeiaza's name will live forever in West Indian cricket history, but the man himself seemed to have vanished.
Ken Mills tracked him down remembered seeing Jeff Stollmeyer playing against Barbados and was so full of admiration for the man, his cricketing prowess, and his general demeanor, that he decided to be called 'Jeff' after his hero. But I shall refer to him as 'Dee' from this point onwards.
He was born in Mount Standfast, Saint James Parish, Barbados in 1928, and not 1927 as recorded in Wisden and other journals. His elder brother was born in 1927, and his aunt, who registered both of them, got the dates mixed up. He took up the game of cricket, like most young boys in West Indies, in the same way, that boys in the UK used to play football. He would try to emulate the great players, even though he had never seen them in the flesh.
He would listen to the radio commentaries and build up mental images of how these players played, people like Tom Graveney, Garry Sobers, Frank Worrell, Seymour Nurse, and Keith Miller. He began his career at the same time as Sobers, keeping wicket to him, and at that time the 'three Ws' were his heroes. He regards them as dominant factors in shaping his own career.
Watching the ease and grace of these players whetted his appetite for the game. When questioned about the present West Indies side, he still feels they have the greatest team in the world. Attitudes have changed drastically, in his opinion. Where once they were prepared to lose gracefully, they now really want to fight hard and don't mind 'rubbing it in' where necessary. Dee recalled vividly his leaving Barbados in 1957.
Cyril Clairmonte Depeiaza went to Aberdeenshire after winning a Barbados Scholarship, choosing a course in Economics. During his stay in Scotland, he was pro for Forfarshire for four years and in one season scored over 2000 runs. Although he was widely recognized as a wicketkeeper-batsman he also bowled in a Test match against New Zealand.
After successfully completing his education in Scotland he was then offered a lucrative contract with Heywood CC and for the six years he played with them they won the league on six consecutive occasions. He became interested and involved in helping various charities, and he recognized that his cricket experience and contacts put him in a position to help others.
He has always been grateful for the existence of the Lancashire leagues and admits that people like Worrell, Weekes, Sobers, and Nurse have been glad to earn their living there. He feels they have all contributed something in return and says that it is the demeanor of cricketers in general which is most important, off the field as well as on.
I had to ask about his record seventh-wicket stand of 347 with Denis Atkinson at Bridgetown in 1955, and it has always remained fresh in his recollection. In which he made his only Test and first-class hundred of 122. The pair came together with the score of 147 for 6 in reply to Australia's massive first innings of 668.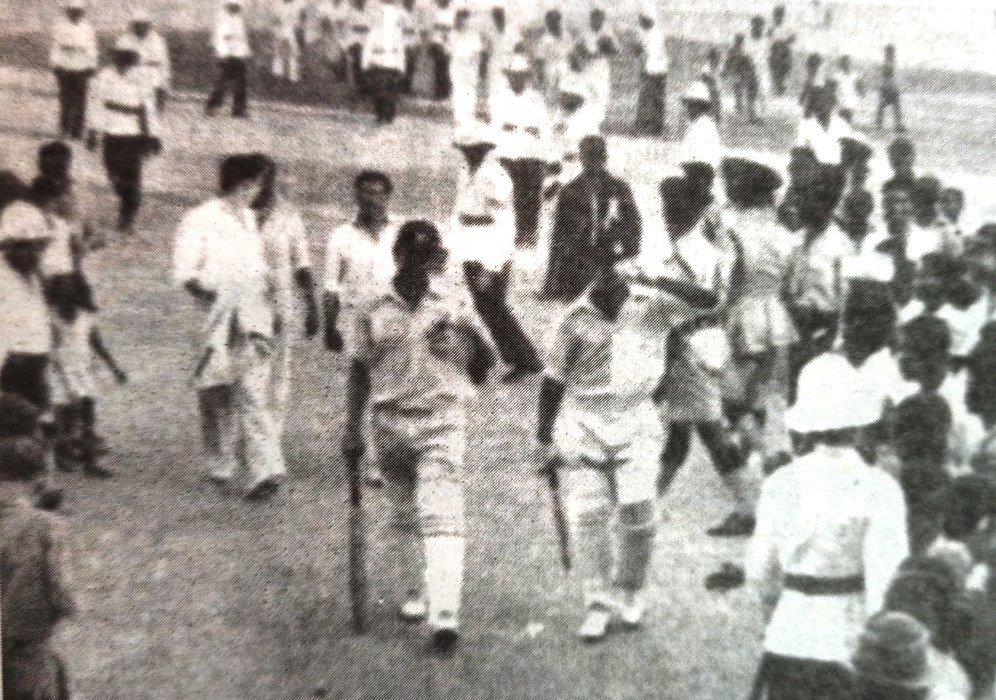 He hit several times on his chest in this partnership with Ray Lindwall and Keith Miller. He took the advice from the father of his Barbados team-mate John Goddard to wear a protective foam rubber around his chest. Therefore, this was the first recognized instance of a piece of chest protector used in the history of Test cricket.
He recalled coming into the West Indian side immature as a cricketer, and others were more confident of his ability than he was. That was, of course, until he had to remain at the crease, and he remembers that Atkinson shrugged his shoulders at seeing Dee walk to the wicket and displayed an obvious lack of confidence. He remembered that all he had to do was play 'the basics', playing forward defensively.
He imagined how Jeffrey Stollmeyer, his hero, or Len Hutton would play in such a position, and tried to play as he thought they would. It called for a lot of courage and determination as he faced fierce intimidation from Keith Miller in particular. A very substantial collection was made after the game and Atkinson, himself a wealthy man in comparison, gave Dee the whole amount for his sheer determination.
Cyril Clairmonte Depeiaza has lived in Manchester since 1960 and considers himself to be an honorary Lancastrian, and works as a senior life insurance inspector, a position which he enjoys immensely. Because his mother was poor he feels the need to assist others through his charitable works, and cricket has given him opportunities for which he will always be grateful! In parting, he explained that success lasts a short while but friendship is forever.
Cyril Clairmonte Depeiaza didn't wicket-keeping in the first Test of the New Zealand tour as Alfie Binns was preferred over him, but he had a chance to bowl for the only time in his first-class career. In a brief international Test career, he only played five test matches for West Indies and scored 187 runs @ 31.16 with the help of 7 catches and 4 stumpings.
Source: WISDEN CRICKET MONTHLY — MAY 1988