Jim Laker regretting having missed the Golden Jubilee Test recalls another big occasion in Bombay. While I never had any wish to be involved with or even be present at the recent shambles in Australia. I was sorry to have missed Bombay's Golden Jubilee Test match. My solitary appearance in a Bombay 'Test' (and an unofficial one at that) was, apart from Manchester in 1956, one of the more memorable events in my career.
Our victory at Brabourne Stadium on that 1950-51 tour was also by a margin of 10 wickets, but there ends no further comparison with the recent win by Botham and Taylor over India. It was the year that Freddie Brown's side set sail for Australia. And my omission from that side possibly aggrieved me more than it did Phil Edmonds on his more recent exclusion.
Apparently, my 166 wickets at 15 apiece had left the selectors unmoved, so when George Duckworth invited me to tour India with his Commonwealth side accepted by return. If ever there was a one-man band it was 'Duckie'. He selected his own side and arranged the whole tour from his front parlor in Warrington, including a full itinerary and complete travel arrangements.
From Tilbury onwards, he was manager, Paymaster, journalist, scorer if necessary, and father confessor to a fair cross-section of some of the finest cricketers in the business. These days it would take twenty men to accomplish the tasks that George took in his stride as he paraded the length and breadth of that great continent with his long shorts have seen better days and his half-moon spectacles perched on the end of his nose.
It was a nice touch that he asked his old friend and erstwhile rival Les Ames to skipper the side. He persuaded the great Frank Worrell to tour: as vice-captain and produced three of the finest English stroke- players in Gimblett, Emmett, and Fishlock to delight the vast Indian crowds. Shrewd enough to appreciate that England had erred also in leaving John Ikin behind, he was quick to snap him up, and the Lancashire left-hander was an outstanding success.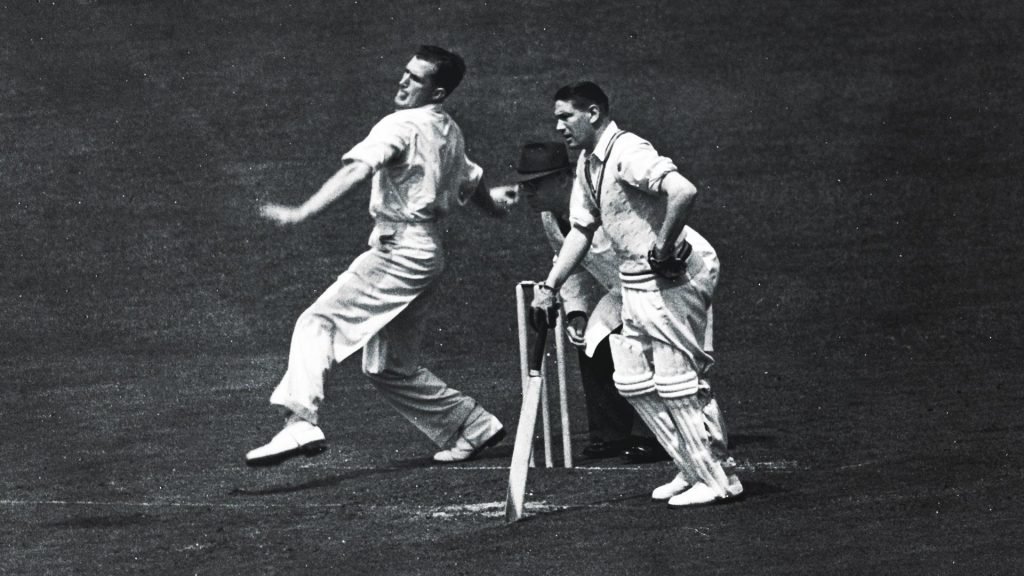 What a trio of spinners I had to contend with: Bruce Dooland, arguably the best leg-spinner in the world. George Tribe, comfortably the finest bowler of 'chinamen' in first-class cricket; and Sonny Ramadhin, who had just taken 135 English wickets at a paltry 14. Three of England's best seam bowlers, Les Jackson, Derek Shackleton, and Fred Ridgway, shared the new ball with Frank Worrell.
Wicketkeepers Dick Spooner and Alf Barlow joined another fine all-rounder in Ken Grieves to complete the party. In all, 27 matches including five unofficial 'Tests' were played and not surprisingly the side remained unbeaten. Without a doubt, it was the finest side with which I ever played.
Naturally, there were a few moans and groans. Luxury hotels were non-existent. The room John Ikin and I shared in Baroda had, it seemed, been previously occupied by a couple of huge monkeys, whom we disturbed, much to the annoyance of the birds nesting in a broken-down chandelier. Air-conditioning meant holes in the mosquito nets, and two days and nights in a second-class train compartment are memories best forgotten.
Interminable tea parties were the order of the day — until comedian Alf Barlow hit on a solution. He formed us into the Commonwealth choir, with an amusing selection of bawdy lyrics which invariably brought the proceedings to a rapid conclusion. Only once did it fail, when several of the guests began to join in.
Total prohibition reigned in Bombay province but at least the lemonade was never as flat as the pitch at Brabourne Stadium once the early-morning greenness had disappeared.
Worrell, Ikin, Grieves, and Spooner all made half-centuries in building a substantial first-innings lead, but India fought back in splendid fashion. Merchant (62), Hazare (115), and Umrigar (130) reveled in the easy-paced pitch.
I would totally agree that neither I nor any of my colleagues ever reached the same peak of fitness associated with our present side. Still, with a temperature in the nineties and humidity at a similar mark, I did get through 50 over's in a single day and completed 65 over's in the innings to finish with 5 for 88. This I have always believed to be my best-ever spell of bowling.
Like Geoff Boycott and Graham Gooch, Gimblett and Ikin knocked off the required runs for a 10-wicket margin, but I rather suspect that Gimblett's approach was somewhat different from the Yorkshireman's. Phadkar, of a similar pace to Mike Hendrick, opened with eight close-catchers and the very first ball was deposited first bounce, inches in front of the sightscreen.
Sadly, from that encounter Mankad, Worrell, Emmett, and Gimblett are no longer with us but no one more than Harold Gimblett would have acclaimed that superlative performance of his own Ian Botham thirty years on.
Reference – Wisden Cricketer 1980