Lancashire all-rounder Peter Marner was born on March 31, 1936, in Greenacres, Oldham, Lancashire. Peter Marner was the youngest player to represent the county, making his debut against Sussex in August 1952 at the age of 16 years and five months. He played first-class cricket for Lancashire and then Leicestershire. Peter Marner was rated by Trevor Bailey as the most terrifying English batsman without a Test cricket cap.
He was also the first person to win a limited-overs Man-of-the-Match award and the first to score a hundred. Peter Marner achieved this unique record when he made brilliant 121 runs and took 3 for 49 in a Gillette Cup preliminary round tie against Leicestershire in May 1963. In 1965, he moved to Leicestershire, retiring in 1970. A thick-set and powerful middle-order right-hand batsman. He scored over 17,513 first-class runs at 28.33 with 18 hundreds.
He was an accurate seam bowler, just over medium pace, and grabbed 360 wickets at 31.62 in 414 matches. He also held 379 catches, many of them caught in the slips, where he had built his reputation as a very fine fielder. His career-best figure was 7 for 29.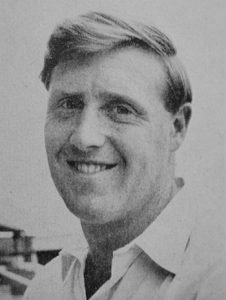 One of the hardest hitters of the ball in the game, he was a pugnacious batsman, scoring quickly in all forms of cricket. He toured Pakistan in 1967–68 as a member of the Richie

Benaud-led

Commonwealth XI, which, apart from several other first-class matches, played three unofficial Tests against the full Pakistan squad.
Overall, he played 42 List-A matches, scored 1,120 runs at 28.00 with the career-best of 121, including one hundred and five fifties, and took 54 wickets at 25.35 with the best of 4 for 24. Peter Marner was a great athlete and appeared in rugby union, playing for Oldham and the British Army in the 1950s.
He had a severe neck injury playing rugby that halted his career in both sports. He survived his wife Vera, daughter Sara, and son Nick, who was a useful league fast bowler. The former Lancashire all-rounder died after a short illness on May 16, 2007. He was 71 years old.