Sergeant David Steele  – The situation was one of those romantic ones which occur in sport by chance but never by design. England and all her established players were foundering in the face of Australian fire. Fletcher, Dennis Amiss, Mike Denness, David Lloyd, and others had lost their nerve. Who was to come to the rescue? Hopes were held out for Graham Gooch at 21, the youngest player to be selected since Derek Underwood was 22 when he played his first Test match in 1967.
However, Gooch got a 'pair' at Edgbaston and England lost the first Test, even though the wickets were much slower than those in Australia and the pace and bounce of Lillee and Thomson were blunted. Then again, it might be Bob Woolmer, called in for the second Test at Lord's along with Barry Wood and Peter Lever.
Bob Woolmer had proved with Kent, ever since the day that Mike Denness, his county captain, had put him up the order, that he was a batsman who could score runs off the best bowling. Play began at 11-30 and when ten runs were on the board Barry Wood fell lbw to Dennis Lillee. Out through the Long Room, into the bright sunshine 'to face the largest crowd he had ever played before was a grey-haired man wearing 'spectacles and a cap at a jockey's angle, David Steele of Northampton shire.
The romance of the situation, as I say, was obvious. There was a Staffordshire-born man, well beyond the age of promising potential, in his Benefit Year, in fact, walking out for his first Test innings expected to do one thing — stand his ground against the pace bowling and graft out some runs. His reputation in county cricket was for efficient innings, not at all aesthetic.
His habit was to lunge onto the front foot and 'work' a lot of the bowling down behind the wicket on the leg side. In 1974, in the championship, he had mustered just 1004 of 31.37 runs at an average I had played against him often ~and knew his dour nature but never ranked him above the level of a decent county Player. Those who had never seen him before could be excused a chuckle as he made his way out to the middle.
His grey hair and spectacles made him look studious, and his cap pointing skywards suggested he had never worn one before. Clive Taylor, writing in 'The Sun newspaper suggested that "Steele looked like everyone's idea of a bank clerk going to war." In The Sunday Telegraph, I was prompted by similar thoughts and suggested that he had the appearance of a vicar turned gunfighter.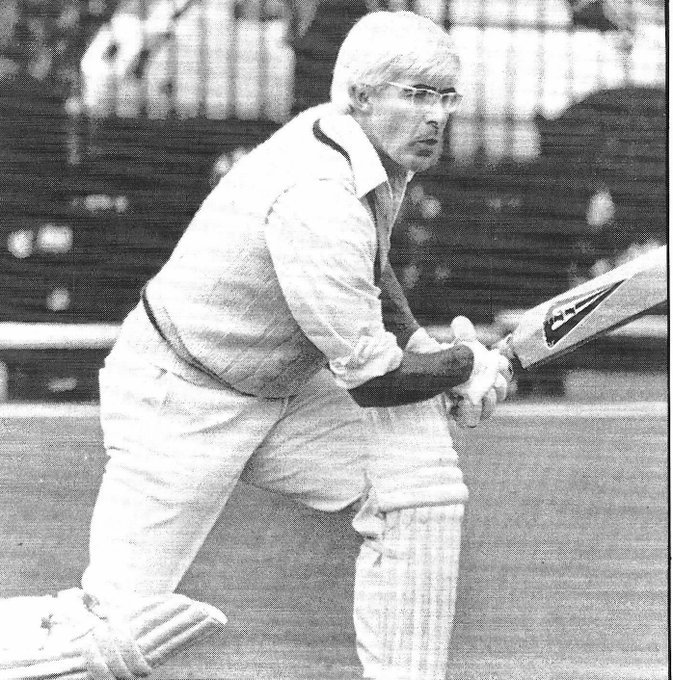 Yet David Steele had been chosen for one reason, to provide the quality which England was sorely lacking — fight. This was not a time for stoically shrugging off another beating by Australia. It was not the moment to bleat about bouncers. It was the time to go to war. Tony Greig led from the front in his first match as captain, and Sergeant Steele, the old sweat, was at his side. Steele went to the crease at 11.44, fourteen minutes after the start.
Tony Greig joined him at 12.50, with the score at 49 for 4 — Wood, Edrich, Amiss, and Graham Gooch were gone. With his captain, Steele put on 96 runs in 97 minutes. He scored exactly 50 on his debut before playing the ball onto his wicket. The second innings went very much the same for him. He managed to hook Dennis Lillee's bouncers downwards to fine leg; he carried the fight to the enemy by his re-solute temperament. He was seen to be fighting.
Australia did not rate him highly and he responded to that fact. Sadly he landed a Walters full toss back in the bowler's hands when he had scored 45, but his game was not over. In Australia's second innings grind which got them the draw, David Steele with his left-arm spinners trapped McCosker leg-before. Not — a bad first Test match. In fact, his best bowling figures in first-class cricket are 8 for 29 against Lancashire in 1966.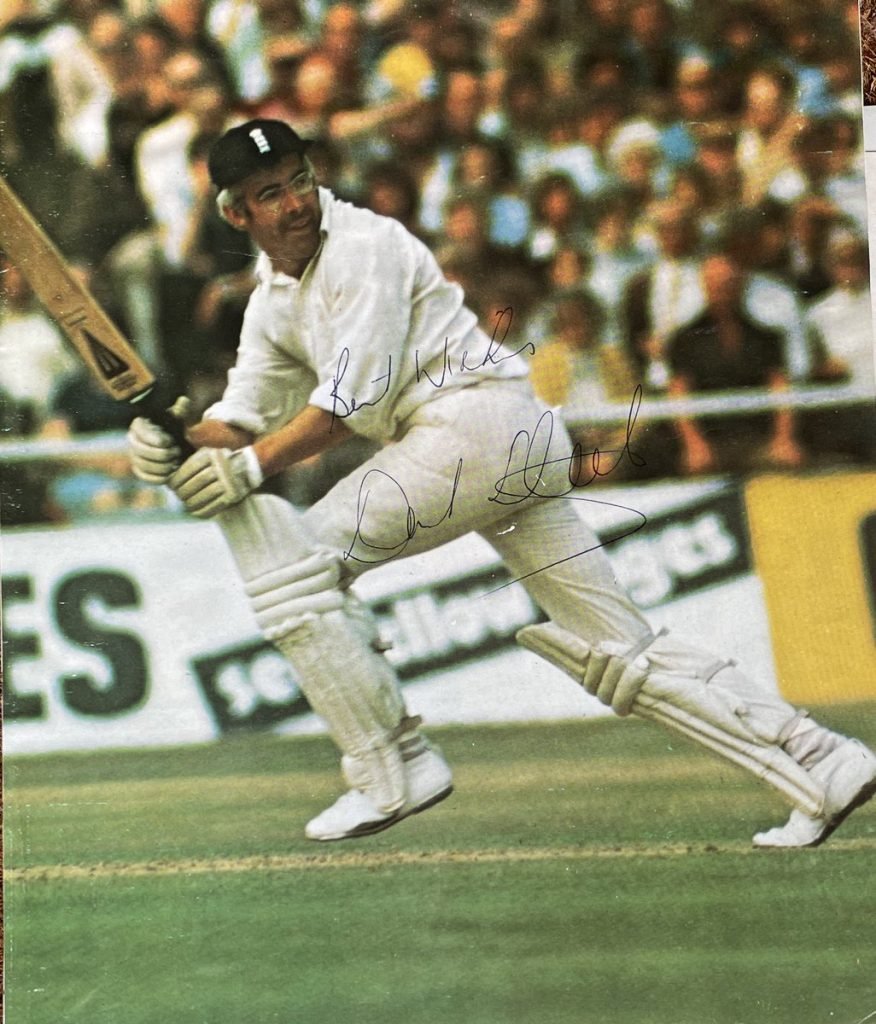 For Northampton shire in 1975, he just bowled 16 overs for 1 wicket. Yet Test match cricket did improve his county play because in 1975 he raised his batting average to 45.42 and scored 1181 runs in 29 innings. It is already history how Steele went on to score 73 and 92 at Headingley. Great stuff for English hearts yet it must be admitted, at least it was by the Australians, that they fed Steele the bowling at the time when England wanted to press on for quick runs because he was least able to get them at the required speed.
He had not been chosen for his enterprise, but rarely in Test matches are No. 3 batsmen required to race along. At the Oval again he was in the thick of it. He caught superb catches at leg slips, where he is a specialist. He scored 39 and 66 to round off a memorable series for him.
Hence none was spared their praise not even those like me who had expressed surprise about his selection. He will play against West Indies next summer against players who know him better because nearly all of his opponents belong to county championship clubs.
He will prove against Andy Roberts and Keith Boyce that it is great wisdom to play forward to fast bowling which comes at you from the right arm over the wicket. I want it proved to me that he can play Bernard Julian swinging into the pads; that his habit of placing his front foot in line with the ball, not inside it, will not bring problems; that he can play the spinners as well as the faster men. Then we shall have the clue to his selection for India next winter.
Bishen Singh Bedi plays for Northampton and he will know the weaknesses. David Steele is likely to survive to be chosen for India and will be helped by the fact that he himself can bowl slow left arm. However, what India must not underrate when the time comes, is the fighting heart within the man. Many players with more talent have failed, whereas David Steele has gone out there and shown 'em,
He will not be slow to remind you how he has done it if he does it because although he appears to embody the quiet fighter for lost causes, he will be eager to tell you all about the game. If it goes well for him, yes now I think about it. He was a natural choice to take Dennis Lillee.
# Reference – PROFILE by TONY LEWIS SPORTS WEEK CRICKET QUARTERLY 1975