The First Match between Pakistan v England was played at Lords on July 27, 28, 29, 31, and August 1, 1967. England's fourth within a couple of months was the best of the summer—until the last afternoon.
It contained a great recovery by Pakistan, made possible by one of Hanif Muhammad filibusters, and a final refusal on Pakistan's part to risk defeat by accepting the challenge implicit in Close's declaration.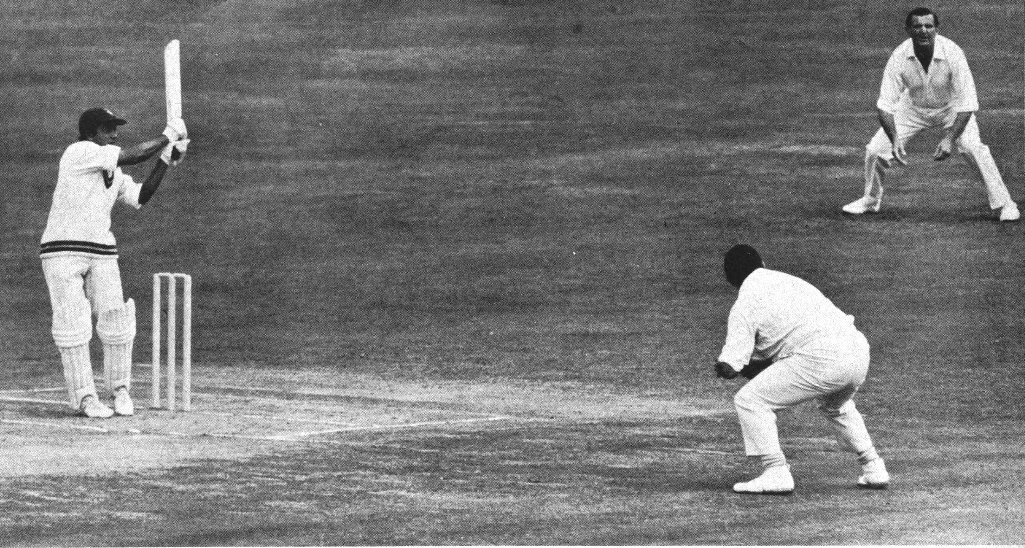 Asked to make 257 to win in three and a half hours, Pakistan played for a draw. Not everyone would agree, but it seemed to me to be strangely and sadly unambitious that no effort was made to get these runs. Pakistan has great batting in-depth, as they showed in their first innings, and sides have been scoring at 73 runs an hour to win cricket matches since the game was invented.
The pitch was still good and the ground was fast. Only the spirit was lacking, and the readiness to take a calculated risk. If the final negation was good for the image in Pakistan, it was no good for cricket in England.
When they were 282 for two at the end of the first day, England seemed well on the way to an unassailable total. Pakistan's seamers, Asif Iqbal and Salim Altaf changed all this on the second morning with some fine bowling on a damp pitch.
This was followed by some struggling Pakistani batting, so that by the time Asif Iqbal joined Hanif Muhammad, at 139 for seven, Pakistan was still uncertain of saving the follow-on. That was on Saturday afternoon. By Monday evening it was England who was in real trouble. Having gained, in the end, a first-innings lead of only 15, they had lost four second-innings wickets for 95.
In averting the crisis, Close and D Oliveira needed all their experience and some luck: without them Pakistan might have been able, on the last day, to set its own pace. By bringing in four players—Mushtaq Muhammad, Nasim-ul-Ghani, Intikhab Alam, and Khalid Ibadulla—professionally engaged over here, Pakistan has managed to muster a stronger, better-balanced side than India.
On good wickets, they will be hard to beat, especially with Hanif in his Lord's form. His innings of 187 not out, spread over nine hours, were cautious for most of the way and eventually commanding. Having established his defensive technique as one of the finest in the world—if not the very best—he finished up by doing much as he wanted with England's bowlers.
Considering that Hanif Muhammad looked as though he was finished when he was in England in 1962, this amounts to a remarkable rehabilitation. For England, Barrington's 17th Test century was his first Hanif Mohammed in one of his rare moments of aggression. He hooks John Snow's first ball of Saturday's play for 4 at Lord's and is as inexorable as any.
D'Oliveira dropped for Amiss in the previous Test Match, which now made his place as secure as it has ever been. Hobbs bowled unluckily, Snow variably, Ray Illingworth just steadily, Higgs industriously. Graveney got runs. But England was unconvincing in the field and their tail looks horribly long.
Pakistan's tail is shorter, their fielding more agile than England's. So far as bowling is concerned, there is not much in it. At home, even in conditions they know so well, England may have their work cut out at Trent Bridge and the Oval, which is all to the good. To put it another way: Hanif Muhammad, Mushtaq Muhammad, Majid Khan, and Asif Iqbal, if they were Englishmen, would all be welcome in West Indies next winter.
HORLICKS AWARDS England batting (£100)—shared by K. F. Barrington and B. L. D'Oliveira England bowling (£100)—shared by R. N. S. Hobbs and K. Higgs Pakistan batting (£100)—Hanif Mohammed Pakistan bowling (£100)—shared by Asif Iqbal and Salim Altaf Fielding award (£50)—shared by Pakistan team Elliott and A. Jepson.