The marathon innings of Hanif Muhammad epic 337 runs vs. the West Indies are still a debate among cricket lovers. Who was Hanif Muhammad? That was the question before the start of the first test match between Pakistan and the West Indies, played at Kensington Oval, Barbados Oval, Bridgetown, from January 17–23, 1958.
Pakistan, following 473 runs behind the West Indies, needed a monumental effort to save the Test Match. Hanif Mohammad did not let his countrymen down. Hanif was a champion batsman whose stature worldwide was in direct proportion to his height. Pakistan's first visit to the West Indies in 1957–58 produced some fascinating cricket and batting records that survive to this day.
For the home team, it was a period of transition. The era of the wondrous three W's – Everton Weekes, Clyde Walcott, and Frank Worrell– was coming to an end. Frank Worrell was unavailable for the series (he was studying in England), while Walcott announced his retirement at the end of the fifth Test. In the second Test at Port-of-Spain, the last great spinner to represent the West Indies, Lance Gibbs, would make his debut.
There was also the case of the young genius Garry Sobers, who had made his Test debut four years earlier as a teenager and was seemingly at a crossroads. The third Test match at Kingston, Jamaica, would be his 17th Test, and as he had yet to score a century, questions were being raised about his ability.
He surely put all that to rest with a world record of 365, not out that stood till Brian Lara eclipsed it in 1994, then Mathew Hayden made 380 against Zimbabwe. Brian Lara triggered another milestone to grab 400 runs against England. There was a hint of controversy preceding the series, with Gerry Alexander named as captain. The West Indies would have to wait another two years before natural justice prevailed and a black man (Worrell) was finally appointed to lead the side.
The young cricketing nation of Pakistan had made a big impression after their first two tours, to India in 1952 and England in 1954, on both of which they won a Test match. Now they were taking on the might of the Caribbean on their own pitches. In Hanif Muhammad, they had a batting champion whose stature worldwide was in direct proportion to his height.
The pace bowling attack, too, was pretty formidable, as proven in the Oval Test four years earlier. The West Indies included debutant batsman Conrad Hunte for the first Test at Bridgetown, Barbados, after he had impressed with 77 in the tour game for Barbados. Conard Hunte, who would go on to become a great opening batsman, responded the first time around with a magnificent 142.
He didn't show even a trace of nerves and made his first 55 runs on the board. With Everton Weekes smashing a typically belligerent 197 runs in his 16th and final Test century, however, with all the specialist batsmen chipping in with useful scores, the West Indies declared late on the second day at a formidable 579 for nine.
It was a harsh beginning for another debutant, left-arm spinner Nasim-ul-Ghani, who failed to pick up a wicket. He did, however, set a record for being the youngest Test player at the time, at 16 years and 248 days. Though openers Hanif Muhammad and Imtiaz Ahmad just managed to add 35 runs, the batsmen really had no answer to the express pace and hostility of Roy Gilchrist who captured four wickets in 15 overs.
Pakistan collapsed to 106 all out, trailing by a massive 473 runs. This was a really arduous and monumental feat of endurance. Even the task before them was a huge one. It was not even halfway through the third day, and this was a test stretching over six days. It would take a monumental feat of endurance if they were to come out of this ordeal unscathed.
If any batsman of the time was capable of such a feat, it would be Hanif Muhammad. He was the second of the famous five Mohammad brothers, four of whom represented their country with such distinction. The man originally dubbed "The Little Master" was known to possess massive powers of concentration.
Now every ounce of those powers would be needed. Hanif Muhammad did not let his countrymen down. By the end of the third day, Pakistan had responded really well to the challenge of the West Indies bowling and reached the scorecard of 162 for one, with the indomitable opener batting on 61 runs. His stand with wicketkeeper batsman Imtiaz Ahmad (91), who was worthy of 152 runs, did much to blunt the West Indies' ferocious bowling attack. Still, there were three days to go.
Roy Gilchrist's fiery temperament, tremendous pace, and dodgy action all made him a terrifying prospect. It took a sound piece of advice from Walcott to Hanif—never try hooking Gilchrist—that persuaded the opener to sway out of the line of the bouncers rather than try to hook or duck.
I was concentrating hard. The heat was exhausting and menacing. I was taking as much strike as possible and was successful in swaying away from the fearsome bouncers," wrote Hanif of his epic innings. In fact, due to the heat, layers of skin were peeling off beneath his eyes as he batted on and on and on.
Another century stand followed, this time 112 for the second wicket with Alimuddin. When Alimuddin was out for 37 at 264 for two, there was still plenty of work to be done. Hanif Muhammad did the lion's share. But he received tremendous support from debutant Saeed Ahmed (65) and his elder brother Wazir Muhammad (35). It meant the first four wickets all produced century stands, with Hanif standing like a rock. Even as they ended the fifth and penultimate day at 525 for three (Hanif on 270), with the threat of an inning defeat now averted, a draw was still not a sure thing.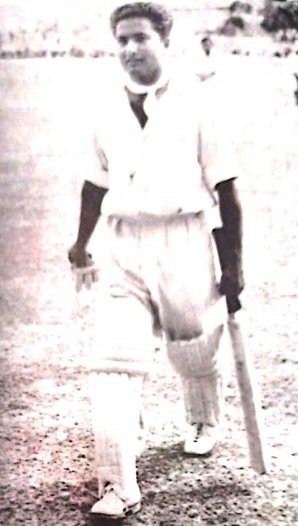 Hanif Muhammad had batted through the whole of the fourth day, scoring exactly 100, and then the fifth while adding 109 to his total. It certainly made for tedious viewing. But there was a job on hand—saving the test. Therefore, looking remarkably fresh, the master batsman returns to the pavilion after his marathon innings for Pakistan at Bridgetown in 1958. Hanif Muhammad hit 337 runs in 970 minutes, the longest-ever first-class inning, and Hanif was the savior for his side.
At the tea break on the final day, his task had been achieved.
But on 334, there was one more landmark to be crossed that was not achieved. Len Hutton's world record of 364 was set in 1938. But that could not be achieved. Hanif fell three runs later, after 16 hours and 10 minutes of batting, caught behind off medium-pacer Denis Atkinson, his only reward for 62 overs of hard toil. Captain Abdul Hafeez Kardar immediately declared the innings at 657 for eight—still the highest by a side following on.
The West Indies batted for 11 overs for 28 for no loss. Who would have guessed this outcome of the match a few days earlier, when the Pakistani batting had crumbled in the first inning? But that could mean their target was 185. Who would have guessed this outcome of the match a few days earlier, when the Pakistani batting had crumbled in the first inning?