This is a match report of India v Zimbabwe Match at Ahmadabad played on 26 October 1987 in the second round of Reliance World Cup. The obsession with the run rate is not restricted to the media box which abounds with calculators. It has haunted the two teams in group A Which were running neck and neck for the top spot. The need to avoid Pakistan and its Lahore den was real India could have taken a giant step towards doing that. Fit did not, it had only itself to blame.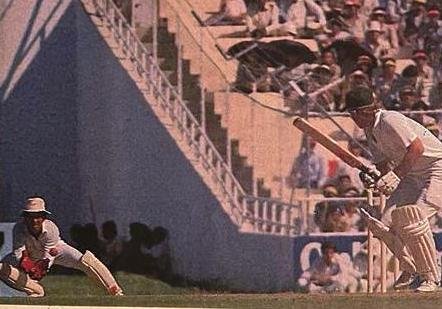 The difference in perceptions was real too, Sunil Gavaskar saw it all as a batsman who knew what had to be one but who could not on that day on which his entire batting rhythm was Upset. Ahmadabad ground is where he made history by scoring his 10,000th Test run and yet the place has upset him. The movement over the screen is a pathetic index to lack of knowledge of cricket. Other and more virulent forms of crowd behavior are even worse.
The captain was aware of the pressing need to win against a specific dead-line. Whether he conveyed that properly and in time is not known. What it boiled down to is that India was batting like a team which pretended to be unaware of the dictates of arithmetic. The winning habit is, of course, there. Four victories on the trot are something. The significance of that should not be lost. India is a reformed side after its defeat in the first match and that had to be recognized.
No force: though, Zimbabwe was any force. Not after it had dropped four games. Kevin Arnott played a sheet-anchor role collecting his 60 runs with methodical efficiency and Kapil finally had him. Its batting has not come right save in patches and in individual, rather than collective, performances. It had its moments in its two matches against, New Zealand but nothing more.
It seemed a beaten side the moment it was put in by Kapil Dev. There isn't such depth in the batting that it can recover from an early slide. Kevin Arnott did well in holding for. Andrew Waller did even better in pushing the score along with some superbly effective shots. The top order had not done well enough, dallying as it did with balls well wide of off stump as bowled by Chetan Sharma.
Yet there was sufficient space left for Dave Houghton to make a fighting total possible. He fell on the sweep which only showed that he was taking the wrong route against left arm spin. Andy Pycroft, who made sizeable scores in the earlier matches, falls, more taking a fine catch off Chetan Sharma.
A low and straight forward pitch, even if it tended to allow some 'turn, 'was part of conditions in which the weakness of Indian bowling could have been exposed. Manoj Prabhakar is not likely to reproduce his swing effect except in the right conditions. Only the Zimbabweans compounded their problems early by letting everything pass by without even aspiring to work the singles.
Save for a wide or two, Chetan Sharma bowled the correct line. He kept the ball moving beyond the off stump. Zimbabwe had come into the slog over's with little on the board and unless there was a pinch hitter around there was going to be no great improvement beyond the 200-mark.
Find of the season: Any Indian game plan with regard to making it to the target score in a specific over count was not going to work if Srikanth fell early, 'And he did when surprised by one that left handed medium pacer brought 'back at him.
His failure against a line of attack from over the wicket is not new. No praise is too high for someone like Navjot Singh Sidhu who has now reeled off four half Centuries in a row. That he invariably gets out in the 50s or 70's might mean that there is a lapse in concentration levels.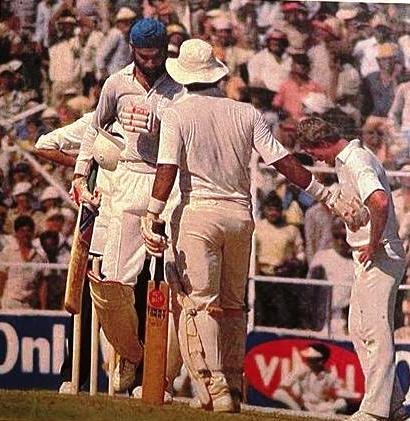 Navjot Singh Sidhu has the equipment to go places in the one-day game. He has the shots and he is improving from match to match in his handling of medium pacers. Greater coordination in running between the wickets is called for. He can be an awesome striker of spin as he proved with that huge hit off John Traicos the 'very first time he faced this accurate off spinner. The hit sailed a clear 100 feet 'above the ground as it soared into the top tier of the Gujarat Stadium.
Sunil Gavaskar has been bogged down by Traicos in both outings. Apart from having his mood spoilt by the crowd, he had this great technical problem of lack of true Innovativeness in one-day 'cricket. He has become a superb improviser against pace but spin aimed at his feet has an adverse effect on him. His batting was aimed towards producing a simple win. But then he says he was not informed in time of anything else.
Kapil Dev leads the charge: The captain said that he had sent a message out SM Gavaskar through Pandit. Even if he did it was a bit late. Things could be 'mended only if he himself could come in, since the tour of Australia in 1985-86. Kapil Dev has become somewhat inured to doing the job of middle order striking single-handedly. Every time the scoring has dropped he has come in to lead the charge. His success rate in such situations has been extraordinary.
Kapil Dev 41 were the innings of the day. No one else had the audacity to attempt what he did, leave alone carrying it off. From the wicket line he picked the bowlers and swung. He was drop: Bed once on the long offline by Jarvis but that is not a blemish to be ashamed of in one-day cricket, especially in the circumstances in which he was performing.
The down to earth simplicity of his batting style is a phenomenon. The ear thy twang in his speech is a part of his Personality. From Bangalore onwards he has done more than most in the shaping of his campaign. No one would want him to change, to be any: thing other than what he is.