In a long-suffering race—wicketkeepers— Rodney Marsh is the one whose activities have most in common with a railway-siding buffer and a box-kite. At the receiving end 'of Australia's high-speed battery, the solid West Australian has the tough' physique and resilient spirit to stand up to bruising pressures without giving ground, Since Jeff Thomson joined Dennis Lillee and used a new ball as a projectile. Rod Marsh has the most stressful job of any international 'keeper I have seen. The range he has to cover is the widest. His leaps for bouncers are the highest, bordering on ethereal.
His sprints up to the stumps to receive fieldsmen's returns are the longest. 'On the fastest wickets, the bowlers' velocity has driven him up to 27 paces behind the sticks—further than Godfrey Evans stood for Frank Tyson in Australia. Errant balls streaking down the leg side make normal footwork inadequate. Before 'can say Jeff Thomson, Rod launches himself at them with a horizontal heave. 'Nature has considerably cushioned his hips for landings.
Amid a busy sequence of matches in 'Australia, last season Marsh's pummeled hands had to be rested from his State's match against MCC. Sometimes he tucked 'them under his armpits, much like a caned schoolboy trying to ease smarting palms. Watching Rod wind tape around each finger and pack his gloves with foam rubber, Greg Chappell asked, 'What's the date of your bout with Tony Mundine, Bacchus?
This nickname is no hangover from days when Marsh was plump enough to have personified the Roman god of wine. When an interstate train stopped at Victorian country station players saw the name RODNEY MARSH in large letters. As the train moved they read its full name BACCHUS.
Born on November 4, 1947, Rodney William Marsh is five years younger than his tall brother Graham Marsh, whose golf earnings around the world dwarf the 'modest rewards international cricket yields, So that he could keep wicket for the WA University XI Rod entered an art course. While a third-year student he scored 0 and 104 on his début for WA against West Indies at 20, standing on the left-hand side of the bat. He is a right-hander in everything else.
To shed lard-like layers from a 15 ½  stone figure 5 ft 8 inches tall, Marsh said, 'I gave up my favorite drink, beer, each winter, cut out potatoes and bread and trimmed lunch to three pieces of fruit.' Greater love hath 'no man than that he lay down his knife (and fork) to ascend in his chosen sport.
Choice of Marsh, 23, as Test 'keeper, replacing popular Brian Taber, 30, caused 'groans in Sydney, gasps in Brisbane (home city of John Maclean, 24), and glee in Perth. I assumed that selectors Sir Donald Bradman, Neil Harvey, and Sam Loxton felt there was so little between leading 'keepers that they chose the one with most batting potential.
Australia's youngest-ever "keeper had kept in only 13 first-class games. Test-début nervousness was heightened by his having felt almost a stranger in the team room, 'Except for Garth McKenzie, I hardly knew a soul," he said, 'though I'd played against some of them once or twice."
Rodney Marsh held four catches in his first Test but three chances of sorts escaped from his podgy paws. Through John Snow's golf chum Guy Wolsten holme word came that the English XI had nicknamed Marsh "Iron gloves'. Guy and Peter Thomson ribbed Graham about his younger brother, for whom most critics could not find a good was almost as harsh; feeling unworthy of the green cap, he left it in his locker and finished the Brisbane Test bareheaded.
I 'felt worse for being shown up by Alan Knott, 'keeping like a dream,' he recalls, Knott was credited with the finest season ever by a visiting wicketkeeper—a star who made the semi-streamlined West Australian seem like a bit player.
A big heart and an unquenchable sense of humor brought Rod through without his nerve cracking. Recovery of confidence 'was symbolized by the green cap reappearing to shade his brown eyes. Before he turned 25 Marsh rose to be a top liner.
Denis Lillee gratefully acknowledged his agile support. While England's batsmen could not pick Massie's either-way swing, Rod Marsh knew which way each ball would veer. His 23 wickets in five Tests in 1972 set a record for a series in England. He had been 92 in a Melbourne Test when the innings was declared before he could make himself the first "keeper to score 100 for Australia. One of Rod's philosophic comments: "I might have got out at 99."
In a hopeless situation at Old Trafford on his first visit, the outplayed Australians were losing dismally. Marsh lifted their spirits with a valiant 91; four sixes sailed into the crowd in a few overs. Since that buccaneering onslaught, the sight of Rod taking guard tends to give bowlers feelings like those of ancient mariners seeing a ship run the Jolly Roger to the masthead.
Two of his seven centuries before the present tour were in Tests—132 against New Zealand and 118 against Pakistan. His thunderous 236 for WA against the Pakistanis is the highest score by an Australian wicketkeeper in 93 years since Murdoch's 321 for NSW.
Stuart Surridge ranks Marsh 'the greatest "keeper to pace bowling the world has seen." As a Surrey skipper, Surridgesaw Don Tallon was talking about Ray Lindwall and Keith Miller. They come across nothing to rival such a roundly-criticized cricketer's rapid rise to dynamic influence in a Test side. In discernment of potential, it ranks as a selection masterpiece.
Untidily effective, Marsh has more important things to do than tuck his shirt in, by day's end, his flannels often bear green and brown stains. His conversation has down-to-earth touches, too. Originally a high school teacher, he is now a Swan Brewery market development executive, with a 34-year-old son.
No 'keeper had reached 50 wickets in an Australian summer until his 64 in 14 matches last season. Asked about his best catch, he reflected: 'Getting one glove to a far-out leg-side chance from Bevan Congdon off Tangles Walker in the 1974 Auckland Test." It was Marsh's 100th wicket in 25 Tests. Only Wally Grout reached that figure in fewer Tests (24). Alan Knott's 100th came in his 30th Test. Deryck Murray has 87 in 29 Tests for West Indies, Ken Wadsworth 85 in 30 for New Zealand, and Farokh Engineer in 42 Tests for India.
Rodney Marsh is at the heart, as well as the hub, of the out-cricket that has lifted Australia from the depths of 1971 to the heights of 1975, He means so much to the Australian XI that if he missed a Test through injury or illness dismay would be felt across 3000 miles from Perth to Surfers Paradise.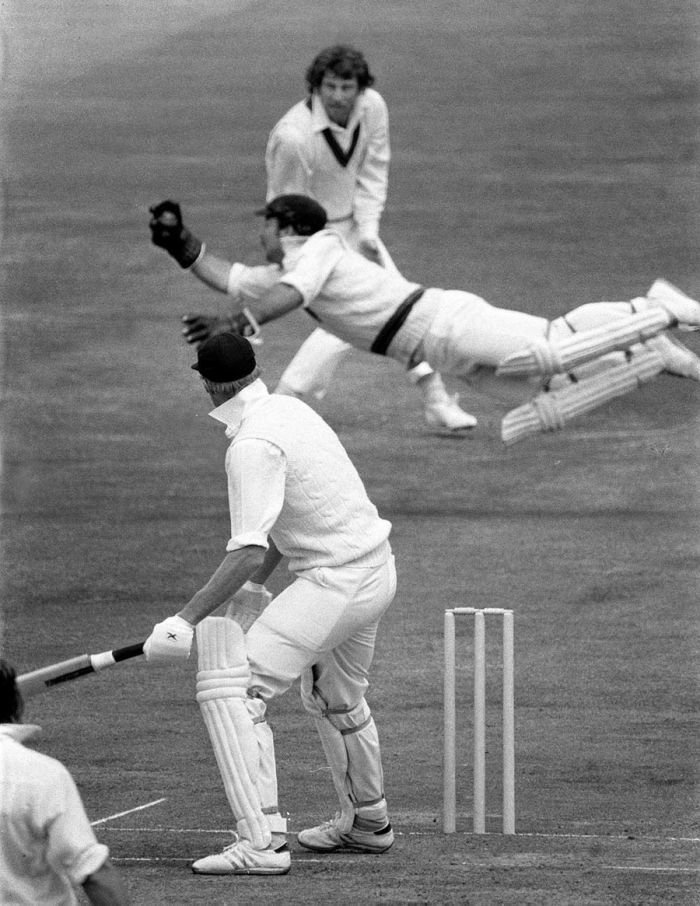 Ref – Rodney Marsh by Ray Robinson THE CRICKETER, SEPTEMBER 1975