The unforgettable Timeless Test Match of England v South Africa was played in Durban in 1939. The fifth Test match of the Tenth day: 14 March 1939 Play-to-finish was not Finished. When England was in driving seat, just need 42 runs to win the Test match but rush to catch the boat.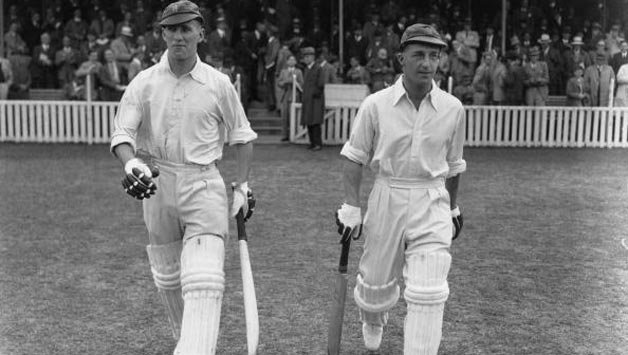 The longest Test Match in Cricket History when play to finished test farce played itself out appropriately when it was abandoned to enable the England team to catch the homeward-bound ship in which their passages had been booked. England, having won the third Test, the only one of the five to be finished, thus won the rubber and avenged South Africa's victory in England in 1935.
After 10 days of record-breaking and heart-breaking cricket, it was agreed between the two captains and the South African Board of Control that the final Test should be abandoned, even though England required only 42 runs to win with five wickets left. All agreed that, so far as it lay in their power, no such un-cricket-like contest would ever be waged between the two countries again. The rain came so hard at tea that no further play was possible today.
South Africa won the toss and elected to bat first. The scores at the end were: South Africa 530 (Pieter van der Bijl 125, Alan Melville 78, Ronnie Grieveson 75, Eric Dalton 57, Eric Rown 33, Chud Langton 27,  Reg Perks 5-100, Doug Wright 2-142, Hedley Verity 2-97) and 481 (Melville 103, Pieter van der Bijl 97, Bruce Mitchell 89, Ken Viljoen 74, Ronnie Grieveson 39, Dudley Nourse 25, Eric Dalton 21, Ken Farnes 4-74, Doug Wright 3-146).
England 316 (Les Ames 84, Eddie Paynter 62, Leonard Hutton 38, Wally Hammond 24, Bryan Valentine 26, Doug Wright 26, Ken Farnes 20, Eric Dalton 4-59, Chud Langton 3-71, Bob Newson 2-59) and 654-5 (Bill Edrich 219 Wally Hammond 140, Paul Gibb 120, Eddie Paynter 75, Len Hutton 55, Les Ames 17 not out and Bryan Valentine 4 were on the crease when the test matched abandoned). There were records galore, including:
World record fourth innings total – England's 654 beatings NSW 572 (1907-08). World record runs aggregate of 1,981 runs, beating New South Wales v South Australia 1,919 (1925-26). The longest test matches in the history of the game last 10 days, beating the record of earlier test matches of West Indies v England 9 days at Kingston in 1930. This was a record stand in Anglo-South African Tests – 280 (2nd wicket) by Gibb and Edrich, beating Hobbs-Sutcliffe 268 at Lord's 1924).
Both sides made their highest scores against each other. Wally Hammond and Paynter made a wonderful effort to force a win when they saw the change in the weather, and the England captain's innings was one of the finest of his career. England went so near to winning, with Ames and Valentine at the wicket, that it seems difficult to understand why it was so necessary for them to catch a particular ship home.
It is certain that we shall never see the like of this match again, and while this 1s a fact that many people will not regret, we shall always look back upon it with a great deal of affection. Without it, Edrich's glorious rehabilitation would have been impossible; the English team would never have had the chance of proving that nothing is impossible and that the way to face enormous odds is not to hold out a hangdog bat or to flash a despairing one, but to go, about the task wit cheerfulness.
Test match No, 271 was won by England and clinched the five-match series one-nil. Reg Perks made his test debut, whereas George Sicker and Richard Ashman supervise the test match as umpires. Therefore, this timeless test match will remain a daunting task to break.