Calypso Cricket – It all started in 1950 when Sonny Ramadhin and Alf Valentine took 18 wickets to spin West Indies to their first Test win at Lord's prompting the Trinidadian songster's Lord Kitchener, not that one) and Lord Beginner to pen a celebratory calypso. It began with the line 'Cricket, lovely cricket and finished with 'those two little pals of Sony Ramadhin and Alf Valentine'.
Thereafter, any expression of West Indian exuberance would be referred to as calypso cricket, As long as West Indies kept winning, which they did almost without fail between 1980 and 1994 the phrase connoted joyful liberation and expression. But when things began to go wrong in the mid-I990s, it conveyed nothing more than amateurishness. Calypso cricket became calypso collapso as West Indies lost one Test after another. The songs, not surprisingly, have dried up.
When the West Indian selectors were picking their party for the 1950 tour of England, they made quite an adventurous choice in going for Ramadhin. But as he had taken as many as 12 wickets in the two trial games which constituted his entire first-class experience, Ramadhin was a conservative selection compared with that of the gawky left-arm spinner. Alf Valentine had taken two wickets for 190 runs in his two first-class games before he was selected to tour; and since he went on to capture 33 wickets in the four Test matches in England, he can be accounted as the most inspired selector coup since Syd Barnes.
Alf Valentine had, however, spun the ball sharply on the coir matting at Port-of-Spain in the trials; and although Jeff Stollmeyer scored 261 against him, the selectors believed his spin would 'go' on all surfaces. They were right. In the week before his Test début at Old Trafford, Valentine's figures against Lancashire were eight for 26 and five for 41. In the Test itself, Valentine claimed England's first eight wickets, to be denied immortality by Hollies and Berry, the feeblest of bats!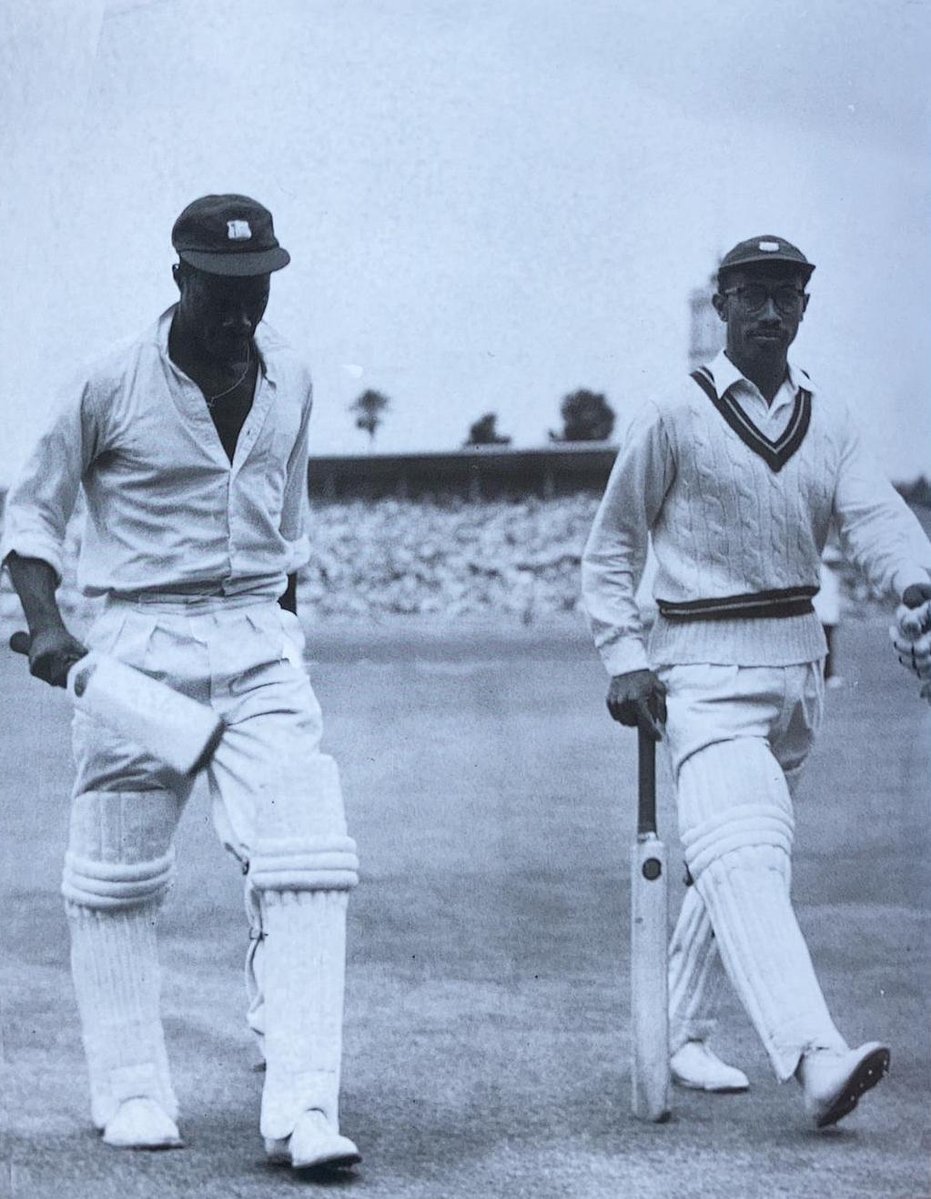 Even SO, his performance was statistically the best by a West Indian in Test cricket to that point. He kept on spinning the ball, and landing it accurately, so long as his fingers were uncalloused and supple, Once they lost their bite — well before his 1963 tour of England — Valentine was 'gone' as a cricketer since his two attributes were accuracy and spin.
He had no loop to speak of since he delivered the ball from a chest-on position with a lowish arm, and pushed it through relatively quickly. The corkscrew break was his chief merit and it was enough to secure him the wickets of the best players of spin in 1950 — Len Hutton's thrice in six innings, Denis Compton's once in two.
The old Glamorgan pace bowler Jack Mercer, when coaching in Jamaica, had encouraged the teenage Valentine to develop his spin. Having been born in Kingston, the myopic youth was then playing his club cricket in Spanish Town outside the capital, He was never anything but a bowler (batting was the only thing he did right-handed, and perhaps that was a mistake). Even a pair of National Health glasses of extra strength in 1950 couldn't 'up' the rest of his game.
Alf Valentine

was never bowled as much as in his maiden series: 422.3 overs in four Tests, including a then-record of 92 in one inning, many of them delivered in 90 seconds. In Australia, while the home batsmen went after Ramadhin, 'Valentine continued his success with 24 wickets. He was only 23, and in his 19th Test, when he took his one-hundredth wicket for West Indies. If there wasn't much to come, he had already given the game something different to remember.