Sikander Bakht was so lean and thin when he first appeared in international cricket. Some commentators nicknamed him "The Matchstick Man". However, his friends and colleagues call him Sikko.
A fast-medium bowler who was thrust into Test cricket at the early age of 19. Sikander Bakht made his debut for Pakistan against New Zealand in Karachi on 30th October 1976. During his Test career which spans from 1976 to 1983, he played 26 Tests and taken 67 wickets with an average of 36.00
His early induction into Test Cricket was the result of the defections from the Pakistan team to Kerry Packer's World Series Cricket. It was after three or four years of hard work that Sikko began to live up to his name. On the tour of India in 1979-80, he took 8 for 69 in New Delhi to skittle out the Indians for a low total of 126 runs.
On the same tour, he shattered the Indians again with a haul of 5 for 55 at Bombay and again 5 wickets for 56 runs at Kanpur. With a strong shoulder action, he used to hit the pitch with force and bowled mainly in cutters and in swings. Though at times he could move it the other way also.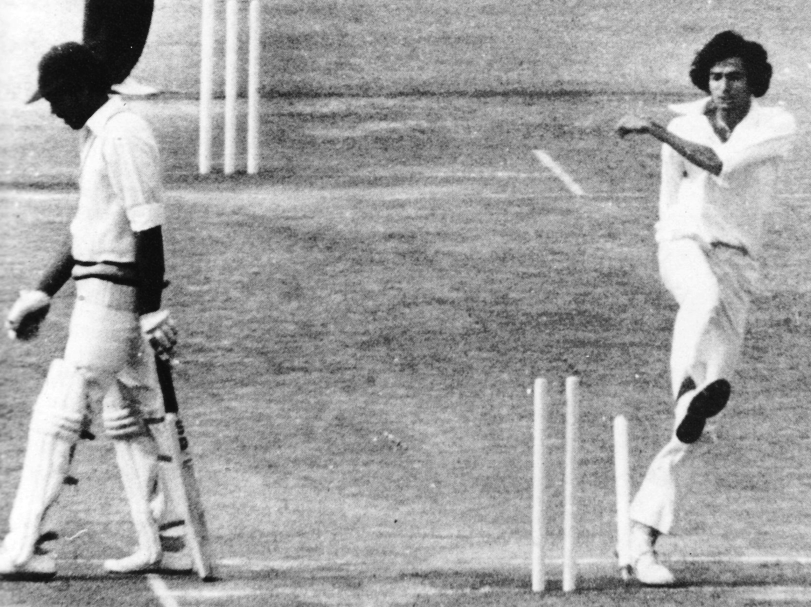 On the West Indians tour that followed the Indian visit, he played in the 5th Test match at Jamaica but did not do much. Sikander performed reasonably well in the 1979 World Cup taking 3 wickets for 34 against Australia and 3 for 32 against England. In the same year, he toured New Zealand taking 3 for 88 at Christchurch and 4 for 68 at Napier.
On the Australian tour of 1981-82, he got 4 wickets at Perth but on the following tour of England in 1982. He played just 2 Tests he lost his place in the national side after the Faisalabad Test against India in 1982-83 for unknown reasons.
Sikander did not mince words when asked what his reaction was on not being considered for the national team performances against Australia and England. I was very disappointed and dejected. Who will not be after giving good performances and that too in Test matches? But the words of his uncle that there is life after cricket stuck in his mind and that gave him a new meaning to his future ambitions.
He admits that he had a stubborn nature in his youthful days. But over the years it has changed and mellowed me down to a great extent. Sikander Bakht has been associated with cricket in one way or the other over the years since he hung his boots. He has been a selector, a coach, and an analyst. His experience is vast and his knowledge of the game is intrinsically deep.
He disclosed that his experience as an analyst with the Pakistan Cricket team in South Africa and other tours has given him enough opportunity. It gives me an opportunity to study the minds of many players and officials. One could write volumes on the player's power and the official's power and the impact on Pakistan Cricket. And who knows I may do it sometime in my life but not right now with a meaningful smile.
We asked him if he ever envisaged entering the realms of electronic media and that too as an anchorperson. Sikander disclosed that being a cricketer one is always under the eyes of the lens but agreed that fear of the microphone is very difficult to overcome.
He recalled 1975-76 when the Sri Lanka team was in Pakistan.
A match was played in Mirpurkhas and as a tradition in a small town's local crowd was provided with the facility of commentary on the ground.
When the commentators invited him to join them briefly.  He had fulfilled his childhood ambition, and Sikander Bakht came on the microphone again. This is how he was made to realize that he had the flair and talent to not only play cricket but also to talk cricket.
After having decided to hang his boots, he had many options in hand. He was already an employee of a Bank and could have taken up banking as a career. But his passion and love for the game demanded that he maintain a link with cricket. He has been entrusted with the responsibility of managing the UBL Cricket Team.
He was made a member of the national selection committee. During this period when invited, I also gave expert comments on television. It was indeed an honor for me that a person like the great Omer Kureishi always encouraged me to focus more on this new aspect as he felt I had innate talent. Even my uncle Chisty Mujahid is another big name in cricket commentary. He always guided me. I found both of them very easy to work with and what is more important.
The experience of working with them was a treasure that I cherish to date. It was a remarkable motivating factor. Foreign television channels have also contacted him. The lines on Sikander's face speak volumes of his life.
The hardships and joys in one's life can have telling effects on one's personality. But Sikko is an amiable person to know and even talk to. He has that perpetual smile on his face, which is infectious at times.
He can be witty and his repertoire of jokes and anecdotes is unlimited. Not many of his fans know that Sikander has been a good hockey player in his early days. And therefore it may not be a coincidence that the girl he made his life partner also was a very good hockey player at the national level.
But his children have not approved of either parent's pastime being taken up seriously. The children live in the USA in pursuit of higher goals. Of course, I often but my passion for cricket has launched me into this new profession. That overrides all other considerations at the moment. I took it up more as a challenge than anything else confessed the fast bowler of yesteryear.