The West Indies tour to India in 1966, a thrilling finish at Delhi. Perhaps Delhi was the only city that did not go crazy over the West Indies team on its tour of India so far. There were no youngsters to mob them at the airport on their arrival from Bombay for the match against the Prime Minister's XI nor was the Ferozeshah Kotla ground stadium packed on any of the four days of the match.
There was just a good crowd to see through a drawn encounter. Till lunch on the last day no other result except a draw could be envisaged. But the game suddenly burst into life and, inside an hour after lunch, the Prime Minister's team was in the throes of defeat.
A beautiful piece of bowling by

Garry Sobers

, with his team responding brilliantly on the field. was the neat cause of the collapse. But, as swiftly, the scene changed again, the crisis being averted by a sparkling century stand between

Ajit Wadekar

and Subramanyam for the sixth wicket. Then there was another collapse and the result of the match hung in the balance till the final ball.
The find of the match for the home team and, for India, was Bishen Singh Bedi, left-arm spinner. He has the promise of a Mankad with his ability to hold the ball in its flight on a good length and claimed six wickets in the first innings. Off-spinner

Erapalli Prasanna

also came off with credit with the courage to flight the ball being the strength of his bowling.
He suffered the most from dropped catches. Kumar bowled a length but had a low trajectory. But for a few overs on the second day, he was the mar of five years ago when he troubled Pakistan in a Test on the same ground fielded brilliantly on the final day, with Clive Lloyd and Bynoe in the slips being outstanding.
Garry Sobers won the toss for the second time on the tour-he had done so in the match against the Combined Universities at Hyderabad also-and elected to bat. His opening batsmen Bynoe and Davis put on 78 runs for the first wicket but Garry Sobers, still in search of a suitable opening partner for

Conard Hunte

, could not have been satisfied with the display of either batsman. They were no doubt absolutely comfortable against the amiable new ball bowling of Subramanyam and Wadekar but were bound hand and foot, so to say when the spinners Bishen Singh Bedi, Kumar and Prasanna came on. Of these Bedi, with his inclination to give the ball more air than the other two, troubled them most. Davis managed to get into his fifties but then was bowled when Bedi lured him out for a drive.
Conard Hunte, who must have been in a mood to relax and go for the bowling after his dedicated knocks in the Bombay Test; however, was not allowed to do so. Bishan Singh Bedi restricted him too. However, Conard Hunte gave a glimpse of the power of his strokes by lifting Kumar for a six, but the following ball he was caught at long-on by Bishan Singh Bedi.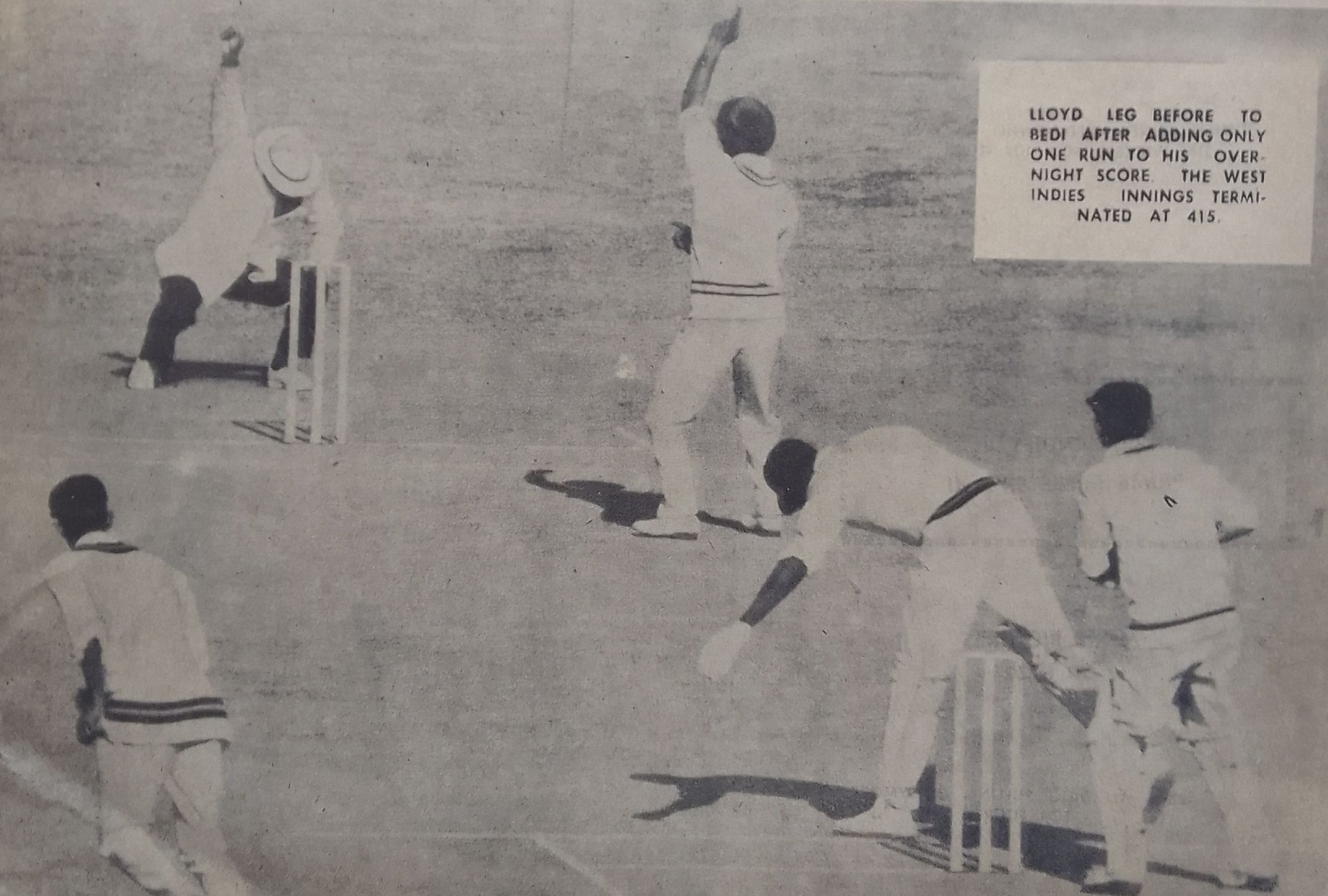 Bishan Singh Bedi claimed Bynoe's' wicket too and it was a good start for the home team with three batsmen gone for 123. But the advantage was thrown away during the rest of the day through dropped catches. Left-handed Clive Lloyd, though not as crisp in his stroke play here as at Bombay, scored his first century of the tour. He was unbeaten with 117 runs at the close of the first day, while Basil Butcher who survived a couple of chances, hit up 80 runs. The latter was strong in his pulls and backfoot drives.
In batting,

Hanumant Singh

scored a classic century as if to show that his non-selection first for the Test was a mistake. Wadekar came into his own in the second innings with a fighting, yet strokeful knock- that saved his side from defeat. Subramanyam kept up his reputation built up in the Duleep Trophy final al Bombay in November. Akash Lal played a forceful innings of 82, much to the enjoyment of the home crowd. For the West Indies, Lloyd emphasized his growing skill and enhanced his reputation with the bat by scoring a century in the first innings. His 118 runs contained four sixes and eleven fours.
The West Indies, 334 for four overnights, slumped to 361 for eight when play was resumed the second day. Bedi added to his stature by claiming the wickets of Clive Lloyd, Murray, and King in succession while Kumar, flighting the ball well and bowling much better than on the first day, trapped Collymore for leg before wicket with top spinner.
But Garry Sobers, in a relaxed manner and enjoying his exercise in the sun on a chill, windy morning, delighted the crowd by hitting two soaring sixes off Bishan Singh Bedi and Kumar-the first clear the East Stand second dropped near the Southern sight were through shots screen. These were taken at half-volley, but

Garry Sobers

cleared the fence again when laying back, and putting great power he pulled Bedi to square leg. But unfortunately, he trod on the wicket in finishing the stroke and left for the pavilion at once.
The West Indies was all out for 415 runs and the Prime Minister's XI replied with 376 runs by the afternoon of the third day. The start of the innings was really Caribbean the crowd was style and in high spirits clapping the forceful drives and cuts of their Akash Lal. From the first over from Charlie Griffith, Akash Lal attacked the bowling and went to his fifty in 76 minutes. Forty of these were through fours. Abbas Baig too played the new ball bowlers firmly and 133 runs were put on by this pair for the second wicket in 140 minutes. Akash Lal was set for a century but Lance Gibbs turned his bat and the off-spinner sharply off at short Sobers took an easy catch leg. Akash Lal's 82 had fifteen fours.
Abbas Baig followed Akash Lal quickly. Sobers, who was flighting the ball cleverly and varying his turns on the pitch, had him leg before wicket with a straight ball. Baig hit eight fours in his 61. Hanumant Singh and

Ajit Wadekar

, with their places in the Indian team for the Second Test in view, played carefully but when he had scored 13 runs Wadekar was out in the same way as in the second innings of the First Test. He played for- ward to a ball from Gibbs and Sobers took the catch at short-leg.
Ajit Wadekar stood a while at the crease before de-parting after umpire Nagendra had upheld the appeal for a catch. Against the background of his fight to retain his place in the Test team, this dismissal was subject to great criticism. But the umpire confirmed that the ball had careered off Wadekar's wrist onto his pads and then to Sobers.
The third day's play belonged to Hanumant Singh, who scored a century, and to Subramanyam who let go of a withering attack on the second new ball bowlers King and Sobers. He was particularly severe on Sobers off whom he hit six fours. The absence of swing and slowed pace of the ball from the lifeless wicket seemed to suit Subraman-Saxena yam. Later played firm. front of the wicket strokes to score 31 runs with six fours, The Prime Minister's XI's innings ended 39 short of the West Indies' score, of 376 runs.
The West Indies batted on till lunch on the fourth day to take the score to 231 for four wickets. Bedi and Prasanna bore the brunt of the bowling former bowled seven maidens in a row, his first seven- but it was Prasanna who worried the batsmen more. But he could not reap the full reward for his bowling as catch after catch was missed in his bowling. Yet, he claimed three of the four wickets-Bedi got the fourth.
Garry Sobers declared the second innings 15 minutes after lunch and thus gained 10 minutes from actual playing time after the interval. This, under the law, is being spent in rolling the pitch for the home team. With After the dreary forenoon, the match suddenly burst into life and climaxed to a thrilling draw. final act of the drama fitted the general tempo of the proceedings as Kumar, the last man, came to the crease to play the last ball of the match, all the West Indians, except bowler Gibbs stood in a close ring around him. The spectators, unable to contain themselves, stood on their toes, and as soon as Kumar defended the ball safely the crowd burst into the ground to mob the players as they trooped back to the pavilion.
When 'Sobers set the home side 271 runs to get in 200 minutes the thoughts were more for a draw than for an exciting afternoon. Even though Akash Lal and Indrajitsinhji left early there was enough batting to come to the pitch too, though affording some help to the spinners, was not difficult for the skillful batsman.
But at the time of this speculation, one did not count on what Sobers could do with the ball. From the moment he came on, the batsmen were in trouble. He eked out of the pitch not only some life but also a good turn. He forced Baig to jab at a leg-break and edge a simple catch to Bynoe at slip. But the ball that beat Borde was his specialty, the googly. Pitching on the off-stump it broke away and took the edge of the bat for a catch to Bynoe his third of the afternoon.
Four for 57, Garry Sobers was happy and smiling, juggling the ball from hand to hand and in a high convivial mood with his colleagues. His team too caught his ebullience and backed up the bowling brilliantly. Clive Lloyd was simply superb at the cover.
Hanumant Singh, the next batsman, had a runner but he too fell when he played forward to Collymore, popped up the ball, and Garry Sobers, darting from the gully, snatched the catch and as a young school boy scampered right up to the bowler to hand the ball to him.
Subramanyam joined Ajit Wadekar, who was absolutely watchful. It was his last chance to resuscitate him. self in the Test team. Subramanyam happy at the start was none too but the pair hung on till tea to take the score to 101 for five. On resumption. Wadekar set the tune with successive fours off more, a rasping cover drive, and a hook. Subramanyam made two rousing pulls, off Collymore and Sobers the second was almost a six. Both batsmen reeled off stroke after stroke and in spite of tight fielding the runs flowed easily.
With a brilliant square cut-off Gibbs took Wadekar to 52. It had been a taken him fighting knock and had 87 minutes and there were nine fours in it. Subramanyam followed him almost at once, a sweep to long leg getting him his 50. Another sweep off Lloyd by Subramanyam hoisted the century stand. The score was 171 for five with 47 minutes left for stumps.
But once again the thoughts of a safe draw were shattered when Subramanyam, right on top of the bowling, played a careless drive off Lloyd and was stumped. His score was 55 with one five and ten fours.
Within minutes of Saxena joining him Wadekar fell was playing with the greatest circumspection but he could not avoid a sharp, rising leg-break from Gibbs which took the edge of his bat, and Bynoe, leaping to his left, brought off a good catch, his fourth in the innings.
Thirty-five minutes remained when Erapalli Prasanna joined Saxena, who was in the same unenviable position as he was in the first innings. Then Clive Lloyd made a grand catch at silly mid-off to send back Prasanna. The latter made a forcing back foot drive off Collymore but tall Clive Lloyd jumped up to snatch the ball as it went over his head. This brought the turbaned Bedi in and he kept Saxena, who was often breaking into his Favorite extra-cover drive unmindful of the situation, till the last over from Lance Gibbs.
For no good reason Saxena took a single off the fourth ball and forced Bishan Singh Bedi to face Gibbs, Bedi attempted a sweep but could only get a tickle and forward, Garry Sobers, falling swept the catch off the batsman's feet. Then came the final act amidst great excitement with Kumar despite being hustled, defending the last ball safely.
SCOREBOARD
West Indies-1st innings: R. Bynoe b Bedi 31; B. Davis b Bedi 51; C. C. Hunte c Bedi b Kumar 30; B. F. Butcher b Subramanyam 80; C. Lloyd lbw b Bedi 118; D. L. Murray c Prasanna b Bedi 24; L. King lbw b Bedi 6; R. Collymore lbw b Kumar 9; G. S. Sobers hit wkt b Bedi 35; C. C. Griffith c Indrajitsinhji b Prasanna 16; L. R. Gibbs (not out). 6;
Extras 9; Total 415.
Fall of wickets: 1-78; 2-93; 3-123; 4-272; 5-341; 6-342; 7-355; 8-361; 9-407.
Prime Minister's XI bowling: Wadekar 7-1-28-0: Subramanyam 9-1-33-1; Akash Lal 2-0-7-0; Prasanna 23-4-30-1; Bedi 51-11-139-6; Kumar 2-1-2-0. 36-8-117-2; Hanumant Singh
Prime Minister's XI-1st innings: Akash Lal c Sobers b Gibbs 82; Indrajitsinhji c Murray b King 0; A. A. Baig lbw b Sobers 61; Hanumant Singh b Lloyd 102; A. L. Wadekar c Sobers b Collymore 13; V. Subramanyam c Davis b Collymore 45; C. G. Borde c Bynoe b Lloyd 15; R. Saxena lbw b Gibbs 31; E. A. S. Prasanna c Bynoe b Collymore 9; B. S. Bedi (run out) 10; V. V. Kumar (not out) 0;
Extras 8; Total 376,
Fall of wickets: 1-8; 2-141; 3-145: 4-178; 5-268; 6-309; 7-332; 8-341; 9- 371.
West Indies bowling: Griffith 3-0- 16-0; King 13-1-42-1; Collymore 46- 16-98-3; Gibbs 43.5-16-86-2; Sobers 22-3-78-1; Hunte 1-0-5-0; Lloyd 14-1. 43-2.
West Indies-2nd innings: R. Bynoe c Baig b Prasanna 59; B. Davis c Hanumant Singh b Prasanna 19; D. L. Murray c Indrajitsinhji b Bedi 52; C. C. Hunte c Subramanyam b Prasanna 11; B. F. Butcher out) 50; C. Lloyd (not out) 25;
Extras 15; Total (for four wickets declared.) 231.
(Fall of wickets: 1-61; 2-102; 9- 125; 4-168.
Prime Minister's XI bowling: V. Subramanyam '4-0-17-0; Wadekar 2-1-3-0 Bedi 32-15-57-1; Prasanna 35-4-123-3; Kumar 8-1-16-0,
Prime Minister's XI-2nd innings: Akash Lal c Lloyd b Hunte 4; Indrajitsinhjic Bynoe b Lloyd 14; A. A. Baig c Bynoe b Sobers 20; A. L. Wadekar c Bynoe b Gibbs 66; C. G. Borde c Bynoe b Sobers 11; Hanumant Singh c Sobers b Collymore 8; V. Subramanyam stumped Murray b Lloyd 55; R. Saxena (not out) 31; E. A. S. Prasanna c Lloyd b Colly- more 3; B. S. Bedi c Sobers b Gibbs 7; V. V. Kumar (not out) 0;
Extras 14; Total (for nine wickets) 233.
Fall of wickets: 1-5; 2-47; 3-47; 4-57; 5-68; 6-173; 7-187; 8-200; 9-233.
West Indies bowling:
King 6-1-13- 0; Hunte 6-2-9-1; Sobers 14-5-35-2; Lloyd 11-2-54-2; Collymore 17-4-48-2; Gibbs 32-4-60-2.
Source: P. N. SUNDARESAN